Two Female US Senators Lose Seats in 2014 for First Time in History
Despite losses by Mary Landrieu and Kay Hagan this cycle, female U.S. Senators have been reelected to the chamber at nearly the same rate (84 percent) as males (87 percent) over the last quarter-century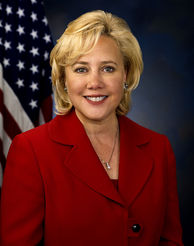 The last elections of the 2014 cycle were completed Saturday in Louisiana, with three-term Democratic U.S. Senator Mary Landrieu losing her runoff election as expected by 11.9 points to Congressman Bill Cassidy.
Landrieu was one of four women seeking reelection to the nation's upper legislative chamber this cycle and one of two to be defeated – along with North Carolina Democrat Kay Hagan who narrowly lost to Thom Tillis by 1.6 points.
Meanwhile, Democrat Jeanne Shaheen eked out a 3.2-point win over Scott Brown in New Hampshire and Maine Republican Susan Collins handily won a fourth term by 37.0-points over Shenna Bellows.
The number of female U.S. Senators has been gradually on the rise over the last few decades, and will remain at 20 thanks to the election of Republicans Shelley Moore Capito in West Virginia and Joni Ernst in Iowa to offset the departure of Landrieu and Hagan.
For those wishing to see the gender breakdown in the U.S. Senate (and Congress generally) better reflect the population at large, the losses by these two women may be seen as a setback.
However, with more and more women in the chamber, that means there is a greater opportunity for other less celebrated records to be made.
A Smart Politics analysis finds that the losses by Kay Hagan and Mary Landrieu in 2014 marks the first time in U.S. history that two female U.S. Senators were defeated in the same election cycle.
Prior to 2014, no more than one woman had been defeated in a reelection bid to the U.S. Senate.
That had happened in nine cycles:
● 1944: Arkansas Democrat Hattie Caraway (lost nomination)
● 1972: Maine Republican Margaret Chase Smith
● 1978: Appointed Alabama Democrat Maryon Allen (lost nomination)
● 1986: Florida Republican Paula Hawkins
● 1996: Kansas Republican Sheila Frahm (lost nomination)
● 1998: Illinois Democrat Carol Moseley Braun
● 2002: Appointed Missouri Democrat Jean Carnahan
● 2008: North Carolina Republican Elizabeth Dole
● 2010: Arkansas Democrat Blanche Lincoln
In the 2014 cycle there were 15 female major party U.S. Senate nominees across the 36 elections – down slightly from 2012 (18) but tied with 2010 for the second most in history.
With two more cycles to go in 2016 and 2018, there have already been more female U.S. Senate nominees during the first three cycles of the 2010s (48) than in any other decade, ahead of the 1990s (47), the 2000s (46), 1980s (26), and 1970s (nine).
And while women may still face some hurdles getting on the ballot and elected in the first instance to the highest legislative office in the land (as they do in executive offices up the ballot), the data shows they have been nearly as successful in retaining their seats as men once they get there.
For despite the losses by Landrieu and Hagan in 2014, female incumbents have been very successful in holding their seats when running for reelection.
Smart Politics examined the more than 350 U.S. Senate elections since 1990 and found that female incumbents have been reelected at nearly the same rate (84 percent) as men (87 percent) during this 13-cycle span.
The 1990 election marked a milestone of sorts in the annals of U.S. election history as it began a stretch of 13 cycles and counting with at least one female U.S. Senate incumbent on the ballot nationwide each cycle.
By contrast, during the 38 cycles from 1914 through 1988, there were only 10 female U.S. Senators seeking reelection, and never more than two in a single decade.
During these last 24 years, female U.S. Senators have retained their seats in 38 of 45 reelection bids, or 84.4 percent of the time.
That is nearly identical to the reelection rate of their male counterparts who have been victorious in holding their seats in 270 of 309 bids, or 87.4 percent of the time.
In the 2014 cycle, 21 of the 24 male U.S. Senators running for reelection won another term in the chamber – all but Democrats Mark Begich of Alaska, Mark Pryor of Arkansas, and Mark Udall of Colorado.
In short, women have demonstrated that the incumbency advantage is as a formidable asset for them as it is for men in holding onto U.S. Senate seats over the last generation.
Reelection Rate of U.S. Senators by Gender, 1990-2014
Cycle

# Men

Won

Lost

% Won

# Women

Won

Lost

% Won

1990

31

30

1

96.8

1

1

0

100.0

1992

27

22

5

81.5

1

1

0

100.0

1994

24

22

2

91.7

2

2

0

100.0

1996

20

19

1

95.0

1

0

1

0.0

1998

25

23

2

92.0

4

3

1

75.0

2000

26

20

6

76.9

3

3

0

100.0

2002

25

22

3

88.0

3

2

1

66.7

2004

21

20

1

95.2

5

5

0

100.0

2006

23

17

6

73.9

6

6

0

100.0

2008

27

23

4

85.2

3

2

1

66.7

2010

19

16

3

84.2

6

5

1

83.3

2012

17

15

2

88.2

6

6

0

100.0

2014

24

21

3

87.5

4

2

2

50.0

Total

309

270

39

87.4

45

38

7

84.4
Note: Includes U.S. Senators running for election that were first appointed into office. Table compiled by Smart Politics.
Overall, since the first woman was seated in the senate in 1922 (Georgia's Rebecca Latimer Felton, by appointment), female incumbents have won reelection in 44 of 55 attempts, or 82.3 percent of the time.
Of the 31 women in U.S. Senate history who first entered the chamber by winning an election:
● Eight unseated an incumbent in a general or special election: Dianne Feinstien of California, Kay Bailey Hutchison of Texas, Maria Cantwell of Washington, Debbie Stabenow of Michigan, Claire McCaskill of Missouri, Jeanne Shaheen of New Hampshire, Kay Hagan of North Carolina, and Elizabeth Warren of Massachusetts.
● One knocked off an incumbent from her own party in a primary: Carol Mosely Braun of Illinois.
● 20 won regular open seat races: Margaret Chase Smith of Maine, Nancy Kassebaum of Kansas, Paula Hawkins of Florida, Barbara Mikulski of Maryland, Patty Murray of Washington, Barbara Boxer of California, Olympia Snowe of Maine, Mary Landrieu of Louisiana, Susan Collins of Maine, Blanche Lincoln of Arkansas, Hillary Rodham Clinton of New York, Elizabeth Dole of North Carolina, Amy Klobuchar of Minnesota, Kelly Ayotte of New Hampshire, Mazie Hirono of Hawaii, Deb Fischer of Nebraska, Heidi Heitkamp of North Dakota, Tammy Baldwin of Wisconsin, Joni Ernst of Iowa, and Shelley Moore Capito of West Virginia.
● Two won open seat special elections: Hazel Abel of Nebraska and Maurine Neuberger of Oregon.
An additional 15 women were initially appointed to their seats.
Follow Smart Politics on Twitter.