Daugaard Sets Record for Largest Gubernatorial Win in South Dakota History
All eyes were on the state's U.S. Senate race in 2014, but Dennis Daugaard quietly orchestrated the biggest gubernatorial victory in the state's 125-year history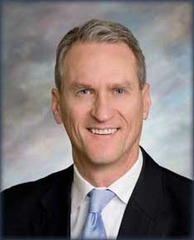 From afar, South Dakota's 2014 election found most eyeballs focused on the state's U.S. Senate race, in which two third party candidacies on occasion seemed to put in doubt what was seen early in the cycle as the first piece of the puzzle to the Republican Party taking back control of the nation's upper legislative chamber.
In the end, GOP nominee Mike Rounds cruised to victory, despite Larry Pressler notching the second largest tally for an independent or third-party U.S. Senate candidate in state history.
With that win, Republicans also received good press for achieving a rare feat which Smart Politics highlighted more than a year and one-half before Election Day – securing control of all statewide offices for the first time in more than 50 years.
But if one had to isolate a single election that crystallized the stronghold the Republican Party has over the Mount Rushmore State electorate, it would be at the top of the ticket, where Dennis Daugaard won reelection over Democrat State Representative Susan Wismer.
Daugaard's victory not only extended the Republican gubernatorial winning streak to a best-in-the-nation 10 consecutive cycles in South Dakota, but also marked the most dominating win for the office in the history of the state.
A Smart Politics review of South Dakota electoral history finds that Dennis Daugaard's 45-point win in 2014 was the biggest blowout across the 54 contests conducted since statehood.
Republicans, of course, have dominated elections for governor over the last 125 years, now winning 44 of 54 races, or 81.5 percent of the time.
South Dakota Republicans currently enjoy the longest gubernatorial victory streak by any party in the nation at 10 in a row, with the last Democratic victory coming 40 years ago in 1974 (Richard Kneip).
Utah Republicans are next at nine consecutive gubernatorial victories followed by Oregon and Washington Democrats at eight and Delaware and New Hampshire Democrats and Idaho, North Dakota, and Texas Republicans at six in a row each.
Prior to 2014, the largest win in any election for governor in South Dakota came back in an open seat race in 1904 when GOPer Samuel Elrod defeated Democratic nominee Louis Crill by 43.6 points.
Daugaard beat that record by 1.4 points in a rout over the lesser-known Rep. Wismer who fronted just the fourth all-female gubernatorial ticket in U.S. history with former two-term Sioux Falls State Representative Susy Blake as her running mate.
Gubernatorial candidates have also enjoyed 40+-point victory margins in two other cycles – Republican incumbents Sigurd Anderson in 1952 (40.4 points over Sherman Iverson) and Bill Janklow in 1982 (41.8 points over Democrat Michael O'Connor).
Eight other candidates have coasted to 30+-point wins – all Republicans: Arthur Mellette in 1889 (38.8 points), incumbent Charles Herreid in 1902 (36.0 points), Coe Crawford in 1906 (38.6 points), William McMaster in 1920 (30.0 points), Carl Gunderson in 1924 (31.0 points), incumbent Merrell Sharpe in 1944 (31.0 points), George T. Mickelson in 1946 (34.4 points), and incumbent Bill Janklow in 1998 (31.1 points).
Daugaard also nearly set the mark for the largest percentage of the vote received in a South Dakota gubernatorial election at 70.5 percent.
That was the second best in state history trailing the 70.9 percent won by Bill Janklow when he notched the second of his four victories in 1982.
The only reason that record was not broken by Daugaard in 2014 was due to the historically large support for independent candidate Michael Myers.
At 4.1 percent, Myers tied Libertarian Nathan Barton (1994) for the best showing for an independent or third-party candidate in a South Dakota gubernatorial election since 1926 when Farmer-Laborite Tom Ayres won 6.5 percent in a race won by Democrat William Bulow.
Only one other gubernatorial nominee has ever eclipsed the 70 percent mark – Sigurd Anderson received 70.2 percent of the vote in 1952.
Follow Smart Politics on Twitter.