Did Jeb Bush Wait Too Long to Run for President?
It has been 150+ years since the last time there was a 14-year gap between a presidential candidate's last legislative or executive office electoral victory and a successful White House campaign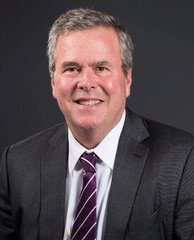 Jeb Bush's announcement Tuesday that he was exploring a run for the presidency in 2016 may have disappointed his mother, but was not a surprise to most.
Talk of another Bush presidential bid has percolated for years, even as the former Florida governor's last campaign in 2002 has faded into the distance of America's political rear view mirror.
Of course, it can be argued that precisely what the 61-year old younger brother of George W. Bush needed was to put a healthy distance between his sibling's presidency and a potential campaign.
That said, few successful presidential candidates have waited so long.
A Smart Politics analysis finds that the 14 years between Jeb Bush's last electoral victory in 2002 and the presidential election of 2016 is the longest such gap recorded by any victorious presidential candidate in more than 150 years.
Note: The following analysis excludes the five men who never held elected office prior to becoming president (in post-Constitutional United States): George Washington, Zachary Taylor, Ulysses Grant, Herbert Hoover, and Dwight Eisenhower.
The last president who saw 14 years pass between his last legislative or executive office electoral victory and winning the White House was none other than Abraham Lincoln.
Lincoln was elected to the U.S. House from Illinois in 1846 but served only one term and did not win another race until the White House in 1860.
Since then, only two winning presidential candidates had seen more than eight years pass since their last electoral victory:
● Richard Nixon in 1968 – 12 years after winning the vice-presidency on Eisenhower's ticket in 1956.
● Ronald Reagan in 1980 – 10 years after being reelected to a second term as Governor of California.
It has been much more common for presidential candidates to get elected after only a cycle or two has passed since their last win.
The average gap between electoral victories during this 150-year span has been just a shade over four years.
Among the more than a dozen Republicans rumored to be mulling a run for the White House in 2014 is Wisconsin Governor Scott Walker, who just won reelection last month.
If Walker did launch a presidential bid, he would not be the first to do so after such a short time lapse between campaigns – several of whom have been successful.
For example, when Rutherford Hayes won the presidency in 1876 he was only one year removed from his narrow gubernatorial victory in Ohio, knocking Democratic Governor William Allen out of office by 5,544 votes.
Four years later, U.S. Representative James Garfield won the White House just 10 months after the Ohio legislature elected him to the U.S. Senate in January 1880 (Garfield was never seated to that office).
Five other presidents had won state or federal elections two years prior to capturing the White House:
● Grover Cleveland (1884): Cleveland easily won New York's 1882 gubernatorial election two years before winning the presidency
● Woodrow Wilson (1912): Wilson won New Jersey's 1910 gubernatorial election by double-digits
● John Kennedy (1960): Kennedy won his second term to the chamber in 1958 by nearly 50 points
● Bill Clinton (1992): Clinton won his fifth nonconsecutive term as governor of Arkansas in 1990
● George W. Bush (2000): Bush won reelection to a second term as governor and set the record – that still stands – for the best ever showing by a Texas Republican gubernatorial nominee
The longest span between an electoral victory and a victorious presidential campaign is 21 years, set by John Quincy Adams.
Adams was elected to the U.S. Senate from Massachusetts in 1803 and did not win another contest until the presidential Election of 1824 (though he held other prominent positions, such as Minister to England and Secretary of State).
Also of note is the 15-year gap for William Harrison (elected to the U.S. Senate in 1825), the 16-year gap for Franklin Pierce (U.S. Senate, 1836), and the 13-year gap for James Buchanan (U.S. Senate, 1843).
Follow Smart Politics on Twitter.