A look back at some of the reports that made headlines from Smart Politics in 2014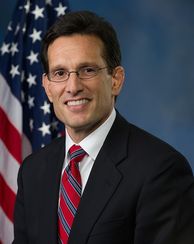 The last 12 months have provided an exciting electoral cycle, complete with many historical firsts, rarities, and interesting stories on which Smart Politics was the first to report.
Here are a few highlights:
Eric Cantor's Inglorious Exit
In an early summer shocker, the U.S. House Majority Leader was ousted by double-digits in his GOP primary by professor David Brat.
Smart Politics was first to document how Cantor's defeat was the first after 54 consecutive successful renomination bids by sitting U.S. House majority leaders since the creation of the office in 1899. Prior to Cantor, more house majority leaders had died in office than lost a renomination bid.
The jaw-dropping loss by Cantor also ended a string of 218 consecutive renomination victories by Virginia U.S. Representatives since 1966, and marked the first such Republican loss in the state since 1888.
Cantor ended up quitting before the end of his term and became just the second Virginian to do so out of more than 100 to lose renomination or reelection in state history.
Kevin McCarthy: Greenest US Rep to Become Floor Leader
Embarrassed and seemingly ineffective after his primary loss, Cantor soon announced he would step down as Majority Leader, and California four-term U.S. Representative and GOP Whip Kevin McCarthy was voted in by the Republican caucus as his replacement-elect.
Smart Politics was first to report that McCarthy's resume showed 423 fewer days of service in the chamber than any floor leader in U.S. House history across the more than three-dozen majority and minority leaders in the history of the U.S. House of Representatives, and nearly 10 years less than the institutional floor leader average of 17+ years.
Mitch McConnell (and Many GOP Incumbents) Claim Shaky Primary Victories
Meanwhile, in the nation's upper legislative chamber, all 28 U.S. Senators running for reelection won their party's nomination, although the primary season revealed trouble is still brewing inside the Republican Party.
In the highest profile race, early media reports on Mitch McConnell's victory over businessman Matt Bevin in Kentucky was overwhelmingly positive for the Majority Leader.
However, that tone shifted after Smart Politics reported that McConnell's 60 percent was the lowest support registered by a sitting Kentucky U.S. Senator from either party since 1938.
McConnell, however, was one of many Republican U.S. Senators who Smart Politics observed had emerged from their state's primary with historically poor showings.
In March, John Cornyn shattered the Texas record by more than 20 points for the lowest tally by an incumbent Republican U.S. Senator at 59 percent. Prior to Cornyn's 2014 performance, none of the nine previous cycles with a GOP Senator running for reelection saw an incumbent receive less than 80 percent of the primary vote.
In early June, the big story was in Mississippi where six-term incumbent Thad Cochran squared off against State Senator Chris McDaniel. Barely making it to a runoff, Cochran recorded the worst ever performance by the 10 Republicans seeking renomination in a Mississippi U.S. Senate primary with 49.0 percent of the vote in what was the second most competitive race among the nearly 50 Democratic and GOP Mississippi U.S. Senate primaries that have been conducted since 1916.
Cochran later edged McDaniel in the runoff and coasted to a seventh term in November.
Overshadowed by Cantor's defeat, that same night in June Lindsey Graham received just 56 percent of the vote – the lowest ever support in a South Carolina Republican primary by a sitting U.S. Senator, and the lowest by any elected senator in the state since 1950.
Two month later, Tennessee's Lamar Alexander won by nine points over Tea Party-backed State Representative Joe Carr with just shy of 50 percent of the vote – setting by far the mark for the lowest winning percentage and margin of victory ever recorded in a primary for a Republican U.S. Senator from the Volunteer State.
Prior to Alexander, incumbent GOP Senators from Tennessee had never seen a challenger reach double-digits and had won by an average margin of 91 points.
Democrats Lay A Lot of Eggs
But while Republican U.S. Senators stumbled a bit at the nomination phase, it was the Democratic nominees who faltered big on election day. In addition to losing nine seats, nominees in 10 of the 34 states with U.S. Senate races in 2014 found the Democratic Party endure one of its three worst performances in the direct election era.
West Virginia's Natalie Tennant won only 34.5 percent against Congresswoman Shelley Moore Capito in what was the first loss by the Democratic Party in a Mountain State U.S. Senate race since 1956 – the longest Republican drought in the nation heading into the 2014 election. Tennant's percentage was the worst showing by a Democrat across the 38 U.S. Senate races in West Virginia history and was more than 10 points below the previous Democratic low water mark (Matthew Neely in 1942).
In Wyoming, Democratic nominee Charlie Hardy mustered only 17.6 percent of the vote against Mike Enzi, and now owns the lowest percentage of the vote for any major party nominee in Wyoming U.S. Senate electoral history out of the 39 races conducted during the direct election era.
Democrats also failed to field a candidate in an Alabama U.S. Senate election (against Jeff Sessions) for the first time in history.
And finally, though his performance wasn't the worst ever by an Arkansas U.S. Senator, Democrat Mark Pryor became the firstfirst of 89 U.S. Senators to lose a general election coming off a victory in which there was no major party opponent on the ballot.
Follow Smart Politics on Twitter.