Mitt Romney's Rocky Historical Pathway to the Presidency
Only a handful of failed presidential nominees ran again and won the presidency – all in their second bid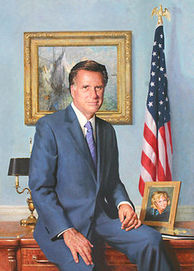 Months of speculation finally bore fruit Friday, when reports were released that Mitt Romney was considering yet another presidential run.
It would be the third presidential campaign for the former Massachusetts governor – in three consecutive cycles.
Romney made statements about a potential 2016 bid last week in New York City to campaign donors according to his 2012 campaign finance chair.
Another Romney presidential run, of course, would mark an about-face to his prior public remarks about his political future from just last year when he stated, "I'm not running for president. I think by and large people who lose a presidential race, well, they step aside."
That is true for both a majority of losing presidential candidates as well as the vast majority of losing nominees.
However, Romney might not be the only Republican making a repeat attempt at becoming president next year, with outgoing Texas Governor Rick Perry (2012), former Pennsylvania U.S. Senator Rick Santorum (2012), former Arkansas Governor Mike Huckabee (2008), and Ohio Governor John Kasich (2000) all making overtures based on their comments or travel schedules to key primary and caucus states.
Meanwhile Vice President Joe Biden (1988, 2008) and former first lady, New York U.S. Senator, and Secretary of State Hillary Clinton (2008) top the list of likely Democrats making another run at the White House this cycle.
None of these candidates, however, ever secured their party's presidential nomination.
What makes Romney's potential return interesting is the fact that it is unlikely the GOP will be lacking for candidates in what is considered, at this stage, to be one of the most open presidential nomination fields in recent major party history.
Perhaps Romney anticipates that he will attract enough loyalists from 2012 to take advantage of what is expected to be a splintered field with as many as a dozen high profile candidates mulling bids.
To be sure, over the decades many failed candidates have come back to launch a second, third, or fourth presidential campaign.
Since World War II, politicians such as Republicans Wendell Willkie, Harold Stassen, Nelson Rockefeller, Ronald Reagan, George H.W. Bush, Bob Dole, Pat Buchanan, Steve Forbes, Lamar Alexander, John McCain, Ron Paul, and Mitt Romney have all done so along with Democrats Hubert Humphrey, George McGovern, Eugene McCarthy, George Wallace, Scoop Jackson, Jerry Brown, Jesse Jackson, Dick Gephardt, Al Gore, Joe Biden, Dennis Kucinich, and John Edwards.
Still, it has been historically unusual for a failed presidential nominee to attempt a comeback bid and to succeed in doing so.
A Romney run in 2016 could thus yield one of three scenarios:
1) Romney could fail to win his party's nomination. Such was the fate of 1844 Whig nominee Henry Clay in 1848 (Clay was also a Democratic-Republican candidate in 1824 and National Republican nominee in 1832), 1928 Democratic nominee Al Smith in 1932, 1940 Republican nominee Wendell Willkie in 1944, 1968 Democratic nominee Hubert Humphrey in 1972, and 1972 Democratic nominee George McGovern in 1984. (Former President Herbert Hoover also made a bid for the GOP nomination in 1940, eight years after losing as an incumbent president).
2) Romney could win his party's nomination, but then lose once again in the general election. This was the fate of 1896 Democratic nominee William Jennings Bryan in 1900 (and 1908), 1944 Republican nominee Thomas Dewey in 1948, and 1952 Democratic nominee Adlai Stevenson in 1956.
3) Romney could win his party's nomination and go on to win the general election. This has happened four times since the birth of the modern two-party system in 1828 – though mostly involving rematches:
● Democrat Andrew Jackson lost to John Quincy Adams in 1824 (with voters split over four Democratic-Republican candidates) and then was victorious in the 1828 rematch.
● Whig William Harrison lost in 1836 to Martin Van Buren but won the rematch in 1840.
● Democrat Grover Cleveland lost his reelection bid in 1888 to Benjamin Harrison but won the 1892 rematch.
● Republican Richard Nixon was narrowly defeated by John Kennedy in 1960 and then defeated Vice President Hubert Humphrey eight years later in 1968.
Unfortunately for Romney, he won't get a chance at a rematch with Barack Obama, with whom he has compared favorably in hypothetic do-over matchups in recent months, and will likely have a much tougher path to the nomination this cycle – particularly when the GOP call for a fresh face will be so strong after his 2012 defeat.
The only politician to win the presidency on his third attempt was, of course, Ronald Reagan in 1980 after failed bids in 1968 and 1976.
The difference, however, is that Reagan never lost as his party's standard-bearer – winning the White House in his first attempt as the GOP nominee.
Follow Smart Politics on Twitter.