Charlie Baker Seeks Rare Victory in Super Bowl XLIX
Only two previous governors have had an NFL franchise from their state win the Super Bowl inside of their first month in office; another governor presided over four Super Bowl championships during his administration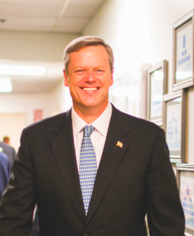 Once the Super Bowl XLIX matchup was set between the New England Patriots and Seattle Seahawks, chatter began to surface as to the terms of the bet between Charlie Baker and Jay Inslee in the annual friendly wager that takes place between the home state governors of teams in the big game.
That wager is planned to be announced on Monday, with the expected terms to include lobster from Massachusetts and salmon from Washington.
While it is not be one of the most important decisions of Baker's early days as governor of the Bay State, it is one of the highest profile moments of his young administration.
And if the Patriots take home the Lombardi Trophy for the fourth time in franchise history, Baker will also become one of the greenest governors of a state with a team that won a Super Bowl during his tenure.
A Smart Politics review of gubernatorial tenures finds that if New England defeats Seattle on February 1st, Massachusetts Governor Charlie Baker will become one of just three governors who were in office less than a month when a team from his or her state won the Super Bowl.
The governor with the fewest number of days on the job when a team from his state won the Super Bowl was Republican Dick Thornburgh of Pennsylvania.
Thornburgh was elected to his first term in 1978 and was sworn into office to replace Democrat Milton Shapp on January 16, 1979.
On just his sixth day in office, the Pittsburgh Steelers won Super Bowl XIII – defeating the Dallas Cowboys in a 35-31 shootout.
Thornburgh would also govern the state when the Steelers won their fourth Super Bowl one year later against the Los Angeles Rams.
Following Thornburgh is Colorado Republican Bill Owens.
Owens won his first gubernatorial election in 1998 to replace three-term Democrat Roy Romer.
Owens had served only 20 days when Super Bowl XXIII came and the Denver Broncos defeated the Atlanta Falcons 34-19 to win back-to-back championships.
Note: Romer owns the longest gubernatorial tenure at the time of a Super Bowl victory at 11 years and 13 days when John Elway and the Broncos beat the defending Super Bowl champion Green Bay Packers in 1998.
Two other governors were in office at least a decade before a franchise from their state won the Super Bowl: New York Republican Nelson Rockefeller was in office 10 years, 12 days when the Jets won Super Bowl III in 1969 and Wisconsin Republican Tommy Thompson had served 10 years, 22 days when the Packers were victorious in Super Bowl XXXI in 1997.
If the Patriots are victorious this coming Sunday, Massachusetts' Baker would have logged the third fewest days on the job at just 25.
The only other governors to enjoy a Super Bowl victory with a team from their state inside of one year in office were Wisconsin Republican Scott Walker and Massachusetts Republican Jane Swift.
Walker was in his 35th day in office on February 6, 2011 when the Green Bay Packers won their fourth Super Bowl – beating the Pittsburgh Steelers 31-25.
Swift, who took office as Acting Governor of Massachusetts after the resignation of Paul Cellucci in April 2001, had served 9 months, 25 days when the Patriots won Super Bowl XXXVI over the St. Louis Rams 20-17 in February 2002.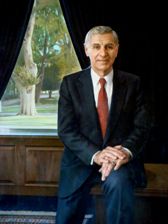 And which governor can brag about presiding over the most home state Super Bowl victories?
That would be California Republican George Deukmejian.
Deukmejian ran California from 1983 to 1991 during which the Los Angeles Raiders (1984) and San Francisco 49ers (1985, 1989, 1990) racked up four Super Bowl victories for the Golden State.
California Democrat Jerry Brown is next with three (Oakland Raiders in 1977 and 1981, San Francisco 49ers in 1982).
Eight other governors are next with two each:
● Republican Warren Knowles of Wisconsin: Green Bay Packers in 1967 and 1968
● Democrat Reubin Askew of Florida: Miami Dolphins in 1973 and 1974
● Democrat Milton Shapp of Pennsylvania: Pittsburgh Steelers in 1975 and 1976
● Republican Dick Thornburgh of Pennsylvania: Pittsburgh Steelers in 1979 and 1980
● Democrat Mario Cuomo of New York: New York Giants in 1987 and 1991
● Democrat Ann Richards of Texas: Dallas Cowboys in 1993 and 1994
● Republican Mitt Romney of Massachusetts: New England Patriots in 2004 and 2005
● Democrat Ed Rendell of Pennsylvania: Pittsburgh Steelers 2006 and 2009
In addition to Romney (and possibly Rendell), other former governors expressing interest in a 2016 presidential bid who have a Super Bowl victory on their political resume include Jeb Bush of Florida (Tampa Bay Buccaneers in 2003), Mitch Daniels of Indiana (Indianapolis Colts in 2007), Bobby Jindal of Louisiana (New Orleans Saints in 2010), Scott Walker of Wisconsin (Green Bay Packers in 2011), Andrew Cuomo of New York (New York Giants in 2012) and Martin O'Malley of Maryland (Baltimore Ravens in 2013).
Follow Smart Politics on Twitter.