Was the GOP Money Targeting Collin Peterson in '14 Well Spent?
The GOP spent millions against Peterson last cycle to slice his victory margin to one-third of its 2012 mark for his closest shave since 1994, but the Blue Dog Democrat suggests all that money spent against him backfired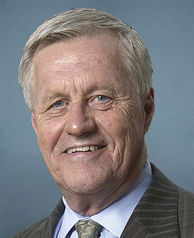 Thirteen-term Minnesota DFL U.S. Representative Collin Peterson made news this week when he announced to the Star Tribune that he planned to run for reelection again in 2016.
Peterson's seat was one of the top targets in the U.S. House of the Republican Party in 2014 with some speculating early last cycle that he wouldn't even run.
Peterson did run, and the GOP spent millions trying to defeat him, which the congressman now states got him "energized" and "fired up."
In fact, Peterson was quoted as saying all that Republican money "had the opposite effect of what they thought they were going to."
Peterson did defeat his 2014 opponent, Republican State Senator Torrey Westrom. And while that was the opposite result of what the GOP wanted, that doesn't mean the big push and money spent by the party to pick up the 7th CD had the opposite effect.
In fact, the 2014 cycle provided Peterson with the closest call over the last 20 years of his congressional career, defeating Westrom by just 8.6 points with 54.2 percent of the vote.
Over the previous nine election cycles, no Republican opponent came within twice that margin against Peterson.
From 1996 through 2012, the congressman's narrowest victory was a 17.6-point win over Lee Byberg during the 2010 GOP wave.
In 2014, Republicans slashed Peterson's victory margin to one-third of its mark after redistricting in 2012, when he won by 25.6 points in a rematch with Byberg.
Prior to that, Peterson won by 36.1 points in 1996, 43.6 points in 1998, 39.4 points in 2000, 30.7 points in 2002, 32.3 points in 2004, 40.7 points in 2006, and 44.5 points in 2008.
As such, it is quite likely that the millions of dollars the GOP spent in Minnesota's 7th CD had rather a pronounced effect – just not enough to defeat a popular congressman who has served the district for nearly a quarter-century.
Besides 2014, the only other cycles in which Peterson won by single digits were in his 1990 victory ousting Republican incumbent Arlan Stangeland (7.1 points) and his first two reelection wins in 1992 (1.3 points) and 1994 (2.6 points) against State Representative Bernie Omann.
Despite the shrinkage in Peterson's victory margin in 2014, there is one bit of data to suggest Peterson did nonetheless turn in a strong performance in holding his seat (other than winning, that is).
The congressman represents the second largest GOP-leaning district in the state: R+6 according to the 2014 Cook Partisan Voting Index (PVI).
When looking at the victory margin of all eight winners in Minnesota U.S. House contests in 2014, each performed above their district's PVI, by an average of 14.0 points.
Peterson, who won by 8.6 points, did ever so slightly better than that average at 14.6 points above the PVI handicap.
Impressive, considering the millions spent against his campaign.
Keith Ellison of the 5th CD did the best at +24.8 points, followed by Erik Paulsen of the 3rd CD at 22.4 points, Betty McCollum of the 4th CD at 17.3 points, John Kline of the 2nd CD at 15.2 points, Tim Walz of the 1st CD at 9.5 points, Tom Emmer of the 6th CD at 7.9 points, and Rick Nolan of the 8th CD at 0.4 points.
Adjusted Margin of Victory in 2014 Minnesota U.S. House Elections
District

Winner

PVI

MoV

Adjusted MoV*

1

Tim Walz (D)

R+1

8.5

9.5

2

John Kline (R)

R+2

17.2

15.2

3

Erik Paulsen (R)

R+2

24.4

22.4

4

Betty McCollum

D+11

28.3

17.3

5

Keith Ellison (D)

D+22

46.8

24.8

6

Tom Emmer (R)

R+10

17.9

7.9

7

Collin Peterson (D)

R+6

8.6

14.6

8

Rick Nolan (D)

D+1

1.4

0.4
* Denotes the difference between the winner's victory margin and his or her district's Cook Partisan Voting Index score.
Follow Smart Politics on Twitter.