Would Mike Pence Be Jumping the Gun in White House Bid?
Abraham Lincoln was the last president to attempt and never win a majority of the vote in a statewide race prior to winning the White House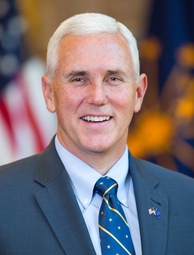 For the second consecutive election cycle, a Republican Governor from Indiana is being mentioned as a possible candidate for the White House.
First-term Governor Mike Pence drew media attention at the National Governors Association on Saturday by stating he would not make any definitive statement about his 2016 plans – whether to run for reelection or seek the presidency – until after the state's legislative session, which ends in late April.
Pence capped off the weekend with an appearance on FOX News Sunday.
During the 2012 election cycle, Indiana's two-term Governor Mitch Daniels was seen by many as a viable establishment candidate well into 2011, but the intrigue about his candidacy ended in late May of that year when he announced that he would not run for the presidency.
The last and only U.S. President to hail from Indiana is Benjamin Harrison in the late 19th Century and none since have secured a major party nomination.
Even still, Governor Pence could be one of what might turn out to be a record number of current or ex-GOP officeholders to explore a White House bid this year.
At first blush, Pence would not likely enter the 2016 field as a top-tier candidate due to his relative lack of name recognition vis-à-vis former Governors like Jeb Bush, Mike Huckabee, and Rick Perry, current Governors Scott Walker, Chris Christie, Bobby Jindal, and John Kasich, former U.S. Senator Rick Santorum, and sitting U.S. Senators Ted Cruz, Rand Paul, Lindsey Graham, and Marco Rubio.
In fact, out of all these candidates mentioned above, as well as potential long-shots who have expressed interest in running for president this cycle like former Governors George Pataki, Bob Ehrlich, and Jim Gilmore, all but Pence and Rubio have one thing in common: they each boast a political resume that includes at least one victory in a statewide election with the support of a majority of the voters.
To be sure, neither Rubio or Pence are political novices, with the former serving a decade in local and state politics before his plurality-winning 2010 U.S. Senate victory and Pence winning six terms to the U.S. House before becoming governor.
However, Governor Pence only narrowly won the open seat Indiana gubernatorial election of 2012 – carrying the Republican-heavy state by just 3.2 points with a plurality 49.5 percent over a former state legislator that had been out of office for a decade (John Gregg).
While Rubio also fell shy of a true majority, the 48.9 percent he garnered was comparatively more impressive – winning by 19.2 points over independent Charlie Crist in a field with three well-known candidates.
The absence of notching at least one majority-winning statewide election before winning the presidency is quite unusual in U.S. history.
In fact, one has to go all the way back to Abraham Lincoln to find the last president who never previously achieved such a mark in their home state – of those who previously ran for elected office. (Lincoln lost the 1858 Illinois U.S. Senate race to Democrat Stephen Douglas).
To be sure, over the last 150+ years there have been a handful of presidents who did not pursue the traditional pathway to the office – and thus never even ran for statewide office before winning the presidency: Ulysses S. Grant, William Taft, Herbert Hoover, and Dwight Eisenhower.
Two other presidents fell short of claiming a majority in a statewide race on their own, but did achieve that feat as a vice-presidential running mate.
Teddy Roosevelt won his New York gubernatorial election in 1898 with only 49.0 percent of the vote, but won 53.1 percent in the Empire State in 1900 as William McKinley's running mate.
George H.W. Bush outright lost the 1964 and 1970 Texas U.S. Senate elections, but won the vice-presidency as Ronald Reagan's running mate in 1980 and 1984 with 55.3 and 63.6 percent of the vote in his home state of Texas respectively.
The remaining 18 presidents since Lincoln all won at least one statewide election with an outright majority before landing the White House:
● Rutherford Hayes: Ohio governor (1867, 1869, and 1876)
● James Garfield: Ohio U.S. Senator (1880; Garfield ultimately declined the post as he won the presidency later that November)
● Grover Cleveland: New York governor (1882)
● Benjamin Harrison: Indiana U.S. Senator (1880)
● William McKinley: Ohio governor (1893)
● Woodrow Wilson: New Jersey governor (1910)
● Warren Harding: Ohio lieutenant governor (1903)
● Calvin Coolidge: Massachusetts lieutenant governor (1915, 1916, 1917) and governor (1918, 1919)
● Franklin Roosevelt: New York governor (1930)
● Harry Truman: Missouri U.S. Senator (1934, 1940)
● John Kennedy: New York U.S. Senator (1952, 1958)
● Lyndon Johnson: Texas U.S. Senator (1948, 1954, 1960)
● Richard Nixon: California U.S. Senator (1950)
● Jimmy Carter: Georgia governor (1970)
● Ronald Reagan: California governor (1966, 1970)
● Bill Clinton: Arkansas attorney general (1976) and governor (1978, 1982, 1984, 1986, 1990)
● George W. Bush: Texas governor (1994, 1998)
● Barack Obama: Illinois U.S. Senator (2004)
Of course, Pence's recent track record is better than some of the names being mentioned as 2016 candidates, because at least he won his race.
Rick Santorum (2006 Pennsylvania U.S. Senate), Bob Ehrlich (2006 Maryland guberatorial), Jim Gilmore (2008 Virginia U.S. Senate), and Carly Fiorina (2010 California U.S. Senate) all were defeated in their last statewide race. (Not to mention the failed presidential bids of Santorum, Perry, Kasich, and Huckabee).
Follow Smart Politics on Twitter.