Joe Sestak and Retread Pennsylvania US Senate Candidates By the Numbers
Only two failed U.S. Senate nominees from the Keystone State have sought a return to the chamber prior to Sestak – neither were victorious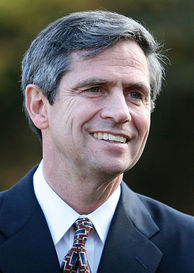 Joe Sestak officially kicked off his 2016 U.S. Senate campaign Wednesday in Philadelphia in what he hopes will be an easy ride to the Democratic nomination and a more favorable general election environment than the one he faced in 2010 when he lost to Republican Pat Toomey by three points.
The former Pennsylvania Congressman enjoys strong name recognition but has launched a candidacy that lacks unified party support, just as it did the first time around when he sought his party's nomination and defeated five-term Republican-turned-Democratic U.S. Senator Arlen Specter in a competitive primary battle.
Will Sestak's decision to launch a second bid for the nation's upper legislative chamber pay off this time around?
Keystone State political history has little to say on the matter – as few failed nominees have suited up for another run.
Here are the numbers.
Pennsylvania U.S. Senate Nominee Retreads
Pennsylvania has held 38 U.S. Senate general and special elections since its first popular vote contest for the office in 1914.
Through 2012, a total of 131 different men and women have run for the U.S. Senate and made it at least to a major party primary ballot across these 38 contests – 72 Democrats and 59 Republicans.
Of the 37 defeated major party nominees in Pennsylvania (Democrats did not field a candidate in a 1922 special election), only one made it back to the general election ballot.
The only failed nominee to come back and reclaim his or her party's nomination for a second time was former Pittsburgh mayor Peter Flaherty.
Flaherty was the Democratic nominee in 1974 but could not unseat incumbent Richard Schweiker in the post-Watergate general election – losing by 7.1 points.
After taking a Deputy Attorney General post in the Carter administration, Flaherty easily won an eight-candidate Democratic primary in 1980 (that included former Iowa U.S. Representative Edward Mezvinsky) to vie for the open seat after Schweiker's retirement that cycle.
However, Flaherty narrowly lost the general election to Republican Arlen Specter by 2.4 points.
Prior to Flaherty, only one other failed Pennsylvania U.S. Senate nominee even made it back to the party primary.
In 1928, attorney and future Pittsburgh mayor William McNair won the Democratic nomination without opposition. McNair lost that November to GOP incumbent David Reed.
Twelve years later, in 1940, McNair was one of two primary challengers to incumbent U.S. Senator Joseph Guffey and came in third place.
McNair and Flaherty – that's the entire list, with Sestak presumably adding his name in 2016 if he does not drop out before the primary.
Sestak is also seeking to give Pennsylvania its first rematch among major party U.S. Senate candidates in state history.
Not once across the state's 38 direct elections for the office has a defeated major party candidate sought and earned a general election rematch against the victor.
Unopposed Nominees
If Sestak makes it to the Democratic primary in 2016, what are the odds he will run unopposed in his quest for his party's nomination?
Not good.
Out of the 28 election cycles in which a Pennsylvania U.S. Senate primary was held without a sitting Democrat running for reelection, only eight saw the nominee run unopposed – and just once in the last 55+ years: Samuel Shull (1922), Fred Kerr (1922 special), William Wilson (1926), William McNair (1928), Sedwick Kistler (1930 special), Francis Myers (1944), Joseph Clark (1956), and Joe Hoeffel (2004).
Thirteen of the last 14 non-incumbent Pennsylvania Democratic U.S. Senate nominees since 1958 faced at least one primary challenger: George Leader (1958), Genevieve Blatt (1964), William Sesler (1970), Peter Flaherty (1974, 1980), William Green (1976), Cyril Wecht (1982), Bob Edgar (1986), Joe Vignola (1988), Lynn Yeakel (1992), Bill Lloyd (1988), Ron Klink (2000), and Bob Casey (2006).
The question is thus not whether Sestak will likely face a Democratic primary fight, but whether it will be against a top-flight candidate (e.g. popular former Governor Ed Rendell).
Primary Losers Turned Winners
Speaking of primaries, there have been a few success stories among Pennsylvania political retreads who lost their party's primary, but then achieved more the second time around.
Former Philadelphia District Attorney Arlen Specter narrowly lost the 1976 U.S. Senate Republican primary to John Heinz by 2.8 points in a crowded six-candidate field to fill Hugh Scott's seat.
Undeterred, Specter ran again in 1980 and edged Bud Haabestad in an eight-candidate primary field en route to a general election victory over the aforementioned Peter Flaherty.
Pat Toomey followed a similar path.
In 2004, Congressman Toomey challenged Specter from the right in the GOP primary, and lost by only 1.6 points.
Toomey's strong performance in that race and decision to take on Specter again in 2010 scared off the five-term incumbent who then switched allegiances and ran as a Democrat.
Toomey easily won the Republican primary with more than 80 percent of the vote while Sestak ousted Specter in the Democratic primary.
As for political comeback stories on the Democratic side, former state party Chairman Lawrence Rupp lost his party's 1920 primary to John Farrell, but attempted a U.S. Senate run 12 years later in 1932.
Rupp easily won that cycle's primary over Lewis Cassidy to become the Democratic nominee.
However, unlike Specter and Toomey, Rupp lost the general election that November to Republican incumbent James Davis.
Primary Losers Again and Again…
Over the decades there have been six other candidates for the U.S. Senate from Pennsylvania who have failed in multiple primary runs:
● Former Republican Governor Gifford Pinchot lost the primaries of 1926 (to William Vare) and 1934 (to incumbent David Reed)
● Harrisburg Republican hotel manager William Adams lost the primaries of 1928 (to incumbent David Reed) and 1932 (to incumbent James Davis) as an anti-prohibition (wet) candidate
● Democratic Eastern Orthodox priest Frank Mesaros of Harrisburg lost the primaries of 1970 (to William Sesler) and 1974 (to Peter Flaherty)
● Republican lawyer and former Assemblyman Francis Worley of York Springs lost the primaries of 1976 (to John Heinz) and 1980 (to Arlen Specter)
● Democratic Villanova political science professor John Logue lost the primaries of 1980 (to Peter Flaherty), 1982 (to Cyril Wecht), and 1988 (to Joe Vignola). Logue also ran for his party's endorsement in 1970 but dropped out of the race prior to the primary.
● Democratic Slippery Rock State College professor Cyril Sagan lost the primaries of 1982 (to Cyril Wecht) and 1986 (to Bob Edgar)
Overall, Democrats have won just eight of 38 general and special U.S. Senate elections in Pennsylvania since the passage of the 17th Amendment, including just three of 16 since 1964.
Follow Smart Politics on Twitter.