Maryland US Representatives Eye Mikulski's Senate Seat
Maryland U.S. Senators have paid their dues in the lower chamber at the fifth highest rate in the nation; a former U.S. Representative has held Mikulski's seat for 107 of the last 130 years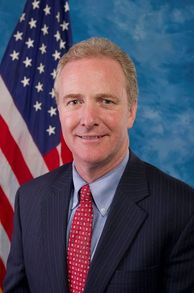 One Maryland U.S. Representative has already jumped into the state's 2016 U.S. Senate race – Democrat Chris Van Hollen – and several other current and former members of the chamber are mulling bids such as Representatives Donna Edwards, John Delaney, and John Sarbanes.
While both the Democratic and Republican parties will no doubt see at least a few candidates run for Barbara Mikulski's open seat who never served in Congress (e.g. Marriott International executive Kathleen Matthews, wife of MSNBC host Chris Matthews), it should not be surprising that U.S. House members are particularly attracted to and mulling over this potential promotion.
As Smart Politics first reported last December, the U.S. Senate already has a historic number of ex-U.S. Representatives in its ranks with 53 – the highest level since at least the late 1800s.
That includes both members of Maryland's delegation with Mikulski serving five terms in the lower chamber and Democrat Ben Cardin logging in 10.
Maryland also has one of the highest historical rates in the nation for electing or appointing men and women to the U.S. Senate who previously served in the House of Representatives.
A total of 25 of Maryland's 56 U.S. Senators in history came from the nation's lower legislative chamber, or 44.6 percent.
That is the fifth highest rate in the country, behind only Hawaii (57.1 percent), Virginia (48.1 percent), Massachusetts (47.2 percent), and Connecticut (45.5 percent). The national average is just 31.1 percent.
In fact, eight of the last 12 U.S. Senators to hold Mikulski's seat were former members of the U.S. House:
● Democrat Ephraim Wilson (1885-1891): one term in U.S. House
● Democrat Charles Gibson (1891-1897): three terms
● Republican George Wellington (1897-1903): one term
● Democrat John Smith (1908-1921): one term
● Democrat Millard Tydings (1927-1951): two terms
● Democrat Daniel Brewster (1963-1969): two terms
● Republican Charles Mathias (1969-1987): four terms
● Democrat Barbara Mikulski (1987-present): five terms
All told, former U.S. Representatives have held Maryland's Class III U.S. Senate seat for 107 of the last 130 years.
Former U.S. House members have held the state's Class I seat for 69 of the last 130 years including each of the last 44 since 1971.
Of the 25 Maryland U.S. Senators who spent time in the lower legislative chamber, only one had a longer stint there than Van Hollen.
Van Hollen is currently in his seventh term from the state's 8th Congressional District.
Only Senator Cardin served longer in the U.S. House at 10 terms and boasts the second longest tenure among current U.S. Senators behind only Ed Markey of Massachusetts at 20 terms.
Follow Smart Politics on Twitter.