Ted Cruz and a Brief History of Texas Presidential Candidates
With Cruz's 2016 candidacy, at least one major party or notable independent Texas candidate has (at least briefly) run for president in 14 of the last 16 election cycles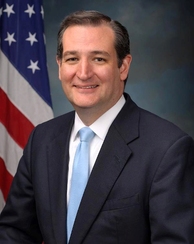 Ted Cruz became the first major Republican to get out of the gate in the 2016 presidential race this week, and as such has taken a different tactic from fellow Lone Star State GOPer Rick Perry, who was the last candidate to enter the 2012 field in mid-August 2011.
That strategy did not work out well for Perry, who, though well-funded, at times seemed unprepared for the intense debate schedule in which he was soon immersed.
With his early entrance, Cruz obviously also hopes to get out in front in the fundraising game, with several high profile candidates expected to enter the GOP sweepstakes in the coming weeks.
Cruz and Perry may both end up running for president this cycle, continuing an ever-growing list of Texans who have sought the White House over the last half-century.
A Smart Politics analysis finds that Ted Cruz is the 13th major party or notable independent Texan to seek the presidency in state history and his 2016 campaign marks the 14th cycle out of the last 16 in which a Texan has explored a presidential bid.
Overall, Texans have appeared on a presidential primary ballot, had their names placed in nomination at a major party convention, or otherwise launched an exploratory committee or formal candidacy nearly two-dozen times since statehood.
The first Texan to seek the presidency was independent Governor Sam Houston in 1852.
Houston, a U.S. Senator and former President of the Republic of Texas, peaked at 12 votes on the 29th and 30th ballots at a convention that took 49 ballots to nominate Franklin Pierce.
Eight years later, Houston sought the nomination of the Constitutional Union Party in the turbulent 1860 cycle.
The Texas governor trailed former Tennessee U.S. Senator John Bell 68.5 to 57 delegates after the first ballot with Bell claiming victory on the second ballot as Houston peaked at 69 votes.
Bell would carry three states in the general election.
Over the next 40 years, two Texans received one delegate each in balloting at Republican National Conventions.
In 1880, former Governor Edmund Davis earned one vote on the 17th ballot, just shy of the half-way mark at a convention in which James Garfield won the nomination on the 36th ballot.
In 1920, H.F. MacGregor, an at-large delegate at the convention, received one delegate from his home state of Texas on the ninth ballot, just prior to Warren Harding winning on the 10th ballot.
Next was Houston entrepreneur and Democratic National Committee Finance Director Jesse Jones in 1928.
Jones was instrumental in securing the June convention in Houston that cycle and was rewarded with 43 delegates on the first ballot – all 40 from Texas as a favorite son and three from Alabama – good for sixth place overall.
New York's Al Smith easily reached the two-thirds threshold on that ballot, though Jones' future in Democratic politics would continue – eventually serving as the U.S. Secretary of Commerce under FDR from 1940 to 1945.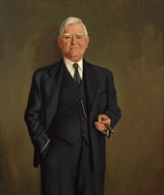 Speaker of the House John Nance Garner was the next Texan whose name was placed into nomination for president – in 1932 and 1940.
In 1932, Garner contested only one Democratic primary – winning California with a plurality 41.3 percent of the vote over Franklin Roosevelt (32.5 percent) and Al Smith (26.3 percent).
Garner emerged from the first and second balloting in third place behind Roosevelt and Smith with 90.25 delegates from Texas (46), California (44), and Illinois (0.25).
That left Roosevelt short of the two-thirds threshold (a rule that would be changed – much to the dismay of the Southern bloc – in 1936).
On the third ballot, Garner picked up half of Oklahoma's 22 delegates which had supported its Governor Alfalfa Bill Murray on the first ballot and actor/humorist Will Rogers on the second, bringing Garner's total to 101.25 delegates.
Garner released his delegates on the fourth ballot in exchange for becoming Roosevelt's running mate.
Roosevelt had told Garner in his second term that he would not seek a third term in 1940 and the Democratic Vice-President announced his candidacy in late 1939.
Roosevelt, of course, did run for an unprecedented and controversial third term and Garner remained in the race.
Before the convention, Garner's spokesman claimed he would win 461 delegates on the first ballot to likely deny Roosevelt an outright majority.
In the end, Roosevelt easily won a majority of delegates on the first ballot with Garner receiving just 61 for third place: 46 from Texas, eight from Virginia, three from Wisconsin, 1.5 from Florida and Missouri, and one from California.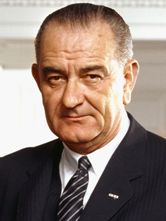 It would be sixteen years before a politician from Texas next made a play for the presidency with U.S. Senator Lyndon Johnson in 1956.
Johnson was not a player in the Democratic primaries which were largely a battle between 1952 nominee Adlai Stevenson and Tennessee U.S. Senator Estes Kefauver (Stevenson's eventual 1956 running mate).
Johnson won 80 delegates on the first and only convention ballot that cycle – good for third place. The Senate Majority Leader received 56 delegates from Texas, 22 from Mississippi, one from Nevada, and one-half each from Alabama and Massachusetts.
In 1960, Johnson fared much better at the convention with 409 delegates for second place, but was still shy of denying John Kennedy a majority on the first ballot.
Johnson received 61 delegates from Texas, 33 each from Georgia, Tennessee, and Virginia, 29 from Oklahoma, 27.5 from North Carolina, 27 from Arkansas, 26 from Louisiana, 25.5 from Kentucky, 21 from South Carolina, 20 from Alabama, 13 from New Mexico, 11 from Delaware, 7.5 from California, 6.5 from Nevada, 5.5 from West Virginia, 4.5 from Idaho, 4 from Pennsylvania, 3.5 from New York, 3 each from Hawaii and Utah, 2.5 from Washington, 2 each from Montana and South Dakota, one-half each from Iowa and Nebraska, and 4 from the Canal Zone.
Johnson, of course, would become Kennedy's running mate and then win the 1964 election as an incumbent less than a year after the president's assassination in Dallas in November 1963.
President Johnson was eligible to run for reelection in 1968, and appeared on the ballot in a few early primary states.
However, a few weeks after an infamous disappointingly narrow win in New Hampshire over Minnesota U.S. Senator Eugene McCarthy – and expectations that he would lose in Wisconsin in early April – Johnson announced he would not seek another term and exited the race.
In 1976, Texas U.S. Senator Lloyd Bentsen was one of a dozen Democratic hopefuls vying for the White House and although he enjoyed some initial fundraising success, that never translated into votes at the ballot box.
Seeing his early support erode to another Southerner, eventual nominee Jimmy Carter, Bentsen did not win any primaries and exited the race after the February 7th Oklahoma caucuses.
Note: Though not a presidential candidate that cycle, Bentsen would receive one delegate in balloting at the 1988 Democratic convention, where he would be named the running mate to Michael Dukakis.
In 1980, two Texas Republicans would vie for their party's presidential nomination – former U.S. Representative, Ambassador, and CIA Director George H.W. Bush and former Governor John Connally.
Connally exited the race early – one day after Ronald Reagan defeated him in the March 8th South Carolina primary by more than 20 points.
Connally would endorse the former California governor later that month.
Bush, meanwhile, was able to win primaries in Iowa, Massachusetts, Connecticut, Pennsylvania, Michigan, D.C., and Puerto Rico as well as 17 of the 21 delegates at Maine's state party convention.
However, Bush was no match for Reagan, and officially ended his quest for the Republican nomination on May 26th.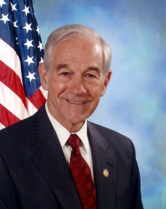 Bush would win the presidency eight years later with 426 Electoral College votes, but then lose to Bill Clinton in 1992, thanks in part to the independent candidacy of another Texan, Ross Perot.
At times a frontrunner in the three-candidate race, Perot ended up with 18.9 percent of the 1992 general election vote (and 8.4 percent in 1996 against Clinton and Bob Dole) marking the best nationwide showing by a non-major party candidate since Theodore Roosevelt in 1912.
The 1992 cycle would also see another Texas independent take a serious look at the presidency – although much more short-lived.
Former four-term U.S. Representative and 1988 Libertarian presidential nominee Ron Paul created an exploratory committee in 1992 to run as an independent or possible Republican challenger to President Bush and conducted polling in New Hampshire and other early states.
Paul's would-be campaign ended when Pat Buchanan entered the race to take on the sitting president.
Paul would formally launch two more presidential campaigns as a sitting Republican U.S. Representative in 2008 and 2012.
In 2008, Paul did not win any primaries or caucuses but did not shut down his campaign until June. He ended up with 21 delegates at the national convention – a distant second place behind John McCain.
In 2012, Paul won a plurality of delegates from Iowa, Louisiana, Maine, and Minnesota which netted him 190 delegates at the convention – second behind Mitt Romney.
In addition to Perot's second presidential bid in 1996, another Texan was briefly in the race – Republican U.S. Senator Phil Gramm.
Gramm narrowly lost the neighboring caucuses in Louisiana to Pat Buchanan in early February and then came in a disappointing fifth in the Iowa caucuses one week later.
As a result, Gramm exited the race on February 14th.
George W. Bush became the third Texan elected to the White House in 2000 with a relatively easy road to the nomination, carrying 43 states in the GOP primaries and caucuses with Arizona U.S. Senator John McCain his only viable opponent.
Bush won 271 Electoral College votes against Vice President Al Gore that cycle and 286 four years later against Massachusetts U.S. Senator John Kerry.
Governor Rick Perry's 2012 presidential campaign did not last as long as fellow Texan Ron Paul's, although he did enjoy a surge in the polls in the late summer and autumn of 2011 after entering the race.
Perry exited the race shortly before the South Carolina primary in mid-January.
Perry has suggested he will be a candidate once again in 2016 although he lags well behind in the third-tier in most public polling.
Note: In addition to the major party candidacies mentioned above, other Texans have run for president over the decades such as former Governor James Ferguson under the American banner in 1920 (Ferguson would only appear on the Texas ballot and received 9.9 percent of the vote).
Follow Smart Politics on Twitter.