Will Indiana Republicans Have Another Barnburner US Senate Primary in 2016?
The last two election cycles with a race for the upper legislative chamber have produced rare meaningful primary races for the Indiana GOP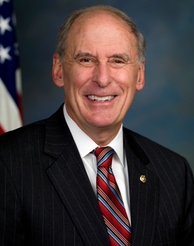 Republican Dan Coat's announcement this week that he would not seek reelection in 2016 opens the door to what will likely be a long list of Indiana politicians to claim his U.S. Senate seat.
Former Indiana Republican Party Chair and Coats staffer Eric Holcomb declared his candidacy on Thursday, though several GOP U.S. Representatives and state legislators are considered to be interested as well.
All this has the makings for what could become the third consecutive meaningful Republican U.S. Senate primary – an event that has largely been a rarity on both sides of the ticket in recent decades.
First some background.
The 2016 cycle is just the 21st time the State of Indiana has held a U.S. Senate primary over the last 100 years.
U.S. Senate primaries were ushered into Indiana shortly after the passage of the 17th Amendment in 1913 beginning with the 1916 cycle.
However, they were dissolved slight more than later, changing instead to state party nominating conventions (initially proposed to reduce the influence of the Ku Klux Klan in the selection of nominees).
Parties controlled the nominating process for nearly the next 50 years until the GOP-controlled Indiana legislature brought back U.S. Senate primaries for the 1976 cycle – a strategic move in light of the fact that vulnerable three-term Democratic incumbent Vance Hartke might have been jettisoned at a convention for a more competitive nominee.
(Sen. Hartke won a close Democratic primary against U.S. Representative Philip Hayes and was trounced as expected in the general election by Dick Lugar).
Two of the first three U.S. Senate primaries in the state from 1916 to 1922 provided high drama for the GOP.
In 1916, former Republican National Committee Chair Harry New was pitted against former U.S. Representative James Watson and a third candidate (Arthur Robinson).
New failed to win the required majority and led Watson by less than four points with 46.1 percent in a heated and controversial primary.
New was eventually selected as the nominee while Watson was chosen by the party as the nominee for a special election that arose after the death of Democrat Benjamin Shively. Both candidates ousted Democrats that November.
Six years later, New was challenged in the primary by former Republican U.S. Senator (and 1914 Progressive nominee) Albert Beveridge.
Beveridge won a close race by 5.6 points but the GOP lost the seat that November to Samuel Ralston.
Since U.S. Senate primaries returned to Indiana in 1976 after nearly 50 years of nominating conventions, only one nominee won less than 65 percent of the vote among the dozen primaries held through the 2006 cycle, and nine nominees ran unchallenged.
Incumbents Dick Lugar (1982, 1988, 1994, 2000, 2006), Dan Quayle (1986), and Dan Coats (1990 special, 1992) and challenger Marvin Scott (2004) all ran unopposed in the GOP primaries from 1976 to 2006.
Lugar won 65.5 percent in a three candidate field during his victorious 1976 campaign while Quayle won 77.1 percent en route to the chamber in 1980.
The only competitive primary during this period – and the closest in state history for either party – came in 1998 for Coats' open seat in a three-candidate race between Fort Wayne Mayor Paul Helmke, John Price, and Peter Rusthoven.
The three Republicans were separated by just 3.6 points from first to third with Helmke (35.2 percent) edging Price (33.3 percent) and Rusthoven (31.6 percent) close behind.
The last two Republican primaries have yielded high drama as well.
In 2010, Coats' surprise bid to return to the chamber after a 12-year absence resulted in a competitive race with the former U.S. Senator emerging from a five-candidate field with a plurality 39.5 percent of the vote.
State Senator and soon to be U.S. Representative Marlin Stutzman was second with 29.3 percent and ex-U.S. Representative John Hostettler was third with 22.6 percent.
In 2012, six-term U.S. Senator Dick Lugar was famously upset in the GOP primary by Tea Party-backed two-term State Treasurer Richard Mourdock.
Lugar was caught flat-footed and Mourdock ended up routing him by 21 points.
Democrats, meanwhile, have held only one contested U.S. Senate primary over the last 10 cycles dating back to 1988.
In 1994, former three-term U.S. Representative Jim Jontz defeated Willie Taylor by 9.6 points. Jontz would lose by 36 points to Lugar in the general election.
Democratic nominees faced no primary opponent in 1988 (Jack Wickes), 1990's special election (Baron Hill), 1992 (Joseph Hogsett), 1998 (Evan Bayh), 2000 (David Johnson), 2004 (Bayh), and 2012 (Joe Donnelly).
Democrats did not even field a candidate in 2006 against Lugar and no Democratic candidates met the primary ballot signature requirements in 2010 after a late retirement announcement by Evan Bayh. (As a result, Brad Ellsworth was chosen by the state party).
The most competitive Democratic U.S. Senate primary in Indiana history came in the aforementioned 1976 cycle when Vance Hartke defeated Philip Hayes by 6.2 points.
The only other Democratic nominees to face a primary opponent have been Samuel Ralston in 1922 (65.3 percent), Albert Stump (1926, 1928), Floyd Fithian in 1982 (59.5 percent), Jill Long in 1986 (73.5 percent), and Jontz in 1994 (54.8 percent).
Follow Smart Politics on Twitter.