Which Elector-Rich States Will Flip in 2016's Presidential Race?
Since 1832, at least one state with 10+ Electoral College votes has flipped from the previous cycle in 44 of 46 elections; an average of 5.5 such elector-rich states have flipped per cycle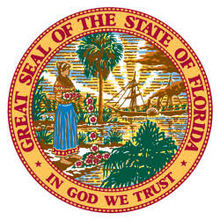 With no incumbent or repeat challenger on the presidential ballot in 2016, there will no doubt be a shake-up to some extent of the 2012 electoral map that saw Barack Obama win reelection with 332 electoral votes across 26 states and the District of Columbia.
While each party will look to each corner of the country for pick-up opportunities, the focus will naturally be on heavily populated battleground states.
In 2012, a total of 15 states were decided by single digits, including 11 in states with moderate to high populations of 10+ Electoral College votes: Barack Obama won Florida (29), Pennsylvania (20), Ohio (18), Michigan (16), Virginia (13), Minnesota (10), and Wisconsin (10) by less than 10 points and Mitt Romney carried Georgia (16), North Carolina (15), Arizona (11), and Missouri (10) by the same.
Romney was able to turn two states with double-digit electoral votes away from Obama that cycle – North Carolina (15) and Indiana (11).
While it is difficult to predict at this stage precisely which of these 11 states will flip in 2016, it is almost a certainty that one of them (and probably more) will do so.
A Smart Politics study of presidential elections since 1832 finds that at least one state with 10 or more Electoral College votes has changed its presidential party preference from the previous election in 44 out of 46 cycles with at least one state with 20 or more votes switching in 35 of these.
Overall, there have been 851 states with 10+ electoral votes in presidential elections held after the dawn of the modern two-party era in 1828.
(Note: For the purposes of this report, states voting for candidates from the National Republican to the Whig Party (1832-1836) and from the Whig Party to the Republican Party (1852-1856) were not counted as partisan flips).
The presidential vote has flipped in 253 of these 851 elections held in delegate-rich states since 1832, or 29.7 percent of the time.
That comes to an average of 5.5 states with double-digit electors flipping per cycle.
In eight of these 46 cycles, at least half of the states with double-digit electoral votes shifted allegiances:
● 1932: 17 of 22 states (77.3 percent)
● 1860: 8 of 11 states (72.7 percent)
● 1868: 14 of 21 states (66.7 percent)
● 1976: 13 of 20 states (65.0 percent)
● 1952: 14 of 22 states (63.6 percent)
● 1912: 14 of 24 states (58.3 percent)
● 1980: 11 of 20 states (55.0 percent)
● 1992: 10 of 20 states (50.0 percent)
At least 10 elector-rich states flipped in two other cycles: 1916 (10 of 24 states, 41.7 percent) and 1964 (10 of 21 states, 47.6 percent).
The only two cycles in which no moderate to heavily populated states switched parties were 1908 and 2004.
In 1908, William Taft held most of the states won by Teddy Roosevelt four years prior, with Nebraska and its eight electoral votes the largest state to change its partisan stripes, backing Democrat William Jennings Bryan instead. Colorado (five electoral votes) and Nevada (three) also switched to Bryan that cycle.
In 2004, the largest state to flip was Iowa and its seven electors – narrowly voting for George W. Bush over John Kerry by 0.7 points one cycle after Al Gore edged Bush by an even closer margin of 0.3 points. (New Hampshire and New Mexico were the other two states to back different parties in 2004, the former voting Democratic and the latter Republican).
Three other cycles saw only one state with double-digit electoral votes switch parties: New York in 1868 (Republican to Democrat), Missouri in 1904 (Democrat to Republican), and Pennsylvania in 1936 (Republican to Democrat).
Despite the large number of elector-rich states to flip over the last 180+ years, the trend has been otherwise.
During the last five election cycles since 1996, just 13 of 103 states with 10+ electoral votes have switched parties in presidential elections, or 12.6 percent – the lowest stretch in the history of the two-party era.
The previous low-water mark occurred from 1892 to 1908 when 15 of 101 such states flipped in presidential contests, or 14.9 percent.
In short, heavily and moderately populated states have been flipping over the last generation at two-fifths the rate (12.6 percent) of the previous 160 years from 1832 to 1992 (32.1 percent).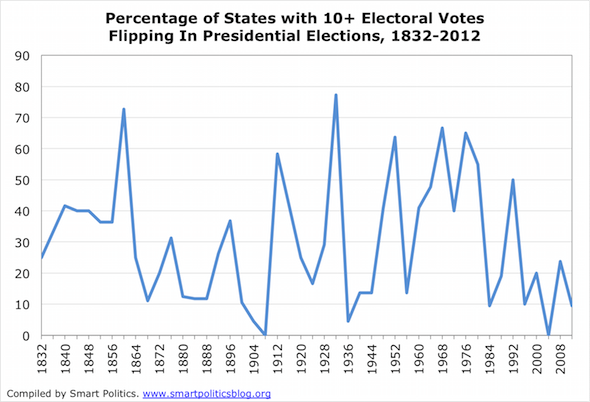 And as for the largest state to flip each cycle over the decades?
Given its very large population and competitive partisan makeup for generations, New York has by far and away topped the list – owning the largest cycle-to-cycle switch in the presidential vote for 22 of these 46 elections.
New York was the most elector-rich state to flip for a five-cycle stretch from 1840-1856, for a record eight consecutive cycle stretch from 1868-1896, and for a three-cycle stretch from 1972-1980. Empire State voters switched party allegiances in 1840, 1844, 1848, 1852, 1856, 1868, 1872, 1876, 1880, 1884, 1888, 1892, 1896, 1912, 1916, 1932, 1948, 1960, 1972, 1976, 1980, and 1988.
Kentucky was the largest such state in four cycles (1832, 1864 (tie), 1900, 1924 (tie)) with California in three (1964, 1968, 1992), Florida in three (1996, 2000, 2008), Missouri in three (1864 (tie), 1904, 1956), Ohio in three (1836, 1920, 1944), Pennsylvania in two (1860, 1936), and Iowa (2004), Georgia (1984), Illinois (1952), Michigan (1940), Nebraska (1908), North Carolina (2012), Texas (1928), and Wisconsin (1924 (tie)) in one cycle each.
Electoral history has demonstrated it does indeed pay to turn these big-ticket states.
Since 1832, the winning presidential candidate has carried the largest 'flipped state' 70 percent of the time (32 cycles), including 12 of the last 14 cycles since 1960.
And when the electoral vote count of the largest flipped state was 25 or higher, the winning presidential candidate carried the state in 25 of 32 cycles (78 percent of the time).
After New York (with 22), Indiana and Ohio are tied with the second-most cycles for states with 10+ electoral votes flipping in a presidential election at 16 each.
Tennessee and Wisconsin are next with 15, then Missouri and Pennsylvania with 13, Georgia with 12, North Carolina with 11, Illinois with 10, Kentucky, Louisiana, and Michigan with nine, and California, Florida, New Jersey, and Virginia with eight.
Follow Smart Politics on Twitter.