Will New Hampshire Get Shea-Porter vs Guinta IV in 2016?
Never before have two Granite State U.S. House candidates squared off in four general elections – let alone four in a row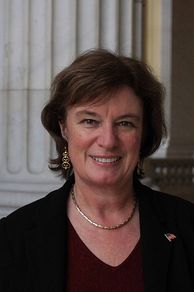 As official and unofficial presidential hopefuls travel through New Hampshire this cycle, races down the ballot in the 2016 election remain in a holding pattern as Democrat Maggie Hassan continues to mull over whether she will run for a third term as governor or challenge first-term Republican U.S. Senator Kelly Ayotte.
If Hassan does bolt for Washington, top Democrats who may run for the governorship include U.S. Representative Ann Kuster and former U.S. Representative Carol Shea-Porter.
And if Hassan is out of the picture in Concord, Congressman Frank Guinta, who defeated Shea-Porter during the GOP waves of 2010 and 2014, might then in turn abandon his U.S. House seat and run for the Republican gubernatorial nomination.
But if Hassan decides she wants to remain in New Hampshire for another term, it is possible voters may get yet another rematch between Guinta and Shea-Porter – the fourth cycle in a row featuring the two candidates.
Rematch elections for the U.S. House of Representatives are hardly rare in New Hampshire.
Two years ago, Smart Politics documented how more than one in five elections to the nation's lower legislative chamber since 1856 have featured rematches between Democratic and Republican nominees.
There have been 177 special and general elections to the U.S. House in New Hampshire since the first time Republicans appeared on the ballot in a Granite State congressional race during the 1856 cycle. (Eighty-two of these races were held in the 1st CD, 80 in the 2nd CD, and 15 in the former 3rd CD).
A total of 37 of these 177 races have featured a rematch between Republican and Democratic nominees, or 20.9 percent of such contests.
Overall, 31 pairs of candidates have squared off against each other two times while six pairs have gone head-to-head in three cycles:
● Democrat Daniel Marcy vs. Republican Gilman Marston (1858, 1860, 1864)
● Democrat Alvah Sulloway vs. Republican James Briggs (1876, 1878, 1880)
● Democrat Eugene Reed vs. Republican Cyrus Sulloway (1910, 1912, 1914)
● Democrat Alphonse Roy vs. Republican Arthur Jenks (1936, 1938, 1940)
● Democrat J. Oliva Huot vs. Republican Louis Wyman (1962, 1964, 1966)
● Democrat Carol-Shea Porter vs. Republican Frank Guinta (2010, 2012, 2014)
Yet another Shea-Porter vs. Guinta rematch in 2016 would mark the first time in New Hampshire history that a Democratic and Republican candidate faced each other in a U.S. House race in four cycles – let alone four cycles in a row.
Regardless of whether that matchup occurs, the 1st CD race in 2016 is poised to tie another record in the state.
If the Democratic nominee picks up the seat next year, it will mark just the third time in the modern two-party era that a New Hampshire congressional district has flipped in four consecutive cycles.
The seat would have switched from Democrat (2008), to Republican (2010), to Democrat (2012), to Republican (2014), and back to Democrat (2016).
The first time the state saw such volatility in races to the lower legislative chamber came during the Elections of 1870 through 1876 to the 42nd to 45th Congresses:
● In 1870's 2nd CD race, two-term Republican incumbent Aaron Stevens lost to Democrat Samuel Bell
● In 1872, Bell then lost to GOP challenger Austin Pike
● In 1874, Bell won his seat back in a rematch against Pike
● Finally, in 1876, Republicans took back the 2nd CD seat with James Briggs defeating Democrat Alvah Sulloway in an open seat race
The last time a New Hampshire U.S. House seat flipped in four consecutive cycles occurred during the Elections of 1884 through 1892 in the 1st CD:
● In 1886, two-term Republican Martin Haynes was defeated by Democrat Luther McKinney in a rematch of their 1884 contest
● In 1888, McKinney lost to GOPer Alonzo Nute
● In 1890, McKinney won his seat back by defeating Republican nominee David Taggart
● In 1892, Republican Henry Blair won an open seat race against Democrat Charles Stone
The fact that congressional seats have not commonly flipped back and forth in New Hampshire over the decades is not surprising considering the stronghold the GOP had on politics in the state from the mid-19th through the 20th Centuries.
From 1856 through 2014, New Hampshire Republicans won 145 of 178 general and special elections to the U.S. House, or 81.5 percent of all contests.
Follow Smart Politics on Twitter.