A Brief History of Kentucky Republican Gubernatorial Primaries
Only four of the party's two-dozen gubernatorial races have been decided by single digits with only two first-place finishers receiving less than 50 percent of the vote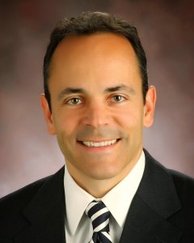 This is the first part in a series of reports on gubernatorial primaries in 2015
In just a shade over three weeks, Kentucky will hold its primary elections for state offices including governor – the first of three states to do so this year along with Mississippi (in August) and Louisiana (in October).
All eyes are on the Republican race where the party hopes it will nominate a candidate that can capitalize on the increasingly friendly political environment – and land the GOP just its fourth gubernatorial victory in 22 cycles dating back to 1931.
Four candidates are running for the Republican nomination – three of whom have all led in at least one public opinion survey over the past year: state Agriculture Commissioner James Comer, businessman and 2014 Tea Party U.S. Senate candidate Matt Bevin (pictured at top), and civil engineer and ex-Louisville Metro Councilman Hal Heiner.
Also running is former state Supreme Court Justice Will Scott.
With four experienced candidates vying for the nomination, there is a good chance this cycle will give Kentuckians one of the most competitive Republican gubernatorial primaries in state history.
The 2015 race will be the 25th GOP primary for state offices in Kentucky dating back to 1912, when a state law first banned the selection of nominees through conventions.
Only two such cycles passed (1915 and 1919, with attorney Edwin Morrow winning the GOP nomination both times – the second time unopposed) before the 1912 law was repealed in party in 1920 to give political parties the option of utilizing the primary or convention mechanism to choose their candidates for state office.
Kentucky Republicans opted for the convention route for two of the next three cycles under the new law (in 1923 and 1931) and held a primary in 1927 (with Kentucky Court of Appeals Judge Flem Sampson defeating IRS Commissioner Robert Lucas by 19 points).
A direct primary law was once again passed in 1935, with many GOP lawmakers voting against it.
Of the 21 primaries held between 1935 and 2011, only one Republican gubernatorial candidate ran unopposed – former Kentucky Court of Appeals Judge Simeon Willis in 1943. Willis went on to narrowly win the general election that November against Kentucky Highway Commission chairman Joseph Lyter Donaldson.
The four GOP candidates on the primary ballot in 2015 is tied for the second most in Kentucky history.
A high water mark of six Republican candidates ran in 1983, although the race was a blow-out with Jim Bunning receiving 74.4 percent of the vote and none of the other five hopefuls reaching double digits.
Four Republicans also ran in the gubernatorial primary in seven other cycles: 1939 (won by King Swope), 1971 (Thomas Emberton), 1975 (Robert Gable), 1979 (Louis Nunn), 1987 (John Harper), 1995 (Larry Forgy), and 2003 (Ernie Fletcher).
With four fairly well-known candidates in the 2015 primary, and three who have at one point polled strongly in the race, it is possible that Comer, Bevin, and Heimer could each eclipse 20 percent of the vote in May with an outside chance that all four candidates (including Scott) could reach double-digits.
The former feat has only been seen once before in party history when State Representative John Harper won the 1987 primary with 41.4 percent of the vote followed by former Fayette County Judge Joe Johnson at 24.8 percent and truck-pull promoter Buck Beasley at 23.3 percent.
Frequent candidate Thurman Jerome Hamlin of London also won 10.5 percent of the vote that cycle – his best showing across the six times he ran for the GOP gubernatorial nod – a party record for the office.
Hamlin was also on the primary ballot in 1959 (8.2 percent), 1967 (1.4 percent), 1971 (5.4 percent), 1979 (2.6 percent), and 1983 (3.7 percent). His campaign slogan for his final campaign was "Vote for Hamlin before Hamlin dies."
The 1987 cycle marked just the second time in state history four GOP gubernatorial candidates all reached double digits.
That feat also occurred in 1975 with lumber and coal executive Robert Gable winning with 51.3 percent followed by coal operator Elmer Begley at 22.7 percent, perennial candidate Tommy Klein of Louisville at 14.6 percent, and Granville Thomas of London at 11.4 percent.
The fact that this cycle's GOP gubernatorial contest has an excellent chance to go down to the wire is a rarity in Kentucky electoral history.
Of the two-dozen previous Republican primaries for the office, just four were decided by single digits:
● 1947: Attorney General Eldon Dummitt defeated Kentucky Superintendent of Public Instruction John Fred Williams by 6.4 points
● 1967: Former Barren County Judge and city attorney Louis Nunn beat Jefferson County Judge Marlow Cook by 2.1 points
● 1991: Congressman Larry Hopkins defeated Lexington lawyer Larry Forgy by 1.2 points
● 1999: Publicist Peppy Martin edged contractor David Williams by 2.6 points
While each of the four 2015 Republican candidates have all run for political office in the past, none have previously run for governor.
After the aforementioned Hamlin's six unsuccessful attempts, other GOPers who appeared on the primary ballot in multiple cycles include:
● Edwin Morrow: 1915 (lost general), 1919 (won general)
● King Swope: 1935 (lost general), 1939 (lost general)
● Granville Thomas : 1959 (lost primary), 1975 (lost primary)
● Louis Nunn: 1963 (lost general), 1967 (won general), 1979 (lost general)
● Robert Gable: 1975 (lost general), 1995 (lost primary)
● Elmer Begley: 1975 (lost primary), 1979 (lost primary)
● Tommy Klein: 1975 (lost primary), 1995 (lost primary)
● Larry Forgy: 1991 (lost primary), 1995 (lost general)
● Ernie Fletcher: 2003 (won general), 2007 (lost general)
Follow Smart Politics on Twitter.