A Brief History of Kentucky Democratic Gubernatorial Primaries
Jack Conway is poised to post the best showing by a Kentucky Democratic candidate in a contested gubernatorial primary in state history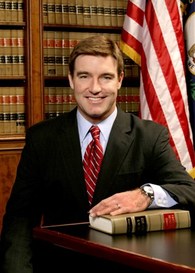 This is the second in a series of reports on gubernatorial primaries in 2015. The first report focused on the Kentucky Republican gubernatorial primary.
The narrative of the 2015 Kentucky gubernatorial race thus far has been one of contrast – between the competitive three-way, four-candidate race on the Republican side of the ballot and the relative ease with which Attorney General Jack Conway will likely coast to his party's nomination in a few weeks against a relatively unknown opponent.
Conway will face retired engineer Geoff Young who did not launch his candidacy until mid-November.
Young unsuccessfully ran for the Democratic nomination in the state's 6th Congressional District in 2014, losing to Elizabeth Jensen with 39.1 percent of the primary vote.
The limited polling that has been conducted thus far of the Democratic race shows Conway at approximately 60 percent with Young at 12 percent and nearly one-third of the electorate undecided.
Even if Conway garners the support of just half of these undecided voters, the result will be the biggest blowout in a contested primary in Kentucky history.
Across the 27 cycles with direct primaries for Kentucky gubernatorial Democrats from 1903 through 2011, just three Democrats have won their party's nomination without opposition – all incumbent governors: J.C.W. Beckham in 1903, Paul Patton in 1999, and current Governor Steve Beshear in 2011.
The remaining 24 cycles have seen an average of 4.5 Democrats appear on the primary ballot with first place finishers averaging 51.2 percent.
The two candidates running for the Democratic nomination in 2015 is the lowest number in a contest primary since 1927 when U.S. Senator J.C.W. Beckham defeated Kentucky House Speaker Robert Crowe.
To date, only one Democrat has emerged from a contested gubernatorial primary with at least two-thirds of the vote.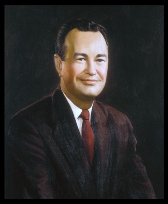 That distinction belongs to incumbent Governor Lawrence Wetherby who notched 75.1 percent of the 1951 primary vote against two challengers – attorney and former Kenton County Deputy Sheriff Howell Vincent and perennial candidate Jesse Cecil.
Wetherby was elected lieutenant governor in 1947 and became governor when Earle Clements resigned in November 1950 after winning a special election to the U.S. Senate.
Wetherby went on to win the general election in 1951 by 9.2 points over former Kentucky Court of Appeals Judge Eugene Siler to serve a full term.
Only three other Democratic gubernatorial nominees won their primaries with at least 60 percent of the vote:
● 1907: Auditor Samuel Hager won 60.9 percent in a two-way race against Attorney General N.B. Hays (Note: This primary was actually held in November, 1906 – a full year before the general election)
● 1911: U.S. Senator and former Governor James McCreary won 61.0 percent in a two-way primary against William Adams of Harrison County
● 1975: Incumbent Julian Carroll received 66.3 percent of the vote in a four-way race against Louisville attorney and Jefferson County Judge Todd Hollenbach and two little-known candidates
To be sure, the fact that Kentucky now allows governors to serve two consecutive terms (banned for most of the 20th Century) has virtually ended the once common practice of ex-Democratic governors turning up on the primary ballot.
Former Democratic governors who ran for their old job in the 1900s include the aforementioned McCreary (1911), J.C.W. Beckham (1927), Happy Chandler (1955, 1963, 1967), Bert Combs (1971), John Brown, Jr. (1987), and Julian Carroll (1987).
Only McCreary and Chandler (in his 1955 bid) were successful although Beckham did win his party's nomination but lost that November to former Kentucky Court of Appeals Judge Flem Sampson.
Unlike their Republican counterparts – who have hosted only four competitive gubernatorial primaries since the early 1900s – the Democrats have hosted a dozen.
Although 2015 won't be added to the list, a total of 12 of the 27 Democratic gubernatorial primaries conducted since 1903 have been decided by single digits:
● 1923: Congressman J.C. Cantrell defeated Congressman Alben Barkley by 3.8 points (Cantrell would die prior to the general election and Congressman William Fields was chosen as the party's nominee)
● 1927: U.S. Senator J.C.W. Beckham defeated former Kentucky House Speaker Robert Crowe by 7.9 points
● 1935: Former Kentucky Treasurer Thomas Rhea was forced into a runoff with Lieutenant Governor Happy Chandler which Chandler won by 5.4 points
● 1939: Incumbent Governor Keen Johnson edged former Congressman John Brown by 6.6 points (Johnson became governor after Chandler resigned to be appointed (by Johnson) to the U.S. Senate)
● 1955: Former governor and Baseball Commissioner Happy Chandler defeated Kentucky Court of Appeals Judge Bert Combs by 3.6 points
● 1959: Combs defeated Lieutenant Governor Harry Waterfield by 5.9 points
● 1971: Lieutenant Governor Wendell Ford defeated former Governor Combs by 9.4 points
● 1979: Former KFC executive John Brown beat ex-Louisville Mayor Harvey Sloane by 4.4 points
● 1983: Lieutenant Governor Martha Collins nipped Harvey Sloane, in his second term as Louisville mayor, by 0.7 points
● 1987: Businessman Wallace Wilkinson defeated former Governor John Brown by 9.1 points
● 1991: Lieutenant Governor Brereton Jones beat Lexington Mayor Scotty Baesler by 7.2 points
● 2003: Attorney General Ben Chandler edged House Speaker Jody Richards by 3.7 points
A total of 14 losing Democratic gubernatorial primary candidates have appeared on a subsequent primary ballot for governor: Harry Waterfield (1947, 1959, 1967), Jesse Cecil (1951, 1955, 1959, 1967, 1971), Bert Combs (1955, 1959 (won)), Mary Foust (1963, 1975), Wilton Cupp (1963, 1967, 1971), William Shires (1967, 1971), Robert Johnson (1971, 1975), Harvey Sloane (1979, 1983), Doris Binion (1979, 1983), W. Grady Stumbo (1983, 1987), Steve Beshear (1987, 2011 (won)), Gatewood Galbreith (1991, 1995, 2007), Jody Richards (2003, 2007), and Bullman Hensley (2003, 2007).
Galbreith also won an impressive 15.3 percent as the Reform Party nominee in 1999 and 9.0 percent as an independent in 2011.
Galbreith died in 2012 – though his name may still appear on the 2015 ballot.
Earlier this year, Terrill Newman of Eubank legally changed his name to Gatewood Galbreith and will run as an independent – needing to collect 5,000 signatures of registered voters by mid-August to gain ballot access.
Follow Smart Politics on Twitter.