Will Joe Heck Clear the GOP Field in Nevada's US Senate Race?
A bid by Nevada's 3rd CD U.S. Representative would give Republicans a formidable candidate in the race to replace Harry Reid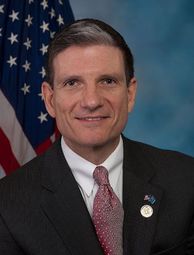 Even before Harry Reid decided not to seek a sixth term in 2016, Nevada Republicans already had ambitions to strongly contest his seat, due in no small part to his close call against Sharron Angle in 2010.
But although Reid announced his retirement more than six weeks ago, no high profile GOP challengers have yet entered the race. (Former State Senator Bob Beers is the lone candidate thus far).
On Monday, however, Nevada's estimable Jon Ralston reported that U.S. Representative Joe Heck is getting close to making a run for the seat and tweeted such a bid "clears (the) primary field".
Ralston added that the three-term Congressman is probably the second strongest potential candidate the Nevada GOP could recruit, behind the state's very popular governor, Brian Sandoval.
A Heck bid would presumably mean that Sandoval has decided for certain not to run for Reid's seat.
But if Rep. Heck does jump into the state's wide open U.S. Senate race, will he truly get a clear path to the nomination?
Practically, perhaps, but technically – even if Beers subsequently dropped out of the race – probably not.
Smart Politics examined the 38 Nevada Republican U.S. Senate primaries conducted since 1910 and found that it has been more than a half-century since the last time a GOP nominee did not face at least one challenger on the primary ballot.
The last time a Republican nominee was met with no opposition on a Nevada U.S. Senate primary ballot was 57 years ago in 1958 – with incumbent George Malone.
Malone was completing his second term that cycle and won his party's nomination to the upper legislative chamber for the fifth and final time (he was also the losing Republican nominee in 1934 and 1944 prior to his general election victories in 1946 and 1952).
Malone was ultimately defeated by Democratic Las Vegas City Attorney Howard Cannon by 15.4 points in the 1958 general election.
Thereafter, a total of 73 GOP candidates have appeared on Nevada U.S. Senate primary ballots across 18 elections conducted between 1962-2012, or an average of 4.1 hopefuls per cycle.
That number reached a party-high 12 candidates during the infamous 2010 cycle when former Assemblywoman Sharron Angle defeated former State Senator Sue Lowden and Danny Tarkanian.
A large number of Republicans also peppered the ballot in other cycles (like in 2016) in which no Republican U.S. Senator was in the race. Six candidates ran in both 1992 and 2004 with five candidates in 1982 and four candidates in 1968 and 1986.
But it was not always the case that Republicans – well-known or otherwise – flocked to run for the U.S. Senate in the Silver State.
Across the 20 cycles from 1910 through 1958, only 44 GOP candidates ran in the state's U.S. Senate primaries, or an average of 2.2 per cycle. (Note: Nominees were selected by the political parties in 1954's special election after the death of Democrat Pat McCarran).
Republican nominees did not face a challenger in half of these 20 cycles: U.S. Senator George Nixon (1910), U.S. Senator William Massey (1912 special), former Assembly Speaker and U.S. Attorney Sam Platt (1914, 1916, 1928), U.S. Senator Tasker Oddie (1932, 1938), state public servant Cecil Creel (1942 special), Congressman Clifton Young (1956), and U.S. Senator George Malone (1958).
Interestingly, Republicans lost nine of these 10 races – all but Nixon in 1910.
For those hoping for a competitive GOP primary in 2016 – with or without Rep. Heck in the race – the odds seem slim.
Only five of the 38 Nevada Republican U.S. Senate primaries have been decided by single digits over the last 100+ years – and just one of those since the 1970s:
● 1922 (3.6 points): Assembly Speaker Charles Chandler (29.0 percent) over Congressman Samuel Arentz (25.4 percent)
● 1940 (6.7 points): Sam Platt (40.2 percent) over former Nevada U.S. Attorney Harry Atkinson (33.5 percent)
● 1950 (3.6 points): Las Vegas attorney George Marshall (46.0 percent) over Reno attorney Kendrick Johnson (42.4 percent)
● 1968 (7.6 points): Lieutenant Governor Ed Fike (53.0 percent) over district attorney Bill Raggio (45.4 percent)
● 1992 (5.6 points): Cattle rancher Demar Dahl (36.9 percent) over real estate salesman Bob Gore (31.3 percent)
Only five other cycles were decided by less than 20 points with former Governor Tasker Oddie winning by 14.2 points in 1920, George Malone by 17.1 points in 1946, former State Senator Chic Hecht by 14.3 points in 1982, businessman Richard Ziser by 15.8 points in 2004, and Sharron Angle by 14.0 points in 2010.
Follow Smart Politics on Twitter.