Kentucky 2015 Gubernatorial Primary Results by the Numbers
A tale of two parties: the Kentucky GOP primary for governor was the most competitive in state history while Jack Conway won in the biggest ever blowout on the Democratic side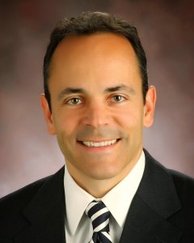 Kentucky's closely-watched Republican gubernatorial primary met all expectations Tuesday, with a nail-biter three-candidate race between state Agriculture Commissioner James Comer, businessman and 2014 Tea Party U.S. Senate candidate Matt Bevin, and civil engineer and ex-Louisville Metro Councilman Hal Heiner.
With all precincts reporting (pending a forthcoming recanvass) Bevin narrowly led Comer by 83 votes, with each receiving 32.9 percent and Heiner in third at 27.1 percent.
The GOP field also included former state Supreme Court Justice Will Scott who finished last with 7.2 percent.
The 2015 race thus marked the closest ever finish in a Kentucky GOP gubernatorial primary of the 24 held since the party's first such contest in 1915.
Of the 23 previous Republican primaries for the office, just four were decided by single digits with the next closest finish coming in 1991 when Congressman Larry Hopkins defeated Lexington lawyer Larry Forgy by 1.2 points in a two-candidate race.
Only three other primaries were decided by less than 10 points:
● 1947: Attorney General Eldon Dummitt defeated Kentucky Superintendent of Public Instruction John Fred Williams by 6.4 points
● 1967: Former Barren County Judge and city attorney Louis Nunn beat Jefferson County Judge Marlow Cook by 2.1 points
● 1999: Publicist Peppy Martin edged contractor David Williams by 2.6 points
The 5.8-point difference between first and third place was also by far the closest three-candidate Republican gubernatorial race in party history.
The previous mark was the 18.1-point margin that separated 1987 GOP primary winner John Harper (41.4 percent) and third place finisher Buck Beasley (23.3 percent) with Joseph Johnson just barely ahead in second (24.8 percent).
Harper lost the general election to Wallace Wilkinson.
With his 27.1 percent bronze medal, Heiner now holds the honor of the strongest third place primary finish in party history – besting Beasley's 23.3 percent in 1987.
No other third-place candidate had even reached the 15 percent mark across the two-dozen previous primaries.
Bevin's 32.9 percent also marked the lowest ever support for a Kentucky GOP gubernatorial primary winner in party history.
Only two previous candidates failed to win an outright majority: John Harper in 1987 (41.4 percent) and David L. Williams in 2011 (48.2 percent).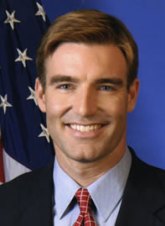 Meanwhile, with 78.8 percent of the vote, Jack Conway's primary victory over retired engineer Geoff Young marked the best showing by a Kentucky Democratic candidate in a contested gubernatorial primary in state history.
Of the 28 cycles with direct primaries for Kentucky gubernatorial Democrats from 1903 through 2015, three Democrats have won their party's nomination without opposition – all incumbent governors: J.C.W. Beckham in 1903, Paul Patton in 1999, and current Governor Steve Beshear in 2011.
Of the 25 remaining cycles, only one Democrat had previously emerged from a contested gubernatorial primary with at least two-thirds of the vote – Governor Lawrence Wetherby, who notched 75.1 percent of the 1951 primary vote against two challengers – attorney and former Kenton County Deputy Sheriff Howell Vincent and perennial candidate Jesse Cecil.
Wetherby was elected lieutenant governor in 1947 and became governor when Earle Clements resigned in November 1950 after winning a special election to the U.S. Senate. He went on to win the general election in 1951 by 9.2 points over former Kentucky Court of Appeals Judge Eugene Siler to serve a full term.
Only three other Democratic gubernatorial nominees in Kentucky won their primaries with at least 60 percent of the vote:
● 1907: Auditor Samuel Hager won 60.9 percent in a two-way race against Attorney General N.B. Hays (Note: This primary was actually held in November, 1906 – a full year before the general election)
● 1911: U.S. Senator and former Governor James McCreary won 61.0 percent in a two-way primary against William Adams of Harrison County
● 1975: Incumbent Julian Carroll received 66.3 percent of the vote in a four-way race against Louisville attorney and Jefferson County Judge Todd Hollenbach and two little-known candidates
Conway also set a party mark for the largest gubernatorial victory in a contested primary at 57.6 points.
The previous record was held by the aforementioned Wetherby with his 53-point win over Vincent in 1951.
Governor Julian Carroll defeated Todd Hollenbach by 37.8 points in 1975, with no other Democratic candidate winning their primary by 25 or more points.
The lack of competitiveness on the Democratic side Tuesday combined with the barn burner of a race for the Republicans ran counter to most previous gubernatorial primaries in the Bluegrass State.
A total of 12 of the previous 27 Democratic gubernatorial primaries conducted since 1903 had been decided by single digits (1923, 1927, 1935, 1939, 1955, 1959, 1971, 1979, 1983, 1987, 1991, and 2003).
Follow Smart Politics on Twitter.