Guinta Would Be 1st New Hampshire US Rep to Resign in Scandal
Only seven of the 147 Granite State U.S. House members resigned – none under a cloud of controversy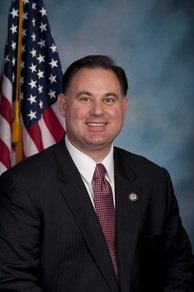 In the last week, beleaguered New Hampshire U.S. Representative Frank Guinta has seen his FEC violation controversy spill into an avalanche of both negative press and calls for his resignation from former GOP supporters.
Guinta, who is in his second non-consecutive term representing the state's 1st Congressional District, was recently fined $15,000 for not disclosing the actual source of more than $350,000 in loans received during his victorious 2010 congressional campaign (he had claimed the loans were from himself, but they were from his parents' account).
New Hampshire party leaders including U.S. Senator Kelly Ayotte have asked Guinta to resign, but so far he remains steadfast in holding onto his seat.
If Guinta does resign, he will be the first ever Granite State U.S. Representative to do so with his tail between his legs.
Smart Politics reviewed the exits of the nearly 150 U.S. Representatives in New Hampshire history and found that none resigned under a cloud of scandal.
Since 1789, a total of 147 men and women have served in the U.S. House from New Hampshire, totaling 160 exits (more than a dozen members served non-consecutive terms and thus exited the chamber twice).
Seven of these U.S. Representatives resigned – although, for most, it was due to a promotion.
Three resigned after getting elected or appointed to the U.S. Senate:
● Republican Norris Cotton (1947-1954) was near the end of his fourth term when he won a special election caused by the death of Charles Tobey. Cotton resigned five days after winning the election on November 2, 1954 to take his U.S. Senate seat.
● Republican Louis Wyman (1963-1965; 1967-1974) resigned a few days before the end of his fifth non-consecutive term in the U.S. House after being appointed to the U.S. Senate purportedly after defeating Democrat John Durkin by a two-vote margin after multiple recounts. (Wyman would serve only until January 3, 1975 when the chamber declared the seat vacant. Wyman lost a special election rematch against Durkin that September).
● Republican Bob Smith (1985-1990) had already been elected to the U.S. Senate in November 1990, but was appointed to the seat in early December 1990 after Gordon Humphrey resigned a few weeks before the end of his term.
Two other New Hampshire U.S. House members resigned to take other political posts:
● Federalist Jeremiah Smith (1791-1797) was just a few months into his fourth term when he resigned to accept an appointment as U.S. Attorney for the District of New Hampshire, where he served until February 1801.
● Federalist William Gordon (1797-1800) served a little over three years in the chamber and resigned to become Attorney General of New Hampshire – a position he held until his death in 1802.
Two other New Hampshire U.S. Representatives resigned without fanfare to take up non-political endeavors.
Federalist Joseph Peirce (1801-1802) resigned halfway into his first term for agricultural pursuits, while Whig James Wilson, Jr. (1847-1850) resigned with a half-year left in his second term to try his luck in California during the gold rush.
If Guinta does resign in the coming weeks, New Hampshire would hold its first special election to the U.S. House in more than 80 years.
The last time the Granite State had a special election to the nation's lower legislative chamber was in January 1932 following the October 1931 death of 1st CD GOP U.S. Representative Fletcher Hale. (Democrat William Rogers was elected in that race).
New Hampshire has the fourth longest streak without holding a special election in the nation behind Idaho (which has never held one since statehood in 1890), Delaware (November 1900), and Utah (November 1930).
Follow Smart Politics on Twitter.