Culver Could Become 1st Iowa Governor Elected to US House Since 1800s
Only two Hawkeye State governors have won election to the nation's lower legislative chamber with the last doing so in the late 19th Century
With 2014 Democratic nominee Staci Appel announcing last week that she would not seek a rematch with freshman U.S. Representative David Young, party hopes for picking up the state's swing 3rd Congressional District seem to hinge even more on a run by Chet Culver.
Talk of a possible Culver bid in the southwestern district has percolated since last year, and while the former governor remains publicly non-committal to a 2016 run at this time, there is little doubt he would start with a bigger advantage at winning the seat than any other candidate the Democrats could hope to recruit.
And while the governorship has been a well-trodden pathway to the U.S. Senate over the decades in Iowa, very few former governors have successfully parlayed their executive service in Des Moines to win a seat in the U.S. House.
In fact, none have done so since the late 19th Century.
A Smart Politics analysis finds that only two governors in Iowa history have subsequently won a seat in the U.S. House of Representatives with the last to do so in the 1800s.
To date, 40 Iowans have served as governor with 183 serving in the U.S. House since statehood in 1846.
Only three have served in both positions with just two taking Culver's potential governor-to-U.S. Representative pathway.
The first former governor of Iowa to win election to the nation's lower legislative chamber was Republican Cyrus Carpenter in 1878.
Carpenter, a former state representative, cruised to double-digit gubernatorial victories in 1871 and 1873 and after two years out of office won election to the state's 9th CD in 1878 by 13.8 points over Greenbacker L.Q. Hoggatt.
Carpenter would win a second term in 1880 by a landslide over Democrat P.M. Guthrie but did not seek a third term in 1882. He would return to the Iowa House in 1884.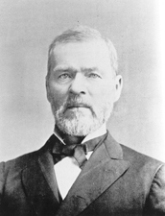 The second and last governor from Iowa to win a seat in the U.S. House was Republican John Gear.
With anti-Republican support splintered between the Democrats and Greenbacks, Gear, a former Burlington mayor and Iowa House speaker, cruised to 17- and 24-point gubernatorial victories in 1877 and 1879.
In 1886, Gear challenged freshman Democrat Benton Hall in the 1st CD and defeated him by 3.3 points.
Gear narrowly won reelection in 1888 by 2.4 points over John Seerley but then lost by 3.2 points in a rematch against Seerley in 1890.
Gear came back to defeat Seerley by 1.7 points in 1892 in the third straight contest between the two rivals.
In 1894, Gear opted to run for the U.S. Senate and was elected and died in office near the end of his term in 1900.
The only other Iowan to serve in both the U.S. House and governor's office was Republican Nathan Kendall, who took the more traditional route: serving in Congress first (1909-1913) and then later winning the governorship (in 1920 and 1922).
Three other former governors from Iowa made it to the general election ballot in a race for the U.S. House of Representatives, but came up short:
● Democrat Stephen Hempstead. Iowa's second governor (1850-1854) lost a 2nd CD race to Whig James Thorington in 1854.
● Republican Samuel Kirkwood. After three non-consecutive terms as governor (1860-1864; 1876-1877) and two stints in the U.S. Senate (1866-1867; 1877-1881), Kirkwood placed third with 25.1 percent of the vote in the 2nd CD race in 1886 behind Democrat Walter Hayes and Laborite Thomas O'Meara.
● Democrat Horace Boies. After losing a bid for a third term as governor (1890-1894) in 1893, declining an appointment to be U.S. Secretary of Agriculture, and failing twice to become the party's presidential nominee in 1892 and 1896, Boies lost a 3rd CD race in 1902 to Benjamin Birdsall by 13.6 points.
Boies was the last Iowa governor to appear on a U.S. House general election ballot.
Herschel Loveless lost a 4th CD U.S. House race to incumbent Karl LeCompte in 1954, however that was two years before the Democrat was elected governor (1957-1961).
While few Iowa governors have later served in the U.S. House, several have gone on to win U.S. Senate seats.
In addition to Republicans John Gear (1895-1900) and Samuel Kirkwood (1866-1867; 1877-1881) mentioned above, Iowa governors who later became U.S. Senators include:
● Whig/Republican James Grimes (1854-1858): served two terms in the U.S. Senate (1859-1869)
● Republican Albert Cummins (1902-1908): served parts of four terms in the U.S. Senate (1908-1926)
● Democrat Clyde Herring (1933-1937): elected to one term in the U.S. Senate (1937-1943)
● Republican George Wilson (1939-1943): elected to one term in the U.S. Senate (1943-1949)
● Republican Bourke Hickenlooper (1943-1945): served four terms in the U.S. Senate (1945-1969)
● Democrat Harold Hughes (1963-1969): elected to a single U.S. Senate term (1969-1975)
Follow Smart Politics on Twitter.