Late to the Party? Walker, Kasich and the 2016 Presidential Race
The early bird doesn't always get the worm, but it rarely pays to be the last to arrive to the presidential party – only one such candidate has claimed the nomination since 1972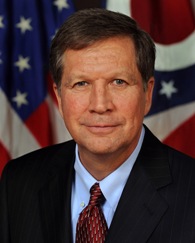 New Jersey Governor Chris Christie will announce his presidential candidacy on Tuesday, becoming the 14th Republican to do so this cycle.
That leaves just two expected GOP White House hopefuls who have yet to formally declare themselves a candidate for the office – Governors Scott Walker of Wisconsin and John Kasich of Ohio.
Walker is scheduled to formalize his candidacy during the week of July 13th with Kasich doing so on July 21st.
While both Midwestern governors have been lining up staff and advisers for several months in anticipation of their respective campaign launches, how much fanfare can either candidate expect with more than a dozen already in the electorate's rear view mirror over the past four months?
Some could argue that being last will give these candidates a more meaningfully timed "boost" in support and help them stand out from the crowded field as the debate season arrives.
So, is there an advantage to being last out of the gate in the race to secure a presidential nomination?
If modern political history is a guide, then the answer is 'no.'
Smart Politics examined the last 11 election cycles since 1972 when the majority of states began holding primaries and caucuses and found that only one eventual Democratic or Republican nominee was the last of his party to formally launch a presidential candidacy – Ronald Reagan in 1980.
Incumbents aside, on a few occasions, eventual major party presidential nominees were one of the first candidates in their party to officially announce their bids:
For example, in the 1972 cycle, South Dakota U.S. Senator George McGovern was the first of 15 candidates to announce (January 18, 1971) – doing so eight months before the next candidates (Oklahoma U.S. Senator Fred Harris and Hawaii U.S. Representative Patsy Mink in September 1971).
In the 1976 cycle, Georgia Governor Jimmy Carter announced his candidacy during his last month in office (December 2, 1974) becoming the second Democrat to do so out of 13 following only Arizona Congressman Mo Udall (November 23, 1974).
In the 1984 cycle, former Vice President Walter Mondale was the third of eight candidates to announce (February 21, 1983), but only a few weeks after California U.S. Senator Alan Cranston (February 2) and a few days after Colorado U.S. Senator Gary Hart (February 17).
In the 2000 cycle, Vice President Al Gore was the first Democrat in the race – launching his campaign on June 16, 1999 – in what would become a one-on-one matchup against former New Jersey U.S. Senator Bill Bradley, who announced nearly three months later.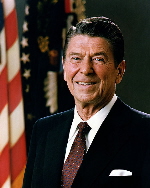 But while several eventual nominees formally launched their campaigns toward the middle or the end of the pack, just one in the modern era was last out of the gate – Ronald Reagan in 1980.
To be sure, Reagan was already a household name when he announced his presidential bid on November 13, 1979.
The former California Governor had previously mounted two unsuccessful White House campaigns in 1968 and 1976 – when he nearly defeated President Gerald Ford.
In the 1980 cycle, Reagan was the last of 11 Republicans to jump in the race following Illinois Congressman Phil Crane (August 2, 1978), former Ambassador Ben Fernandez (November 29, 1978), former Minnesota Governor Harold Stassen (December 7, 1978), former Texas Governor John Connally (January 24, 1979), U.S. Senator Lowell Weicker of Connecticut (March 12, 1979), former CIA Director George H.W. Bush (May 1, 1979), Kansas U.S. Senator Bob Dole (May 14, 1979), Illinois Congressman John Anderson (June 8, 1979), South Dakota U.S. Senator Larry Pressler (September 25, 1979), and Tennessee U.S. Senator Howard Baker (November 1, 1979).
Slightly more than two months after his announcement, Reagan narrowly lost the Iowa caucuses to Bush, but then cruised to a big victory in New Hampshire and went on to carry more than 40 other states en route to the GOP nomination.
Other (non-incumbent) nominees who were relatively late entrants into their respective party's race for the nomination include:
George H.W. Bush (October 12, 1987): sixth to announce among major candidates ahead of only Bob Dole (November 9)
Bill Clinton (October 3, 1991): sixth to announce ahead of only long-shot Eugene McCarthy (October 5) and Jerry Brown (October 21)
George W. Bush (June 12, 1999) ninth to announce ahead of Orrin Hatch (June 22), Alan Keyes (September 20), and John McCain (September 27)
John Kerry (September 2, 2003): sixth to announce ahead of John Edwards (September 16), Wesley Clark (September 17), and Carol Mosely Braun (September 22)
Barack Obama (February 10, 2007): eighth to announce ahead of only Bill Richardson (May 21)
John McCain (April 25, 2007): ninth to announce ahead of Jim Gilmore (April 26), Fred Thompson (September 6), and Alan Keyes (September 14)
Over the last few cycles, the Republican Party in particular has showcased what can go wrong when a presidential candidate waits too long to get into the race.
In the 2008 cycle, former 1996 and 2000 GOP candidate Alan Keyes was the last GOPer to announce, on September 14th.
In fact, Keyes gained so little traction with the public and the media – rarely getting into candidate debates – that former Tennessee U.S. Senator Fred Thompson is largely remembered as the last Republican to launch a bid.
Thompson announced his candidacy eight days prior to Keyes on September 6th and was framed as almost a reluctant, disinterested candidate on the campaign trail and in the debates until his exit in late January of 2008.
In the 2012 cycle, Texas Governor Rick Perry was the 12th and final Republican to enter the field, announcing on August 13, 2011 after the Iowa Straw Poll.
Perry's campaign began more than six weeks after the last major GOPer (Michele Bachmann on June 27th) and a month following two long-shots (Thad McCotter on July 2nd and Buddy Roemer on July 21st).
While Perry's late entrance did seemingly not hurt his ability to raise money, his frequent gaffes and generally poor debate performances demonstrated he was ill-prepared for the presidential run.
That said, while only Reagan has succeeded, other last-to-announce candidates did achieve some success, despite falling short of winning their party's nomination:
1976: Democrat Frank Church (March 18, 1976) won five primaries
1984: Democrat Jesse Jackson (November 3, 1983) won two states and 466 delegates
1988: Democrat Jesse Jackson (October 10, 1987) won nine states and over 1,200 delegates (2nd place)
1988: Republican Bob Dole (November 9, 1987) won five states
1992: Democrat Jerry Brown (October 21, 1991) won six states and 596 delegates (2nd place)
2000: Republican John McCain (September 27, 1999) won seven states and 275 delegates (2nd place)
Others, less so:
1972: Democrat Terry Sanford (March 8, 1972): no primary victories
1996: Republican Steve Forbes (September 22, 1995): won two states
2000: Democrat Bill Bradley (September 8, 1999): no primary victories
2004: Democrat Dennis Kucinich (October 13, 2003): no primary victories
2008: Democrat Bill Richardson (May 21, 2007): no primary victories
As for the latecomers to the GOP field in 2016, in addition to Governors Kasich and Walker, New York Congressman Peter King is still reported to be mulling a bid this cycle.
Follow Smart Politics on Twitter.