How Does John Boehner Rank Against Other GOP Speakers?
While serving as speaker, Boehner has netted the third largest number and third highest percentage increase of seats won by his party among the 15 Republicans to serve in the post in the chamber's history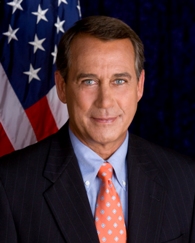 John Boehner did not receive universal support from his caucus when reelected Speaker of the House at the beginning of the 113th and 114th Congresses.
And the Ohio Republican has also at times had trouble reigning in the more conservative members of his caucus to vote with the Republican leadership on both substantive policy and procedural rules.
However, while he may not be the most popular speaker the party has ever elected, by one important measure – keeping GOP seats red – Boehner ranks among the best.
Smart Politics examined the electoral track record during the leadership of all 15 Republican U.S. House speakers and found that John Boehner has netted the third largest number of seats and third highest percentage increase of seats won by his party.
For this study, a speaker's electoral record was tallied by examining general election wins and losses and the change in percentage of seats won during the tenure of each Republican speaker. (A 16th Republican Speaker, Theodore Pomeroy, served just one day in March 1869 and was therefore not relevant to this analysis).
Republicans won 234 seats during Boehner's first general election as speaker in 2012, which was a drop from 242 seats during the 2010 GOP tsunami. But in 2014, Republicans captured 247 seats, for a 13-seat bump from the previous cycle.
Overall, Boehner has netted five seats across these two cycles, increasing the GOP majority from 55.6 percent from before he was elected to the post to 56.8 percent of the chamber, or +1.2 percentage points.
Boehner is one of only three Republicans to hold a net seat advantage for his party while serving as Speaker – joining Schuyler Colfax of Indiana (1863-1869) and David Henderson of Iowa (1899-1903).
Colfax, who became speaker during his fifth term, began his tenure during the midst of the Civil War in 1863 and held the position through the next three general elections.
With states from the Democratic-dominated South seceding a few years prior, support for the Party of Lincoln ran strong in the Union states during this period and netted Colfax 76 seats across these three cycles.
After accounting for the increase in size in the chamber as Southern states were admitted back into the Union after the war, the percentage of seats held by Republicans rose +24.2 points from 46.2 percent of the chamber in the cycle before Colfax took the post, to 70.4 percent after the 1868 election.
Henderson, meanwhile, served as speaker in his ninth and tenth terms at the turn of the 20th Century, and saw his party net 20 seats as the chamber grew by 29 seats.
Accounting for that growth, the percentage of GOP-held seats increased +1.2 percentage points under Henderson – tied with Boehner – from 52.4 to 53.6 percent.
Only one other GOP speaker saw the percentage of his party's seats increase on his watch, though the total number of Republicans in the chamber dropped.
William Pennington (1860-1861) was speaker when dozens of U.S. Representatives from the South withdrew as the Civil War approached.
As such, while the number of Republican-held seats decreased by eight after the Election of 1860, the percentage of the party's seats rose from 48.7 percent (116 of 238) to 59.0 percent (108 of 183), or an uptick of +10.3 points under Pennington's leadership.
All other Republican speakers saw their party shed more seats than they gained with Thomas Reed Brackett (1889-1891; 1895-1899) losing 160, Joseph Martin (1947-1949; 1953-1955) at -93, James Blaine (1869-1875) at -68, Joseph Cannon (1903-1911) at -45, J. Warren Keifer (1881-1883) at -34, Galusha Grow (1861-1863) at -23, Denny Hastert (1999-2007) at -21, Nicholas Longworth (1925-1931) at -19, Newt Gingrich (1995-1999) at -5, and Frederick Gillett (1919-1925) at -3.
Note: Nathaniel Banks, the first Republican speaker, served as speaker from 1856 to 1857 when a collection of legislators known as the "Opposition Party" ran the U.S. House during the 34th Congress. The party synthesized interests in opposition to the Democratic and American Parties and included a few handfuls of Republicans who were elected in 1854. In the 1856 cycle, several Opposition Party members, along with some Whigs and Free Soilers, ran as Republicans and lost a net 10 seats (dropping from 100 oppositionists in the 34th Congress to 90 Republicans in the 35th).
In terms of a straight-up winning percentage for seats won in general elections Boehner ranks fifth among Republican speakers.
Republicans won 481 seats against 389 losses in the 2012 and 2014 cycles, or 55.3 percent. That places Boehner behind only:
Schuyler Colfax (1863-1869) at 72.5 percent: 480-182
William Pennington (1860-1861) at 59.0 percent: 108-75
Frederick Gillett (1919-1925) at 58.5 percent: 764-541
Nicholas Longworth (1925-1931) at 55.6 percent: 726-579
Boehner's predecessors Denny Hastert and Newt Gingrich won just a shade over half the seats they inherited as speaker at 50.8 percent and 51.6 percent respectively.
Of course, Democratic critics might suggest Boehner has been able to hold onto as many GOP seats as he has thanks to Republican-friendly redistricting maps drawn in several states after the 2010 election (e.g. Florida, Michigan, Ohio, Pennsylvania).
Recent decisions by the U.S. Supreme Court (permitting independent commissions) and Florida Supreme Court (ordering the redrawing of several districts) ruled against Republican Party interests.
Follow Smart Politics on Twitter.