Will John Thune Run Unchallenged by Democrats for a 2nd Straight Cycle?
It has been 75 years since the last – and only – Republican U.S. Senator did not face a Democratic opponent in back-to-back elections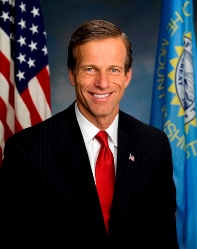 It is still early in the 2016 election cycle, but major parties in more than a dozen states still have not seen a single candidate file to run across the 34 U.S. Senate races to be held in 15+ months.
One of those states is South Dakota, where Republican John Thune has a formidable $10.3 million cash on hand in his bid for a third term, and Democrats have a short bench.
Democrats in the Mount Rushmore State hit a low point in the 2010 cycle when the party failed to field a candidate for the first time in South Dakota history.
The race also marked the greatest cycle-to-cycle partisan plunge into oblivion for a U.S. Senate seat from any state and either party – with Democrats tumbling from a 49.4 percent showing in a narrow loss in 2004 by Tom Daschle to being completely off the ballot six years later.
In 2014, Democrats then failed to hold retiring Tim Johnson's seat after being unable to recruit former U.S. Representative Stephanie Herseth Sandlin or Johnson's son U.S. Attorney Brendan Johnson.
Eventual nominee Rick Weiland, a former Tom Daschle aide, garnered only 29.5 percent of the vote – the second lowest level of support for a Democratic nominee in a South Dakota U.S. Senate election in the last 90 years, besting only George Cunningham's 25.5 percent in 1984 against Larry Pressler.
And now, if no Democrat steps up to face Thune again in 2016, he'll make a very short list.
Smart Politics examined the more than 1,800 U.S. Senate elections since the passage of the 17th Amendment and found that if South Dakota Democrats fail to run a candidate against John Thune in 2016 it will mark the first time a Republican Senator did not face a major party opponent in back-to-back cycles in 75 years and just the second time in the direct election era.
Overall, Republican U.S. Senators have run without Democratic opposition just 18 times since 1914.
Four of these sitting GOP U.S. Senators appeared on the general election ballot without a Democratic opponent twice – but only one has done so in back-to-back cycles.
Kansas' Pat Roberts is the most recent of the four. The senior senator from the Sunflower State faced only Libertarian and Reform Party nominees when he won his second term in 2002.
Last November, Roberts was challenged by independent Greg Orman and Libertarian Randall Batson as Democratic primary winner Chad Taylor dropped out of the race two months before Election Day.
Two other Republican Senators scared off the Democratic competition in both 1990 and 2002.
Former Virginia lawmaker John Warner faced only independent Nancy Spannaus in 1990 and then Spannaus and Libertarian nominee Jacob Hornberger in 2002.
Meanwhile, Mississippi's Thad Cochran ran unopposed to win his third term in 1990 and cruised to an easy victory over the Reform Party's Shawn O'Hara to win his fifth in 2002.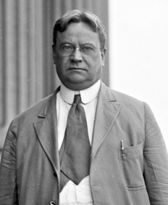 The only Republican member of the nation's upper legislative chamber who did not face a Democrat on the general election ballot two cycles in a row was California's Hiram Johnson.
Johnson defeated Democratic opponents with greater and greater ease during his first three elections to the chamber in 1916 (31.6 points), 1922 (38.4 points), and 1928 (55.9 points).
In 1934, only Socialist nominee George Kirkpatrick ran against Johnson who 94.7 percent of the vote.
Six years later, Johnson claimed 82.6 percent against Prohibitionist nominee Fred Dyster and Communist nominee Anita Whitney to become the only GOP Senator to run without Democratic opposition in back-to-back elections.
The remaining Republican U.S. Senators who were not challenged by Democratic nominees are Knute Nelson of Minnesota (1918), David Reed of Pennsylvania (1922 special), David Stewart of Iowa (1926 special), Robert La Follette, Jr. of Wisconsin (1928), William Knowland of California (1952), George Aiken of Vermont (1968), Jon Kyl of Arizona (2000), Dick Lugar of Indiana (2006), Thune (2010) and Jeff Sessions of Alabama (2014). [Note: La Follette also did not face a Democrat upon winning Wisconsin's 1925 special election, though he was not a sitting U.S. Senator at the time].
The Democratic Party is having an increasingly difficult time in fielding candidates across all states in recent cycles.
From the 1930s through the 1990s, Democrats failed to field a candidate in a U.S. Senate race just nine times. Since 2000, however, there have already been 10 such races without a Democratic nominee.
As for the 2016 cycle, in addition to South Dakota, Democrats have yet to see an active candidate file to run in Alaska, Arkansas, Georgia, Kansas, New Hampshire, North Carolina, North Dakota, Oklahoma, South Carolina, and Utah.
Republicans are still looking for candidates in Hawaii, Oregon, Washington, and Vermont.
Follow Smart Politics on Twitter.