Frontrunning: Unequal Speaking Time at Republican Presidential Debates
Mitt Romney received nearly five extra minutes of face time per debate above his proportional share during the 2012 debates while no other candidate ended up on the plus side of the moderator's stopwatch
With 17 notable Republican candidates in the 2016 presidential race, the first few networks hosting GOP debates have capped the number appearing on stage in prime time at 10.
Irrespective of whether 10 candidates is the appropriate number or the methodology of how these candidates were selected, it will no doubt be particularly challenging for FOX moderators to dole out an even amount of face time to the participants on Thursday with that many White House hopefuls behind the podiums.
In fact, the expectation is that ratings-friendly Donald Trump will inordinately be the focus of the FOX news team, if not the candidates themselves.
For with fewer candidates on the debate stage last cycle, there were already significant variations in the allotted speaking time amongst the GOP candidates – with frontrunners enjoying a disproportionate amount of camera time.
Smart Politics reviewed the 2012 Republican debates and found that Mitt Romney received nearly five minutes more speaking time per debate above his proportional share, while no other GOPer ended up with a net bonus of even one second for the debate season.
For this analysis, the speaking time was tabulated for the 17 GOP debates that were conducted after the last candidate – Rick Perry – entered the race in mid-August 2015.
The total speaking time among all candidates for each debate was timed to yield a baseline average for that debate, or a candidate's 'equal share.' Each candidate's actual speaking time was compared to this proportional share to generate a plus-or-minus score for the debate. Such calculations were made for all 17 debates, summed, and then divided by the number of debates in which a given candidate participated to generate a final score for the debate season.
Overall, eventual nominee Mitt Romney was by far afforded the most speaking time across the debates by every measure.
For starters, Romney was the only candidate whose speaking time exceeded his proportional share – coming in at an average extra four minutes and 46 seconds of face time for the 17 debates.
In fact, the former Massachusetts governor was on the 'plus' side of the stopwatch for each of these 17 debates.
Romney received no less than 1:50 more speaking time than his proportional share and as much as an extra 9:26 (in Hanover, New Hampshire, October 11, 2011). He also received bonuses of +9:19 (Goffstown, New Hampshire, January 7, 2012), +8:08 (Charleston, South Carolina, January 19, 2012), +6:31 (Las Vegas, Nevada, October 18, 2011), +6:21 (Auburn Hills, Michigan, November 9, 2011), +5:55 (Des Moines, Iowa, December 10, 2011), and +5:47 (Concord, New Hampshire, January 8, 2012).
Not surprisingly, Romney had the most speaking time of any candidate at 11 of these 17 debates with Rick Perry, Newt Gingrich, and Rick Santorum each getting the most time on the microphone twice.
However, even though Perry, Gingrich, and Santorum each had their moment in the sun, none came close to receiving the kind of face time that Romney was granted.
In fact, no other candidate averaged even one second of bonus time with Rick Perry following Romney's +4:46 by simply breaking even. The time allotted to the Texas Republican came out to exactly his equitable share across the 13 debates in which he participated.
The remaining six candidates were all on the minus side of the moderator's stopwatch with Newt Gingrich averaging -10 seconds per debate less than his proportional share followed by Michele Bachmann at -22 seconds, Rick Santorum at -24 seconds, John Huntsman at -1:17, Herman Cain at -1:35, and Ron Paul far back at -2:16. [Note: Future Libertarian nominee Gary Johnson came in at -3:01 during the one debate in which he was allowed to participate during this six-month period from September through February].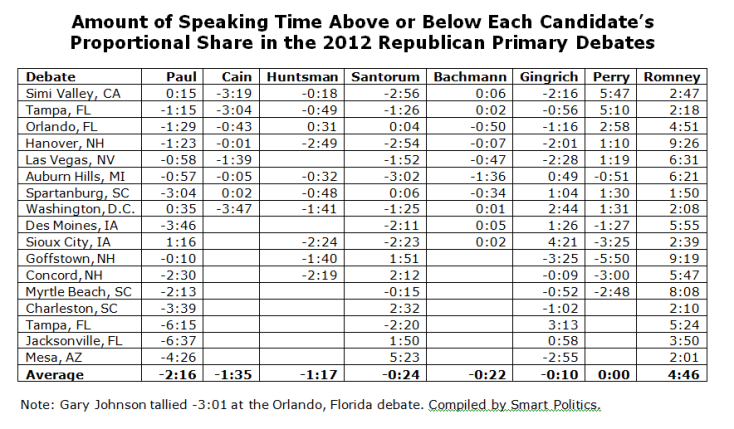 To be sure, the media kept a keen eye as to which candidate was leading in the polls when they decided to grant extra face time (and a disproportionate number of questions) during the debates.
Both instances in which Perry received the most speaking time during debates coincided with him leading in the national polls. Perry notched an extra +5:47 in face time at the Simi Valley, California debate (September 7, 2011) – three minutes more than any other participant. Perry also was granted +5:10 in speaking time above his proportional share in the subsequent debate in Tampa, Florida (September 12, 2011).
Perry led in all national polls conducted at that time.
By the time the next debate was conducted in Florida on September 22nd, Romney was back in first place in national polling and he led all participants with an extra +4:51 in speaking time above his proportional share.
Similarly, Newt Gingrich was leading in the polls when he led the field of candidates in speaking time in Washington, D.C. on November 22, 2011 – gaining a +2:44 advantage over his proportional share. Gingrich was still leading in the polls three weeks later in Sioux City, Iowa (December 15, 2011) when he had the most face time (+4:21 above an equal distribution).
Rick Santorum, meanwhile, was at the tail-end of a two-week spurt in which he led in national polling when moderators granted him the most speaking time at the final GOP debate in Mesa, Arizona (February 22, 2012).
All the while, the candidate to whom debate moderators consistently gave the cold shoulder was Texas Congressman Ron Paul.
Despite frequently polling in third place (and sometimes as high as second) during this period under analysis, Paul received less than his equal share of speaking time in 14 of the 17 debates conducted from September 2011 through February 2012.
The only three debates in which Paul exceeded the average candidate time allotment saw him gain a mere 15 seconds in Simi Valley, California (September 7, 2011), 35 seconds in Washington, D.C. (November 22, 2011), and 1:16 in Sioux City, Iowa (December 15, 2011).
Perhaps all bets are off when 10 candidates take the stage on Thursday evening, but if Donald Trump does inordinately become the focus of the moderator's questions, it's not because he's Donald Trump – it's because he's the (current) GOP frontrunner.
Follow Smart Politics on Twitter.