Tale of the Tape at the GOP Debate
Trump and Bush received more than their equal share of speaking time while the rest of the field was shortchanged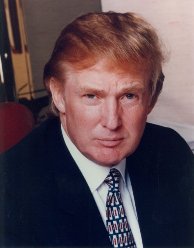 As explained and predicted in a Smart Politics report published on Wednesday, Donald Trump received the most face time at Thursday's presidential debate in Cleveland.
Trump, who has surged to the top of national and many state polls, is the early frontrunner of the large field and, as such, received a clear plurality of the speaking time afforded to the 10 candidates to make his case to the American public.
The New York businessman had the microphone for 10 minutes and 32 seconds, with a high profile start out of the gate as the only candidate who would not pledge to support the GOP nominee or not run a third party campaign this cycle.
Following Trump was Jeb Bush who is currently in second place in national polling. The former two-term Florida governor logged in eight minutes and 31 seconds.
With the 10 candidates speaking for a total of one hour, eight minutes, and 49 seconds, an equal distribution of speaking time would have been six minutes and 52 seconds per candidate.
However, Trump and Bush were the only two candidates who reached (and exceeded) that mark.
In third was former Arkansas Governor Mike Huckabee at 6:40 followed by Texas U.S. Senator Ted Cruz (6:39), Ohio Governor John Kasich (6:31), retired neurosurgeon Ben Carson (6:23), Florida U.S. Senator Marco Rubio (6:22), New Jersey Governor Chris Christie (6:10), Wisconsin Governor Scott Walker (5:51), and Kentucky U.S. Senator Rand Paul (5:10).
In other words, Trump spoke for more than twice as long as Senator Paul.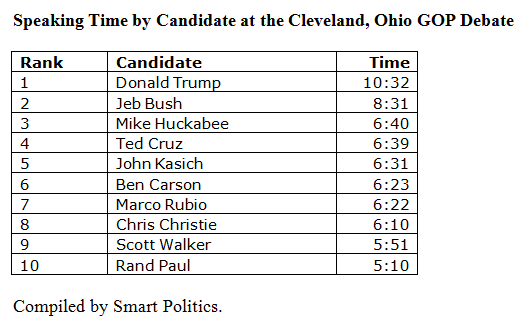 Governor Walker's short speaking time was largely of his own doing. Despite candidates frequently being given at least one full minute to speak, Walker gave responses of less than 40 seconds six times and never exceeded 48 seconds for any of his remarks.
The FOX moderators, meanwhile, spoke for 31 minutes and 53 seconds, or 31.7 percent of the broadcast.
Follow Smart Politics on Twitter.