Shuler vs Burr Would Yield Rare Matchup in 2016 North Carolina US Senate Race
The potential 2016 matchup would be the first among sitting or former ex-U.S. Representatives from North Carolina in 98 years, while Shuler would be the first such Democrat to run for a Senate seat since 1972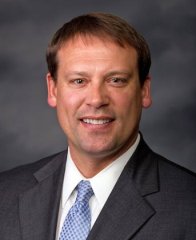 National Journal reported late last week that former three-term Democratic U.S. Representative Heath Shuler was mulling a bid to take on Republican incumbent Richard Burr in next year's North Carolina U.S. Senate race.
With former Senator Kay Hagan declining to run again in back-to-back cycles, a candidacy by the former Blue Dog Democrat legislator would be a major coup for the party.
As it stands now, without any Democratic candidate in the race, the Tar Heel State could be in the unlikely position of hosting a blow-out election next year – unusual for a state Smart Politics has recently documented as hosting the most competitive U.S. Senate elections in the nation over the last quarter-century.
If Shuler does run, however, and captures the Democratic nomination, it would set up a rarity of a different sort in North Carolina politics.
A Smart Politics study finds that a Heath Shuler vs. Richard Burr general election matchup in 2016 would mark just the second time two sitting or former U.S. Representatives have met in a North Carolina U.S. Senate election in the direct election era – and the first in 98 years.
In general, members of the U.S. House from the Tar Heel State have shied away from running for the nation's upper legislative chamber.
Since 1914, there have been 110 men and women to serve as U.S. Representatives from North Carolina – and just 11 of them have run for the Senate, or 10 percent. [Note: Smart Politics compiled the number of sitting or ex-U.S. House members who ran on the primary or general election ballot].
Six of the 79 Democratic U.S. House members during this span eventually made a U.S. Senate bid (7.6 percent): Franklin Hancock (1930-1939) in 1938, Clyde Hoey (1919-1921) in 1944, Cameron Morrison (1943-1944) in 1944, William Umstead (1933-1939) in 1948, Sam Ervin (1945-1947) in 1954, and Nick Galifianakis (1967-1973) in 1972.
That means a Shuler U.S. Senate candidacy would be the first by a sitting or former Democratic U.S. House member in the state since Galifianakis' in 1972.
Hancock, Morrison, and Umstead were defeated in the primary while Galifianakis lost in the general election to Jesse Helms after knocking three-term U.S. Senator B. Everett Jordan out in the Democratic primary.
Morrison also ran for and failed to become the Democratic nominee in 1932's special and general election U.S. Senate contests 10 years before he was elected to Congress.
Hoey, meanwhile, won two terms to the U.S. Senate in 1944 and 1950 while Ervin won four in 1954, 1956, 1962, and 1968. Ervin had initially been appointed to the seat in June 1954 after Hoey's death.
On the Republican side, five of the party's 31 U.S. Representatives to serve since 1914 have attempted to make the leap to the upper legislative chamber (16.1 percent): George Pritchard (1929-1931) in 1930, Charles A. Jonas (1929-1931) in 1938, Jim Broyhill (1963-1986) in 1986, Gene Johnston (1981-1983) in 1992, and Burr (1995-2005) in 2004.
Pritchard lost to J. William Bailey, Jonas was defeated by incumbent Robert Reynolds, Broyhill (who had been appointed to the Senate) lost to Terry Sanford, and Johnston was defeated in the GOP primary by Lauch Faircloth. Burr has won back-to-back elections after John Edwards ran for the presidency in 2004.
Overall, Democrats have had 20 different U.S. Senate nominees across the 39 general and special elections to the chamber in the direct election era.
Four of these were sitting or former U.S. Representatives: Hoey, Ervin, Galifianakis, and Furnifold Simmons – who won five terms to the chamber (1900, 1906, 1912, 1918, 1924) after serving one term in the U.S. House from 1887 to 1889.
Republicans have put forth 24 different nominees across these 39 elections, of which five were sitting or ex-U.S. House members: Pritchard, Jonas, Broyhill, Burr, and John Morehead in 1918, who served one term in the lower chamber from 1909 to 1911.
The 1918 matchup between the aforementioned Senator Simmons and Morehead is the only North Carolina U.S. Senate race in the direct election era to feature a pair of sitting or former U.S. Representatives.
As such, a Shuler versus Burr matchup in 2016 would be the first of its kind in the state in 98 years.
Follow Smart Politics on Twitter.