Chipping In: Recommended Donation Levels on 2016 Presidential Campaign Websites
Suggested donations range from $3 to $5,400 with Hillary Clinton asking supporters for the most modest contributions and Ben Carson the most generous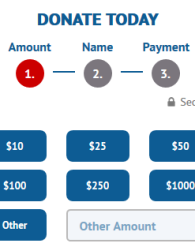 Early winners and losers of the money game in the 2016 presidential race have already been assigned, with contributions from the second quarter released last month.
Some campaigns raised a healthy amount of funds (e.g. Jeb Bush) while others did poorly but saw their super PACs come through in a big way (Rick Perry). Still others fared poorly on both metrics (George Pataki, Lincoln Chafee).
One fundraising theme that several candidates have implemented on their websites is to ask supporters to "chip in" and help their campaigns:
Marco Rubio: "Will you join Marco and chip in a few bucks now?"

Bobby Jindal: "Are you in? Show Bobby that he's got your support. Chip in today."

Mike Huckabee: "President Mike Huckabee will lead with moral clarity. Chip in $10 or more today."

Rand Paul: "Please chip in a contribution of $20.16 to help my campaign show a surge of momentum now ahead of the FEC reporting deadline."
And just how much are candidates asking the public to "chip in" when they contribute to their campaigns?
Smart Politics examined the campaign donation buttons on the websites of the 22 Democratic and Republican candidates and found White House hopefuls offered a range of zero to 12 options totaling 18 different combinations, with values ranging from a low of $3 to a high of $5,400.
FEC regulations, of course, currently cap the amount an individual can give to a candidate's federal campaign at $2,700 per election, or $5,400 per couple. Contributions given at this point in the race are normally designated for the primary election.
Although individuals can give up to $2,700, only 16 of the 22 candidates request that amount on their campaign website's donation page – all but Ted Cruz, Hillary Clinton, Jim Gilmore, Marco Rubio, Bernie Sanders, and Rick Santorum.
Note: Gilmore is the only candidate in the field who does not provide a single suggested donation amount, but instead simply offers the contributor to enter the amount of his or her choosing – an option all 22 candidates provide.
Curiously, Rick Santorum gives donors the option of a $2,500 gift – $200 shy of what he could receive from a given individual.
The most commonly used donation buttons across all campaign websites tend to be for smaller amounts – for $25, $50, and $100 – as candidates want to offer backers the option of at least giving a minimal level of support.
For example, all candidates (except for the aforementioned Gilmore) incorporate a $100 button on their site's donation page, all but two candidates use a $50 button (Rubio and Gilmore), and all but four use a $25 button (Chafee, Gilmore, Sanders, Walker).
Other frequently suggested donation values include:
$1,000: offered by 18 candidates (all but Clinton, Gilmore, O'Malley, Rubio)
$250: offered by 16 candidates (all but Bush, Christie, Fiorina, Gilmore, O'Malley, Webb)
$500: offered by 15 candidates (all but Carson, Clinton, Cruz, Gilmore, Kasich, Pataki, Santorum)
Several candidates provide donation suggestions at even lower amounts than $25:
$3: Clinton
$5: Christie, Clinton, Jindal, O'Malley
$7: Rubio
$10: Clinton, Cruz, Graham, Sanders, Trump, Walker
$12: Rubio
$15: Chafee
$20.16: Paul
That's right, Senator Paul has a donation button for $20.16. Supporters can also easily give amounts of $201.60 and $2,016 (the pattern is quite clear).
To be sure, Paul provides what are perhaps the most gimmicky array of donation button offers, as well as the largest number of choices. Paul offers a field-high 12 donation options, including three under $100 and four others under $1,000.

[Note: Paul also accepts payment via Bitcoin on his campaign site].
There are also a few quirks on the candidates' websites when it comes to seeking donations.
For example, even though former Arkansas governor Mike Huckabee asks visitors to "Chip in $10 or more today," he doesn't make it quite so easy to give that amount. Upon visiting his donation page, the button with the lowest level of giving is actually $25.
Meanwhile, New Jersey Governor Chris Christie offers a $5 donation button on his home page…

…but on his donation page the lowest contribution is $25…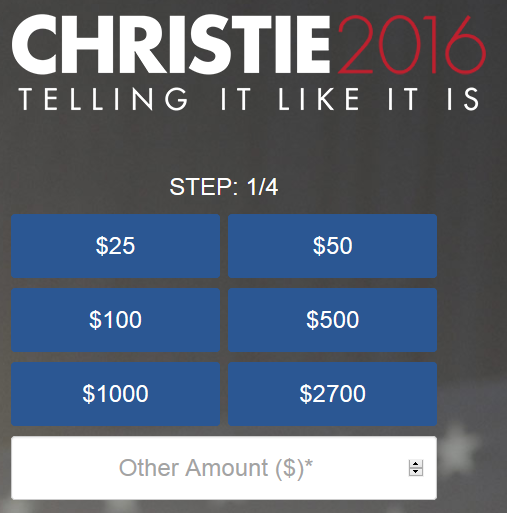 Despite some similarities in recommended donation values, very few donation pages are alike across the 2016 field: overall, there are 18 different combinations of donation button offerings across the 22 candidates.
Jeb Bush, Carly Fiorina, and Jim Webb each offer six options of $25, $50, $100, $500, $1,000, and $2,700 while George Pataki and John Kasich offer $25, $50, $100, $250, $1,000, and $2,700.
No other two donation pages are alike.
The average donation button among the five Democratic candidates is $435 with the average for the 17 GOPers much higher at $788.
Hillary Clinton offers the most modestly-valued selection of donation buttons with seven options coming in at an average level of just $63.
Clinton asks supporters to contribute with options of $3, $5, $10, $25, $50, $100, and $250. Only one other candidate offers a highest-tier donation button of less than $1,000 (Rubio at $500).
Next on the low end of the asking scale is Senator Rubio with six options averaging $149 followed by Ted Cruz ($239) and Bernie Sanders ($277).
On the other end of the spectrum is Ben Carson, with seven donation levels averaging $1,360 (including $5,400 for a couple) followed by Rick Perry ($1,253), Senator Paul ($1,146), and Senator Graham ($1,115).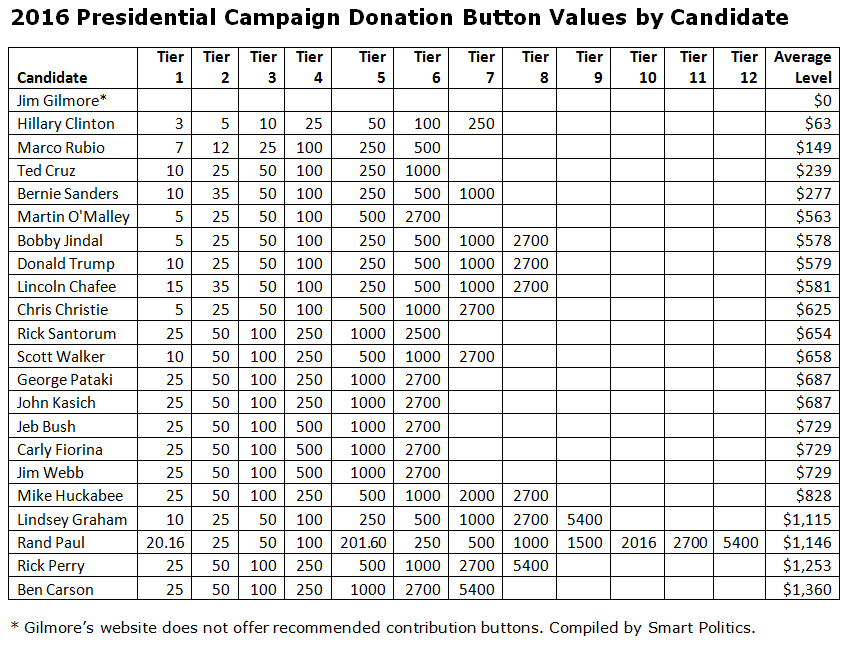 Follow Smart Politics on Twitter.