Will Heidi Heitkamp Attempt a Gubernatorial Comeback?
Just two of 15 failed North Dakota gubernatorial candidates won on a subsequent run at the office – none have tried since 1972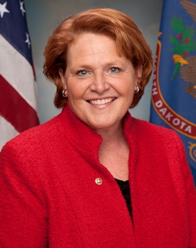 Republican Jack Dalrymple's decision not to seek a third term as governor of North Dakota Monday gives Democrats a potential opening to end the party's third longest gubernatorial election drought in the nation.
Democrats have not won a race for the top office in the Peace Garden State since 1988 when George Sinner won his second term.
The closest the party has come ever since was back in 2000 when then two-term Attorney General Heidi Heitkamp was defeated by bank executive John Hoeven by 10.1 points. Both candidates now serve in the U.S. Senate.
After North Dakota, the longest Democratic gubernatorial election droughts are in South Dakota (1974, 10-cycle drought) and Utah (1980, nine cycles).
Talk of a possible Heitkamp gubernatorial candidacy percolated on Monday though her office did not indicate that the senator would jump into the race.
If Heitkamp does choose to run in 2016, she would attempt to become just the third failed gubernatorial candidate in the state to subsequently win a race for governor – and the first to do so in 78 years.
To date just two North Dakotans who have lost gubernatorial elections later won a race for the office.
Republican Wild Bill Langer was the first.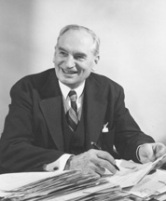 Langer was a two-term attorney general when he sought the GOP nomination for governor in 1920, taking on two-term incumbent Lynn Frazier.
Frazier defeated Langer by 5,414 votes en route to a third term. [Note: That term was cut short by a 1921 recall election defeat].
After a narrow 1928 primary loss for attorney general, Langer would eventually win the GOP nomination for governor in 1932 and defeat Democrat Herbert DuPuy by 9.8 points in the general election.
Langer was then removed from office by the North Dakota Supreme Court in 1934 due to a federal felony conviction related to his campaign fundraising, but would later win a second term as governor on the Non-Partisan League ticket in 1936. He ended his political career by serving three-plus terms in the U.S. Senate.
The only other failed gubernatorial candidate to later win a race for governor in North Dakota was Langer's 1936 Democratic opponent, attorney John Moses.
Moses placed third in that contest with 29.3 percent of the vote – just 6.5 points behind Langer.
However, Moses was renominated by his party again in 1938 and defeated North Dakota Commissioner of Agriculture John Hagan by 4.9 points.
Moses would win two more terms as governor before winning the state's U.S. Senate Election of 1944.
Thirteen other defeated gubernatorial candidates in North Dakota history failed in their comeback attempts.
The most notable of these was the aforementioned Governor Lynn Frazier who lost a 1921 recall election to Ragnavald Nestos by just 1.9 points.
After serving three terms in the U.S. Senate, Frazier lost the GOP nomination for a fourth term to Langer in 1940.
Six years later, Frazier sought the Republican nod for governor and came in a distant third place to incumbent Fred Aandahl with 11.9 percent.
Other North Dakotans who failed in multiple attempts to win gubernatorial elections on a major party ticket are:
Democrat William Roach: lost general elections of 1889 and 1890
Fusion/Democrat D.M. Holmes: lost general elections of 1898 and 1926
Republican Christopher A. Johnson: lost general elections of 1908 and 1910 and 1912 GOP primary
Republican J.A. Buchanan: lost Republican primaries of 1910 and 1912
Democrat Frank O. Hellstrom: lost the general elections of 1912 and 1914 and the Democratic primary of 1930
Republican Usher Burdick: lost the GOP primaries of 1914 and 1916
Democrat L.S. Platou: lost the Democratic primaries of 1916, 1922, and 1924
Democrat Halvor Halvorson: lost the Democratic primary of 1916 and the 1924 general election
Democrat Fred Anderson: lost the Democratic primaries of 1928 and 1930
Republican T.H.H. Thoresen: lost the GOP primaries of 1928, 1934, and 1938
Republican/Democrat Wallace Warner: lost the 1954 GOP primary and the 1956 general election as the Democratic nominee
Republican Robert McCarney: lost the GOP primaries of 1964 and 1972 and the 1968 general election
McCarney's 1972 campaign is the last time a losing North Dakota gubernatorial candidate set out on a subsequent run at the office.
If Heitkamp does run for governor, it is a virtual certainty that she will clear the field. Democrats have not hosted a contested gubernatorial primary in the state since 1992 when two-term Attorney General Nicholas Spaeth defeated State Senate Majority Leader Bill Heigaard.
Follow Smart Politics on Twitter.