Jeopardy! Footprints of the 2016 GOP Presidential Field
Trump has been mentioned on the game show three-dozen times more than the next closest GOP rival and more than 13 GOP candidates combined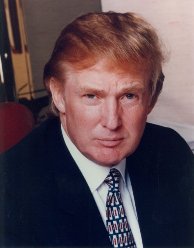 One of the varied reasons given by (at times defensive) political observers and prognosticators as to the continued success of Donald Trump since he launched his 2016 presidential campaign in mid-June is that the GOP electorate is purportedly backing him at this point in the campaign in large part due to name recognition and celebrity status.
However, with every week that goes by with Trump at the top of the heap of the Republican field and one extremely high profile debate already under his belt, that argument seems to hold less and less water.
To the extent that Trump's celebrity and pop culture status continues to drive his numbers, the remaining 16 candidates certainly have a deep well out of which to eventually climb.
To be sure, Trump entered the 2016 race as the most famous of the 17 men and women seeking the GOP nomination, and this report examines one measure that highlights the discrepancy between his celebrity and pop culture footprint and those of his rivals.
Smart Politics examined the frequency with which the 17 Republican candidates running for president in 2016 have been used on Jeopardy! as either clues or answers and found that Donald Trump has been mentioned on the show 59 times – three dozen times more than his nearest rival and more than 13 candidates combined.
One of the most successful televised game shows over the last three decades, Jeopardy! provides a useful snapshot of the extent to which politicians, entertainers, and other news makers enter and perhaps leave the pop culture consciousness.
A search through the Jeopardy! Archive yielded 59 mentions of Trump on the program (29 as a Jeopardy! clue and 30 as an answer) – by far the most in the GOP field.
Jeb Bush was next with 23 mentions followed by George Pataki (15), Rick Perry (11), Chris Christie (9), Bobby Jindal (9), Rick Santorum (8), Mike Huckabee (7), Lindsey Graham (6), Marco Rubio (4), Carly Fiorina (3), Ted Cruz (2), Rand Paul (2), and Scott Walker (2).
The names of Ben Carson, Jim Gilmore, and John Kasich have not yet come up on the program.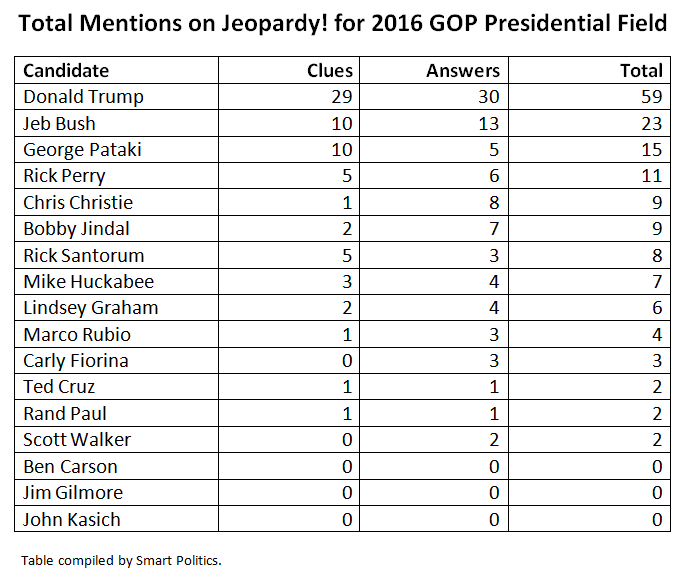 The first time the popular game show mentioned Trump was on November 21, 1996 – the earliest debut of any 2016 GOP candidate – when his name was the answer to the following clue:
ON THE INTERNET $300: This entrepreneur's Taj Mahal & Castle have their own web pages
Trump beat Rick Santorum by one day with the former Pennsylvania U.S. Senator coming up on the November 22, 1996 show:
PENNSYLVANIA $1000: 1 of Pennsylvania's 2 U.S. Senators [Arlen Specter & Rick Santorum]
Trump's name would come up on the show during 18 of the next 19 years: one time in 1997 plus four in 1998, two in 1999, once in 2000, two in 2001, two in 2002, five in 2004, 12 in 2005, five in 2006, eight in 2007, three in 2008, one in 2009, three in 2010, two in 2011, one in 2012, three in 2013, two in 2014, and one in 2015.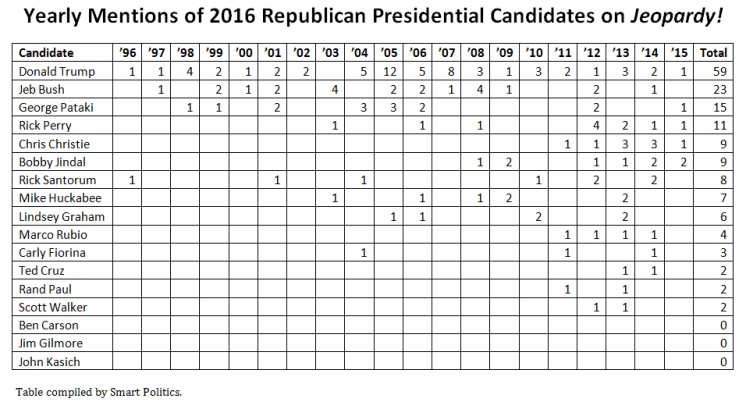 Trump is one of five Republican contenders who have been mentioned on the game show this year along with Christie, Jindal, Pataki, and Perry.
Pataki (January 7, 2015) NEW YORK GOVERNORS $800: He took New York into the 21st century

Jindal (March 27, 2015) ASIAN AMERICANS $1200: The son of immigrants from India, this state governor got an Ivy League education at Brown University

Trump (March 30, 2015) BOTTLES OF WATER $600: The "Ice Spring Water" from this NYC real estate guy must be okay as he wouldn't put his name on just anything

Christie (July 27, 2015) COMPOUND WORDS $800: Chris Christie gave this kind of address at the 2012 Republican national convention [keynote]

Perry (July 28, 2015) YOU MUST REMEMBER THIS $600: He was a Democrat in Texas' state House in the 1980s, but a Republican as governor for 14 years
Trump has logged the greatest span between first (1996) and last (2015) mentions on Jeopardy! at 19 years followed by Santorum at 18 years (1996, 2014), Bush (1997, 2014) and Pataki (1998, 2015) at 17 years, and Perry at 12 years (2003, 2015).
The New York real estate mogul is so famous, that Jeopardy! made him a category on two of its programs.
On May 5, 2005 the category "Donald Trump" yielded these five clues:
$200: A noted germophobe, Trump said, "I think" this form of greeting "is barbaric… you catch the flu" [handshaking]
$400: Trump owned the N.J. Generals, a team that featured Doug Flutie & Herschel Walker, in this league [USFL]
$600: This Trump family minister & author of "The Power of Positive Thinking" performed the Donald's marriage to Ivana [Norman Vincent Peale]
$800: Heavily in debt in '91, Trump spotted a beggar & said to this woman, wife No. 2, "He's worth $900 million more than I am" [Marla Maples]
$1000: The Donald graduated first in his class from this school of finance at U.Penn. in 1968 [Wharton]
Two years later, on May 14, 2007, the category "Put It On Donald Trump's Bill" appeared with these clues:
$200: Czech, please! A divorce from her cost $14 mil., plus a Conn. estate & $350K a year until she remarried [Ivana]
$400: "Here, let me get out my wallet…" A divorce from this alliteratively named lady cost a mere $2 million [Marla Maples]
$600: In 2004 the Donald paid $41 mil. for a house (which he gutted) in this Florida co., site of a few election problems in 2000 [Palm Beach County]
$800: In 1985 Trump signed Doug Flutie to a 5-year, $7 million deal to play for the N.J. Generals of this league [USFL]
$1000: In 1990 this Atlantic City Trump site, not the Agra one, cost a cool billion to build [Taj Mahal]
Overall, Trump has been used by Jeopardy! to highlight several aspects of his life such as…
His marriages:
(October 10, 2001) SOLD TO THE HIGHEST BIDDER $200: In 2000 Marla Maples auctioned off for $110,000 the engagement ring she got from this ex

(April 19, 2001) THE MILLIONAIRE $200: His ex-wife Ivana got $25 million in a 1991 divorce settlement, but he did get to keep the tower

(April 14, 2009) I THEE WED $1000: 2005: Melania Knauss
His television show:
(March 20, 2004) PEOPLE $200: This mogul is the star of the reality show "The Apprentice"

(February 10, 2006) TV CASTS $400: Donald Trump, 18 people in the middle of New York City

(June 20, 2007) TV LAND'S TOP QUOTES $600: "You're fired"
His hairstyle:
(June 2, 2006) POTPOURRI $400: Donald Trump's rather unique hairstyle has been called a "pompad-over", a combination of pompadour & this [a comb-over]

(June 10, 2010) JEOPA-CONGLOMAREX, INC. $800: As CEO of J-CX, I'm thinking of doing my hair like this owner of 610 Park Avenue. How do I look? Huh?
And his business ventures:
(October 6, 2005) WHEN YOU GET THE MONEY $200: His NYC holdings alone have included the Plaza Hotel, a "World Tower" & 40 Wall Street

(June 29, 2007) TALL STRUCTURES $600: 2 of the 10 tallest buildings in New York City are named for this real estate tycoon

(September 19, 2008) SO WHAT'D YOU DO WITH THE MONEY? $400: In 1988 he could've said, "You're hired!" to work at NYC's Plaza Hotel, which he bought for $390 million
Of course, Jeopardy! is only one measure of a public figure's cultural footprint and the show is by no means an accurate gauge for high or low poll numbers in the 2016 campaign.
For example, Pataki (15) and Perry (11) rank third and fourth in total number of mentions on the show among the 2016 candidates but both have been registering around one percent in national polling in recent weeks.
Meanwhile, Carson currently ranks second in national polling in the 2016 race but has never been used as a clue or answer on the program.
Beyond Trump, here is a sampling of some of the instances in which other 2016 GOP presidential candidates have been mentioned on Jeopardy!
Bush (October 9, 2008) BROTHERS & SISTERS $600: These 2 brothers, sons of a president, were given the Secret Service code names Tumbler & Tripper

Christie (January 9, 2014) REDUNDANT SOUNDING NAMES $800: He recently tweeted, "At 50 yrs old and the governor of NJ, I'm still trying to win over my mother-in-law"

Cruz (December 11, 2013) RECENT HISTORY $1600: In September 2013 this Texas senator held the floor for 21 hours in an effort to derail Obamacare

Fiorina (April 4, 2005) FAMOUS WOMEN $2000: As head of Hewlett-Packard, she led the fight for HP's merger with Compaq

Graham (October 28, 2013) POTPOURRI $400: John McCain says he has to translate this friend & fellow senator's Southern accent into English

Huckabee (June 5, 2008) THEY SAID IT $800: Trailing in the GOP nomination race in 2008, this Arkansan said, "I didn't major in math–I majored in miracles"

Jindal (February 13, 2014) STATE GOVERNORS $2000: Born with the Indian name Piyush, this Louisiana governor wanted to be called Bobby after Bobby on "The Brady Bunch"

Perry (September 26, 2012) IN THE POLITICAL ARENA $400: He supported Al Gore's 1988 presidential campaign; now he's governor of Texas & his views have changed a bit

Pataki (June 13, 2005) SHUT YOUR MOUTH! $600: This comic was silenced by obscenity charges in the '60s; in 2003 Gov. Pataki gave him a posthumous pardon [Lenny Bruce]

Paul (September 25, 2013) POLITICAL BEFORE & AFTER $1200: An "Atlas Shrugged" author turns into a Kentucky senator who loves him some "Atlas Shrugged" [Ayn Rand Paul]

Rubio (December 31, 2012) PEOPLE ARE READING… $200: "An American Son", by this senator whose parents left Cuba in the 1950s

Santorum (May 11, 2010) A PRO BONO CATEGORY $800: Republican Senator Rick Santorum once said, "Bono understands his issues better than 99% of members of" this [Congress]

Walker: (October 23, 2013) FARTHER LEFT THAN BARACK OBAMA $1600: You may recall this governor hanging with the president–actually, in 2012, Wisconsin did not
There is, however, one advantage Bush currently holds over Trump on the Jeopardy! scoreboard.
Bush has the distinction of being the only candidate running for the Republican nomination who was part of a "Final Jeopardy" clue or answer:
(June 10, 2003) 2001 NEWS: On May 9, 2001 he signed a state law banning punch-card voting
Follow Smart Politics on Twitter.