Republicans and Democrats Have Record Presidential Winning Streaks in 36 States
Three-dozen states across all regions of the country are in the midst of their longest ever Democratic or GOP winning streaks in presidential elections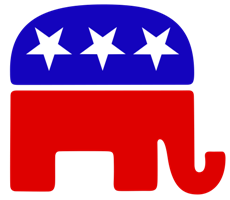 Earlier this summer, Smart Politics issued a report demonstrating how presidential electoral maps are currently in a historic holding pattern.
The 2012 presidential map recorded the lowest ever rate of statewide cycle-to-cycle partisan change in the two-party era and the nation is also currently in the midst of its lowest rates of change in its electoral maps across the last three-, four-, five-, six-, seven-, eight-, and nine-cycle periods.
With historically few states flipping back and forth between their partisan preferences in presidential races, political parties are starting to rack up an impressive array of statewide winning streaks as a result.
Thirty-six of them, to be precise.
Smart Politics examined the 2,000 statewide elections for president conducted since 1828 and found that 36 states are currently in the midst of their longest ever Democratic or Republican winning streaks with the GOP enjoying its best ever runs in 20 states and Democrats at peak levels in 16 others.
Republicans have notched their longest winning streaks in states across three regions of the country – in the Midwest (Kansas, Missouri, Nebraska, North Dakota, South Dakota), the South (Alabama, Arkansas, Georgia, Kentucky, Louisiana, Mississippi, Oklahoma, South Carolina, Tennessee, Texas, West Virginia), and the West (Alaska, Idaho, Utah, Wyoming).
Democrats have done the same in the Northeast (Connecticut, Delaware, Maine, Massachusetts, New Jersey, New York, Pennsylvania, Rhode Island, Vermont), the Midwest (Michigan, Minnesota, Wisconsin), and the West (California, Hawaii, Oregon, Washington).
While a few of these states are often considered bona fide (Pennsylvania, Wisconsin) or quasi- (Michigan, Oregon, Washington) battlegrounds each cycle, a substantial number of Electoral College votes are currently held in states where one of the two major parties is enjoying unprecedented success at the ballot box.
For the GOP, these 20 reliably GOP states take 166 electoral votes off the table each cycle while the 16 Democratic states have given its nominees 209 electoral votes on which they can count (212 if one counts the District of Columbia which has never voted for a Republican nominee).
The Republican Streaks
At the top of the leader board are nine states which have voted Republican for 12 consecutive cycles dating back to Richard Nixon in 1968: Alaska, Idaho, Kansas, Nebraska, North Dakota, Oklahoma, South Dakota, Utah, and Wyoming.
These states currently rank tied for 11th on the all-time GOP presidential victory streak list, and they can leap into a tie for second place if Republican nominees win there again in 2016 and 2020.
Vermont holds the all-time presidential partisan winning streak at 27 cycles from 1856 through 1960. Seven states voted for GOP nominees for 14 straight cycles from 1856 through 1908 (Iowa, Maine, Massachusetts, New Hampshire, Ohio, and Rhode Island) while two did so for 13 cycles from 1860 through 1908 (Minnesota and Pennsylvania).
Four states have set state party records by voting for the GOP presidential nominee in nine consecutive cycles since 1980 (Alabama, Mississippi, South Carolina, Texas), Georgia has done so for a record five times since 1996, and six others have a record four-cycle Republican streak (Arkansas, Kentucky, Louisiana, Missouri, Tennessee, and West Virginia).
Note: Nineteen of these 20 GOP winning streaks above are outright records for the party in each state. In West Virginia, Republican nominees also won four elections in a row from 1896 to 1908 and 1916 to 1928.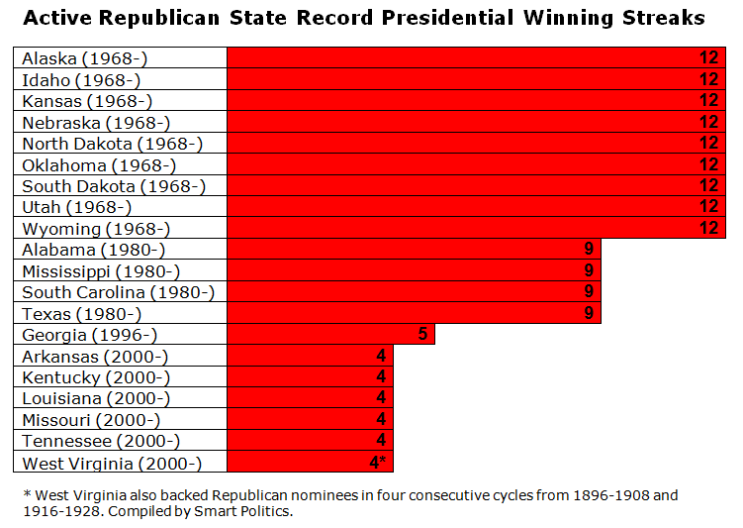 The Democratic Streaks
The longest current Democratic streak is in Minnesota which has voted for Democrats in each of the last 10 cycles since Jimmy Carter in 1976.
In 2012, Minnesota became the first state outside the South where Democrats have won 10 consecutive presidential elections since the founding of the party in 1828.
The Gopher State currently has the 12th best Democratic mark in U.S. history and would tie Florida (1880-1924) for 11th place at 11 in a row with a win in 2016. Georgia owns the longest streak at 24 cycles from 1868 through 1960 followed by Arkansas at 23 (1876-1964), Alabama and Mississippi at 18 (1876-1944), Louisiana and South Carolina at 17 (1880-1944), Texas at 13 (1872-1924), and North Carolina (1876-1924), Virginia (1876-1924), and Tennessee (1872-1916) at 12.
Democrats have also recorded a party-best seven wins in a row since 1988 in seven states (Hawaii, Massachusetts, New York, Oregon, Rhode Island, Washington, Wisconsin) and six in a row since 1992 in eight others (California, Connecticut, Delaware, Maine, Michigan, New Jersey, Pennsylvania, Vermont).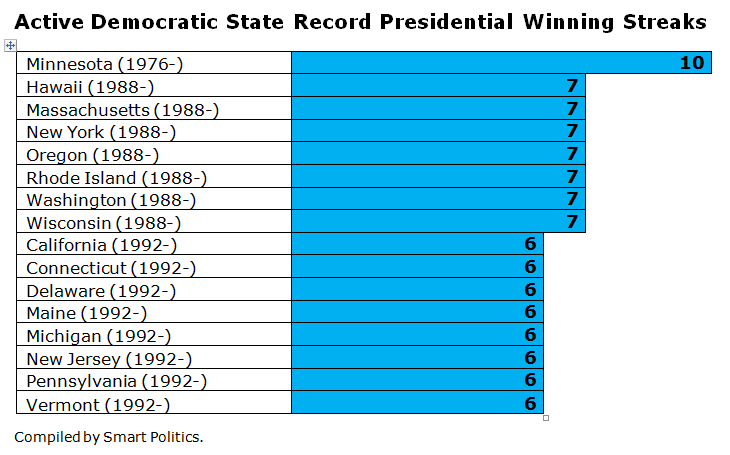 Records Are Not Broken, But Shattered
Not only have Republicans and Democrats set party high water marks in three-dozen states, but records have been smashed in many of them:
The current winning streaks by Democrats in Minnesota and Vermont are five cycles longer than previous bests, while the party finds itself with a winning streak that is four cycles longer than its previous marks in Hawaii and Wisconsin, three cycles longer in New York, Oregon, Washington, Connecticut, Maine, Michigan, and Pennsylvania, and one cycle longer in Massachusetts, Rhode Island, California, Delaware, and New Jersey.
For the GOP, the current streak in Alaska is 11 cycles longer than the party's previous best mark, with the party enjoying victory streaks that are nine cycles longer than previous records in Idaho, Oklahoma, and Wyoming, eight cycles longer in Mississippi and Utah, seven cycles longer in Alabama and Texas, six cycles longer in North Dakota, South Carolina, and South Dakota, five cycles longer in Kansas and Nebraska, three cycles longer in Georgia, and one cycle longer in Arkansas, Kentucky, Louisiana, Missouri, and Tennessee.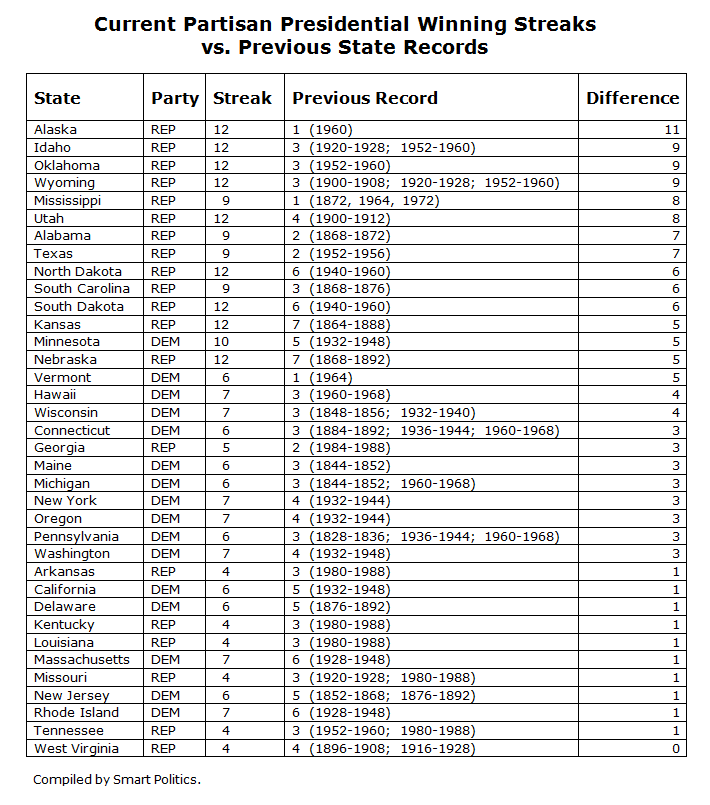 From 36 to 38?
Of the 14 states where Democrats or Republicans currently do not hold a party-best winning streak in presidential races, two could tie marks in the 2016 cycle: Maryland and Ohio.
Democratic nominees currently own a six-cycle winning streak in Maryland dating back to Bill Clinton's first win in 1992 – just one shy of the party's best mark of seven recorded from 1868 through 1892.
With the party claiming Maryland's electoral votes by double-digit margin victories in all six cycles since 1992, it would appear Democrats have a near lock on tying the party's mark in the Old Line State in 15 months.
After Barack Obama's victories in Ohio in 2008 and 2012, Democrats have now won back-to-back presidential elections in the Buckeye State for just the sixth time in state history and are now just one win short of matching their record of three in a row set by Franklin Roosevelt from 1932 to 1940.
Ohioans also backed Democratic nominees in back-to-back cycles in 1828/1832 (Andrew Jackson), 1848 (Lewis Cass) and 1852 (Franklin Pierce), 1912/1916 (Woodrow Wilson), and 1992/1996 (Bill Clinton).
Unlike Maryland, Democratic wins in the Buckeye State have historically been close shaves. Of the 16 victories by Democratic nominees in state history, 13 were decided by single digits including each of the last five (1976, 1992, 1996, 2008, 2012).
The only blow-out Democratic wins in Ohio came from Wilson in 1912, Roosevelt in 1936, and Johnson in 1964.
Follow Smart Politics on Twitter.