Will Dave Reichert Make a Historic Run in Washington's 2016 Gubernatorial Race?
No sitting US Representative has ever won a gubernatorial election in Washington – and just two have tried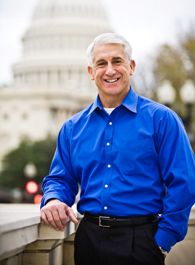 With a shade under 14 months until Election Day, Washington Republicans may be close to landing a big name in the state's gubernatorial race.
Six-term Congressman Dave Reichert is reportedly giving serious consideration to taking on Democratic incumbent – and former U.S. House colleague – Jay Inslee in the 2016 race.
The former sheriff of King County would be a good get for the Washington GOP, which has not won a gubernatorial election in the state since 1980 – the longest drought for the party in the nation. [Republicans in both Washington and Oregon, where the party last won in 1982, have lost eight consecutive races].
Reichert, who consistently has one of the most moderate voting records in the nation's lower legislative chamber, would not be the lone Republican in the guberantorial race with Seattle Port Commissioner Bill Bryant already campaigning and other GOPers still expected to file.
If Representative Reichert does run, however, he has a chance to accomplish a rare feat in Washington politics.
A Smart Politics analysis finds that no sitting Washington U.S. Representative has ever won a gubernatorial election in the state and only two out of 184 sitting members of the chamber have tried during cycles with gubernatorial races.
For starters, it has been unusual for either sitting or ex-Evergreen State U.S. Representatives to make a run at the governor's mansion.
Through 2012, less than one in 10 of the men and women ever to serve in the position eventually launched a gubernatorial campaign: just eight of 83 have done so since statehood (9.6 percent):
Former one-term Progressive turned Republican James Bryan (1936)
Former one-term Republican Ralph Horr (1936)
Former two-term Democrat Clarence Dill (1940)
Former four-term Democrat Mon Wallgren (1944)
Two-term Democrat Hugh Mitchell (1952)
Six-term Republican Sid Morrison (1992)
Former five-term Democrat Michael Lowry (1992)
Former one-term  (1996) and former eight-term (2012) Democrat Jay Inslee
Even more striking, there have been a total of 184 Washington U.S. Representatives who were in office at the time the state held its 32 gubernatorial elections and just two ran for the office: Democrat Hugh Mitchell in 1952 and Republican Sid Morrison in 1992.
Both lost.
[Note: Governor Inslee nearly made this list having announced his 2012 gubernatorial campaign in June 2011 while serving his eighth term in the U.S. House, but he resigned from his seat in March 2012, four and one-half months before the primary election].
As such, a gubernatorial run by Representative Reichert in 2016 would be just the third by a sitting U.S. House member in state history, and a victory in November 2016 would make the Washington record books. 
Interestingly, even though members of Washington's U.S. House delegation are representing a smaller than ever percentage of the state's electorate in recent decades (with a state high water mark of 10 seats following the 2010 census), it is becoming more common for those who have served in the U.S. House to launch gubernatorial campaigns.
From statehood through 1988, there were just five gubernatorial candidacies across 26 election cycles by sitting or former U.S. House members; there have already been four such candidacies over the last six elections since 1992.
No sitting or former members of the Washington U.S. House delegation ran for governor across the state's first 12 contests through 1932 and there was a 40-year gap between such candidacies from 1952 (Hugh Mitchell) and 1992 (Michael Lowry and Sid Morrison).
Moreover, two of the gubernatorial candidacies in the 1940s were by former U.S. Representatives who had subsequently won U.S. Senate seats in the interim.
When Democrat Clarence Dill campaigned for governor in 1940 he was 21 years removed from the U.S. House (1915-1919) but just five years removed from his two terms in the U.S. Senate (1923- 1935).
Dill narrowly lost the 1940 general election to Seattle Mayor Arthur Langlie by less than six thousand votes.
Meanwhile, Democrat Mon Wallgren was four years removed from his tenure in the U.S. House but was a sitting U.S. Senator (1940-1945) when he won the 1944 general election against Governor Langlie.
Wallgren (1944), Lowry (1992), and Inslee (2012) are the only former members of the chamber to win a gubernatorial race in the state.
As for the remaining gubernatorial candidacies by those who served in the U.S. House, Republicans Ralph Horr and James Bryan netted just 2.6 percent and 0.1 percent in the 1936 blanket primary – good for a distant 3rd and 7th place respectively among the seven GOPers to run.
Republican Sid Morrison narrowly lost the 1992 blanket primary with 21.7 percent – 0.7 points behind GOP Attorney General Kenneth Eikenberry.
Inslee, meanwhile, lost his first gubernatorial race in 1996 by placing a distant third with 9.8 percent behind King County Executive Gary Locke (23.7 percent) and former Seattle Mayor Norm Rice (17.5 percent).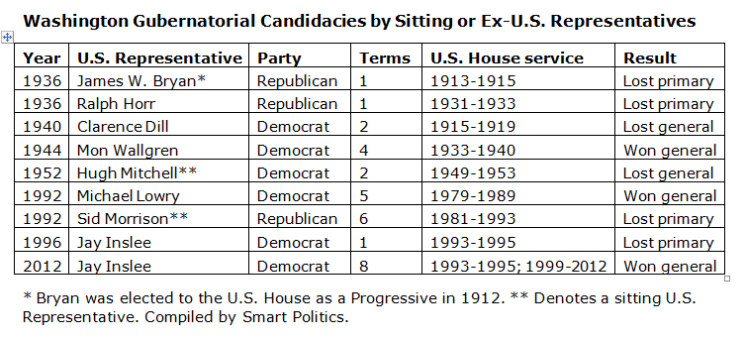 Whether or not Reichert runs for governor this cycle, Bill Bryant is nearly certain to see another GOPer on the ballot come primary day.
Over the 27 cycles since the state's first gubernatorial primary in 1908, an average of 4.7 Republican candidates have appeared on the blanket primary ballot, with at least two candidates in each of these cycles.
In fact, the odds are quite strong that Governor Inslee will not be the only Democrat in the primary: only once has there been a major party candidate on the gubernatorial blanket primary ballot without another candidate from his or her party: Mon Wallgren in 1944.
Follow Smart Politics on Twitter.