John Carney Launches Delaware Gubernatorial Bid
Carney aims to be the fifth sitting or ex-U.S. Representative to become governor of the First State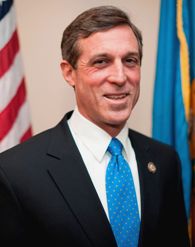 Three-term Democratic U.S. Representative John Carney made a long-expected announcement on Wednesday that he will run for Delaware's open gubernatorial seat next year.
Carney, who served two terms as lieutenant governor under Ruth Miner from 2001-2009, enters the race as the strong favorite in the deep blue Northeastern state.
Democrats have won six consecutive gubernatorial elections in Delaware – tied with New Hampshire for the party's third longest winning streak in the nation behind Washington and Oregon at eight.
A victory in 2016 by Carney, now the presumptive Democratic nominee, would tie the party's all-time gubernatorial winning streak in the state at seven in a row set directly after the Civil War from 1866-1890.
Carney would also add his name to a growing list of Delaware U.S. Representatives who were elected to the state's highest office.
To date, four sitting or ex-U.S. Representatives from Delaware were subsequently elected governor including two of the last five.
Democrat Benjamin Biggs was the first to do so. Biggs served two terms in the nation's lower legislative chamber (1869-1873) and, despite an absence of more than 13 years from elected office, easily won the state's 1886 gubernatorial contest with a 27.9-point win over Temperance Reform nominee John Hoffecker.
Republican Cale Boggs was next – defeating incumbent Elbert Carvel by 4.2 points with Dwight Eisenhower at the top of the ticket in 1952. Like Carney, Boggs was a sitting three-term congressman (1947-1953) when he launched his gubernatorial bid. Boggs would be reelected in 1956 and then win two terms to the U.S. Senate in the 1960s.
Another sitting three-term U.S. Representative – Republican Pete du Pont – also ousted a sitting Democratic governor in 1976.
Congressman du Pont defeated Sherman Tribbitt by 14.4 points that cycle after serving in the U.S. House since 1971. Governor du Pont was reelected with north of 70 percent of the vote during the Reagan Revolution of 1980.
The most recent U.S. House member from Delaware to win a gubernatorial race was Democrat Tom Carper.
Carper had logged in five terms as the state's at-large U.S. Representative (1983-1993) when he routed GOP nominee B. Gary Scott by 32 points in 1992. Carper was reelected by a 39-point margin four years later and has won three U.S. Senate elections since.
Two other Delaware politicians have been elected to both offices, but did so in the reverse order.
Federalist Daniel Rodney was elected governor in 1813 and later won a special election to the U.S. House in 1822 and served five months in the chamber.
More recently, Republican Mike Castle won two terms as governor in 1984 and 1988 and subsequently won nine terms to the U.S. House where he served from 1993-2011. Castle famously lost the GOP U.S. Senate nomination to Christine O'Donnell in 2010.
Democrat William Temple also served as acting governor of the state from 1846-1847 and served in the U.S. House for less than three months in 1863.
No ex- or sitting U.S. Representative from Delaware has ever lost a gubernatorial general election in state history, notching a 7-0 record including reelection bids.
Follow Smart Politics on Twitter.