Hassan vs Ayotte Sets Up 15th US Senate Matchup Between Female Nominees
Incumbent female U.S. Senators have won 91 percent of their reelection contests against female challengers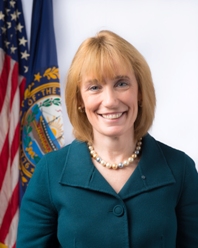 Two-term Democratic Governor Maggie Hassan ended nearly a year of speculation this week by announcing she would challenge one-term incumbent Kelly Ayotte in the state's U.S. Senate race next year.
Hassan is the Democrat's dream candidate in the race – though her candidacy probably opens the door a bit wider for a potential GOP pick-up in the now open gubernatorial race.
Hassan's candidacy is expected to clear the field for the Democrats and Ayotte has been campaigning for reelection without having to deal with a challenger from her own party.
If this holds – and not even a fringe candidate gets into the race – it will bring about not only a rare cycle with uncontested primaries for both parties in the state plus the 15th female-on-female U.S. Senate election between major party nominees in the nation's history.
While Hassan and Ayotte are the only two major party candidates campaigning thus far, it would be quite unusual for both to remain unchallenged for their respective party's nomination in the September 2016 primary.
Through 2014, only two of the state's 37 U.S. Senate primaries since 1914 offered no challenger on the ballot to the eventual nominees – in 1924 and 1984.
In 1924, one-term Republican U.S. Senator Henry Keyes got a free pass to the general election along with Democratic State Treasurer George Farrand. Farrand served as Treasurer from 1913-1914 and 1923-1925.
Keyes won the general election by 19.5 points.
In 1984, one-term GOP Gordon Humphries ran unopposed in his party's primary as did five-term Democratic Congressman Gordon D'Amours.
Humphries cruised to a 17.8-point win with Ronald Reagan at the top of the ticket.
Overall, Republican nominees have run unopposed in New Hampshire U.S. Senate primaries nine times – all were incumbents: Jacob Gallinger (1914), Henry Keyes (1924, 1930), George Moses (1932), Styles Bridges (1948, 1954), Gordon Humphrey (1984), Warren Rudman (1986), and Bob Smith (1996).
Democratic U.S. Senate nominees, meanwhile, have run unopposed in the primary 17 times: George Farrand (1924), William Rogers (1936), incumbent Fred Brown (1938), James Powers (1944), Emmet Kelley (1950), Laurence Pickett (1956), Alfred Catalfo (1962), Thomas McIntyre (1962 special, and as an incumbent in 1966, 1972), John King (1968), Norman D'Amours (1984), George Condodemetraky (1998), Jeanne Shaheen (2002 and as an incumbent in 2014), Doris "Granny D" Haddock (2004), and Paul Hodes (2010).
Overall, GOP U.S. Senate primaries in the Granite State have averaged 2.9 candidates per cycle compared to 1.9 for the Democrats.
However, even if Senator Ayotte or Governor Hassan receives a challenger in the coming months, they will undoubtedly roll to an easy primary victory – the result of which will be the 15th female vs. female major party contest for the nation's upper legislative chamber in U.S. history.
Such contests are becoming increasingly common as the number of women serving in the chamber continues to gradually grow over the last few decades.
In fact, there has been at least one contest with two major party female nominees each of the last five cycles and in seven of the last nine with one in 1998, two in 2002, two in 2006, one in 2008, one in 2010, three in 2012, and two in 2014.
While recent New Hampshire electoral history and regular polling of the potential Hassan vs. Ayotte matchup conducted this year suggests the race will be competitive, the incumbency advantage has rarely eluded female U.S. Senators in such matchups.
Incumbent female U.S. Senators have amassed a 91 percent reelection winning percentage against female challengers – with 10 victories against just one loss.
Reelection victors include:
1960: Maine Republican Margaret Chase Smith (vs. Lucia Cormier)
1998: Washington Democrat Patty Murray (Linda Smith)
2002: Maine Republican Susan Collins (Chellie Pingree)
2002: Louisiana Democrat Mary Landrieu (Suzanna Terrell)
2006: Texas Republican Kay Bailey Hutchison (Barbara Radnofsky)
2006: Maine Republican Olympia Snowe (Jean Hay Bright)
2010: California Democrat Barbara Boxer (Carly Fiorina)
2012: California Democrat Dianne Feinstein (Elizabeth Emken)
2012: New York Democrat Kirsten Gillibrand (Wendy Long)
2014: Maine Republican Susan Collins (Shenna Bellows)
The only female U.S. Senator to lose reelection to another female nominee is North Carolina Republican Elizabeth Dole – who fell to Kay Hagan in her bid for a second term in 2008.
In addition to the 11 female vs. female matchups noted above, three election cycles featured two female major party nominees in open seat races:
1986: Maryland Democrat Barbara Mikulski over Republican Linda Chavez
2012: Hawaii Democrat Mazie Hirono over Republican Linda Lingle
2014: West Virginia Republican Shelley Moore Capito over Democrat Natalie Tennant
Overall, since 1990, female U.S. Senators have won reelection 84 percent of the time – winning 38 races and losing just seven. That is nearly identical to the reelection rate of their male counterparts who have been victorious in holding their seats in 270 of 309 bids, or 87 percent of the time. Women in the chamber have won 29 of 35 reelection bids against male candidates (82 percent) during this 13-cycle span versus nine of 10 races against other women (90 percent).
However, one note about female candidates who lose their U.S. Senate bids is that they rarely get a second chance.
A previous Smart Politics study noted only six losing female U.S. Senate nominees ever subsequently won their party's nomination for the office and no defeated female U.S. Senator has yet tried.
Follow Smart Politics on Twitter.