Iowa Democrats Seek Rare Upsets Over Freshmen Blum, Young in 2016
Rod Blum or David Young could become the first freshman Iowa U.S. House member to be unseated by a Democrat since 1890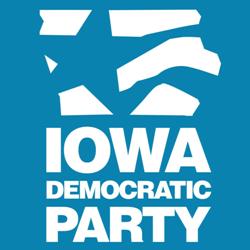 Democrats hope to whittle away at the large GOP advantage in the U.S. House in 2016 and received some good news from the Florida courts last week which approved the state's proposed redistricting plan that is projected to net Democrats a few seats next year.
However, to come anywhere near closing the partisan gap in the nation's lower legislative chamber, Democrats will essentially have to run the table in every quasi-competitive district held by their opponent, which includes two seats in Iowa.
In 2014, Republicans won two key open seats in the Hawkeye State with Rod Blum narrowly capturing Bruce Braley's Democratic-leaning 1st CD seat over Pat Murphy and GOPer David Young keeping retired Tom Latham's 3rd CD seat in his party's column by defeating former state senator Staci Appel.
Murphy is seeking a rematch against Blum in 2016, but will have to beat out Cedar Rapids city councilwoman Monica Vernon and former Saturday Night Live cast member Gary Kroeger for his party's nomination.
Young, meanwhile, is poised to face either Iowa Democratic Party vice chair (and last year's 4th CD nominee) Jim Mowrer or executive search firm owner Desmund Adams. Young's seat is one of the few congressional districts in the nation with no partisan tilt as measured by Charlie Cook's Partisan Voting Index.
While Democrats have a strong chance to defeat Blum next November and a fighting chance to upset Young, it would be extremely unusual for the party to oust either of these GOP freshmen.
A Smart Politics study finds that Iowa Republican freshmen U.S. Representatives have not been unseated by a Democratic opponent since 1890 – a string of 60 consecutive victories against Democratic challengers.
Republicans have generally dominated Iowa politics over the last 160 years, and first-term GOP U.S. House members from the state have enjoyed an extremely high success rate in retaining their seats compared to their Democratic counterparts.
Overall, Republican freshmen from Iowa have not lost a general election since a trio of GOPers fell during the Democratic tsunami in 1890: John Fletcher, Joseph Reed, and Joseph Sweeney.
Since then, the next 60 Republican freshmen who made it to the general election ballot were all victorious, with the most recent being Steve King in 2004.
[Note: After a June 1928 special election win, freshman Republican Earl Vincent lost his party's nomination, but the party easily held his 9th CD seat that November with nominee Charles Swanson defeating his Democratic opponent by 26 points].
Meanwhile, during this 125-year span, Democratic freshmen have won 19 reelection bids against 15 losses, for a reelection rate of just 55.8 percent.
It has been nearly 50 years since the last freshmen from either party were defeated at the ballot box when four of the five Democrats elected during the LBJ landslide of 1964 lost their seats during the 1966 bloodbath which saw the GOP net 47 seats nationwide.
Democrats Bert Bandstra, Stanley Greigg, John Hansen, and John Schmidhauser were all defeated with only future U.S. Senator John Culver surviving that cycle among Iowa's five freshmen.
Looking back at the last 125 years, the last 15 freshmen from Iowa to lose their seat in the following general election were all Democrats: Walter Butler, John Hamilton, John Seerley, and Frederick White in 1892, Martin Wade in 1904, Daniel Hamilton in 1908, Sanford Kirkpatrick and Henry Volmer in 1914, Thomas Steele in 1916, Albert Willford in 1934, Leonard Wolf in 1960, and the aforementioned quartet in 1966.
Overall, a total of 183 Iowans have been elected to the U.S. House over the decades with 156 opting to run for a second term.
There have been 27 freshman members who did not seek reelection with one resigning from office (Republican Smith McPherson in 1900), two dying in office (Republican William Smyth in 1870 and Democrat Steven Carter in 1959) and 24 opting not to run for another term or seeking higher office instead.
Of the 156 freshmen who sought reelection, two are up for reelection in 2016 (the aforementioned Representatives Blum and Young).
Of the remaining 154 congressmen, 124 won their reelection bids (80.5 percent) while 30 were defeated (19.5 percent) including renomination losses.
Republican U.S. House members have been successful in 99 of 107 reelection campaigns (92.5 percent) with three of those eight losses coming at the renomination stage: Charles Pomeroy in 1870, Madison Walden in 1872, and Earl Vincent in 1928. The GOP held each of these three seats in the general election.
Democratic freshmen, meanwhile, have won just 25 of 44 reelection bids since statehood (56.8 percent).
Third party and independent freshmen have not won a reelection campaign against three defeats.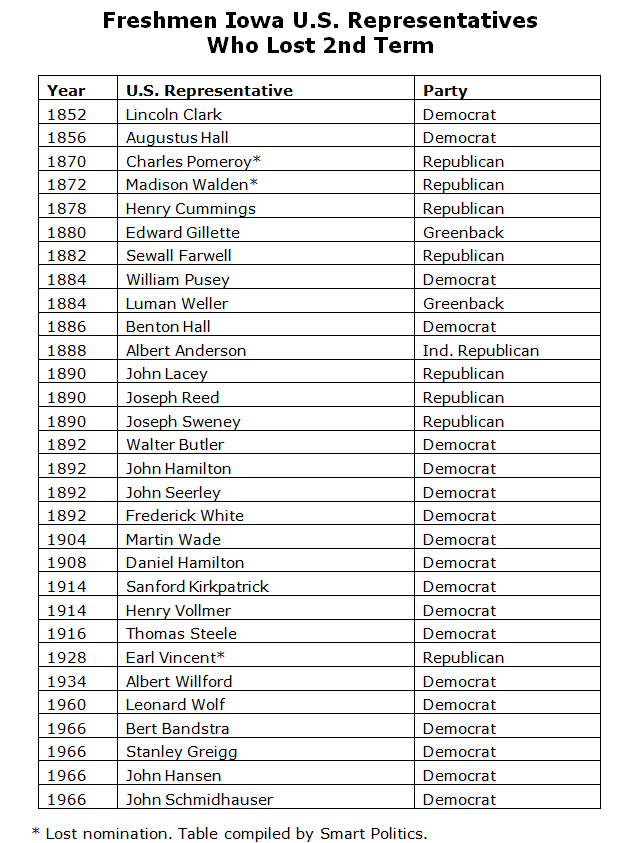 While it has been extremely unusual for Iowa Democrats to oust Republican freshmen over the last century, there is historical precedent for more than one freshman getting the boot in the same election cycle. It has happened five times:
1884: Democrat William Pusey and Greenbacker Luman Weller
1890: Republicans John Lacey, Joseph Reed, and Joseph Sweney
1892: Democrats Walter Butler, John Hamilton, John Seerley, and Frederick White
1914: Democrats Sanford Kirkpatrick and Henry Vollmer
1966: Democrats Bert Bandstra, Stanley Greigg, John Hansen, and John Schmidhauser
Note: This study documents the reelection bids of "true" freshmen. A handful of Iowa U.S. Representatives had interrupted stints in the chamber, but are considered freshmen only in their first term for the purposes of this study. Also, there is the case of Republican George Scott. Scott was technically in his second term when he lost the Election of 1914, having been elected simultaneously via special election for the last four months of the 62nd Congress and a full term to the 63rd Congress in November 1912.
Follow Smart Politics on Twitter.