Demoted? Charlie Crist and a History of Governors Elected to the US House
Since 1900, more than two-dozen ex- or sitting governors have won elections to the House of Representatives, although only four over the last 50+ years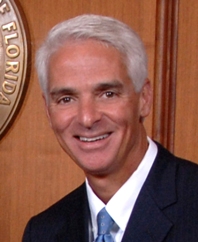 Charlie Crist will make a "major announcement" on Tuesday, where he is expected to officially launch his bid for Congress in Florida's redrawn 13th Congressional District.
When the former Florida governor stated in July that he intended to run for the seat, currently held by Republican David Jolly (who is running for U.S. Senate in 2016), Smart Politics documented how if Crist won his party's nomination but lost the general election he would become just the third nominee to lose general election races in Florida for governor, U.S. Senate, and the U.S. House of Representatives – and the first in 95 years.
Crist is currently just one of six Florida major party nominees in history to lose both U.S. Senate (1998) and gubernatorial (2014) elections (not including his independent U.S. Senate bid in 2010 against Marco Rubio).
While Crist's run for Congress has been characterized as "a considerable diminution of his ambitions" – his bid for this less exclusive political office is not without precedent for governors over the last century.
A Smart Politics analysis finds that 28 sitting or former governors have won election to the U.S. House during the 20th and 21st Centuries, although only four over the last 50+ years.
The last time a governor won a seat in the House of Representatives was just two years ago in a high profile race involving South Carolina Republican Mark Sanford.
Sanford, who had previously served three terms in Congress after winning a seat during the Republican revolution of 1994, exited office as South Carolina's governor after two terms in 2011 on the heels of a well-publicized affair and divorce.
In May 2013, Sanford returned to the chamber after a 12+ year absence winning a special election to fill Tim Scott's 1st CD seat.
Only three other governors have secured a U.S. House seat over the previous half-century – all from states with small populations:
1986: Sitting Maine Democratic Governor Joseph Brennan (1979-1987). Brennan served two terms from Maine's 2nd CD before narrowly losing back-to-back gubernatorial elections in an attempt to return to his old post.
1992: Sitting Delaware Republican Governor Mike Castle (1985-1992). Castle served nine terms from the state's at-large district before losing the GOP U.S. Senate nomination in 2010.
Unlike Crist in 2016, Brennan, Castle, and Janklow were all sitting, term-limited governors when they first won election to the U.S. House and represented states with delegations of just one or two members. If Crist is victorious next year he will be one of 27 delegation members from Florida.
In the early- to mid-20th Century, it was much more common for sitting or former governors to win elections to the U.S. House.
Two did so in the 1900s, five in the 1910s, one in the 1920s, six in the 1930s, four in the 1940s, four in the 1950s, and two in the 1960s.
The majority of these politicians won seats in states with relatively few congressional districts.
However, some exceptions include:
1902: Former Democratic Governor John Lind (1899-1901) of Minnesota (Minnesota had nine congressional districts at that time)
1912: Former Democratic Governor Andrew Montague (1902-1906) of Virginia (10 seats)
1918: Former Republican Governor Richard Yates (1901-1905) of Illinois (27 seats)
1932: Former Republican Governor Theodore Christianson of Minnesota (nine seats)
1942: Former Democratic Governor James Curley (1935-1937) of Massachusetts (14 seats)
1942: Former Democratic Governor Cameron Morrison (1921-1925) of North Carolina (12 seats)
1952: Former Democratic Governor William Tuck (1946-1950) of Virginia (10 seats)
1960: Former Republican Governor Vernon Thomson (1957-1959) of Wisconsin (10 seats)
Overall, of the 28 former governors elected to the U.S. House since 1900, a quarter of them had also recorded a previous stint in the chamber before becoming governor:
Maine Republican Llewellyn Powers (governor 1897-1901): US Rep 1877-1879, 1901-1908
Minnesota Republican-turned-Democrat John Lind (1899-1901): US Rep 1887-1893, 1903-1905
Nebraska Democrat Ashton Shallenberger (1909-1911): US Rep 1901-1903, 1915-1919, 1923-1929, 1931-1935
Massachusetts Democrat James Curley (1935-1937): US Rep 1911-1914, 1943-1947
West Virginia Democrat Matthew Neely (1941-1945): US Rep 1913-1921, 1945-1947
New Mexico Democrat John Dempsey (1943-1947): US Rep 1935-1941, 1951-1958
South Carolina Republican Mark Sanford (2003-2011): US Rep 1995-2001, 2013-present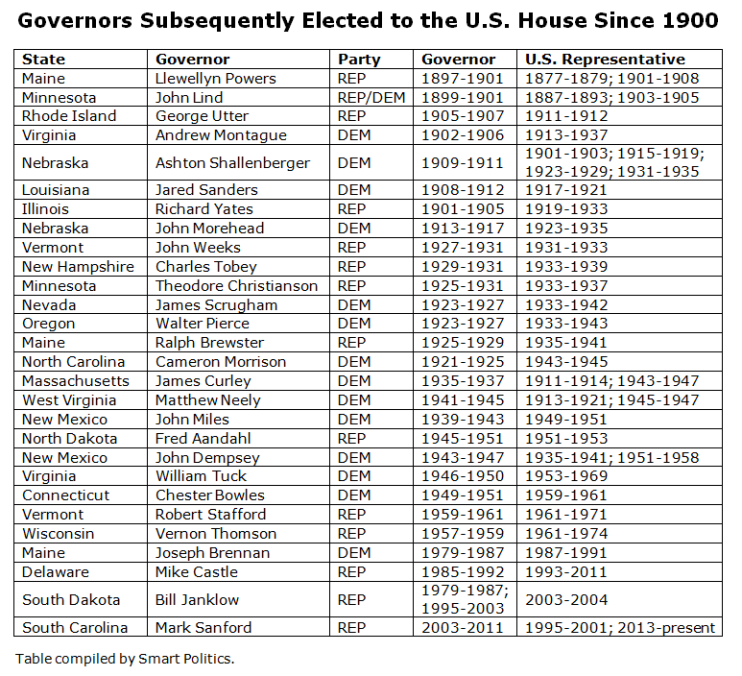 Crist's first step to return to elected office will be to defeat political consultant Eric Lynn and secure his party's nomination. Lynn had nearly a half million dollars in his campaign coffers through the end of the third quarter of this year.
Follow Smart Politics on Twitter.