Ryan Would Be 13th Wisconsinite to Win House Speaker Votes in State History
The high water mark of support for a Wisconsin Congressman is 17 votes for progressive Republican Henry Cooper set during the contentious 1923 election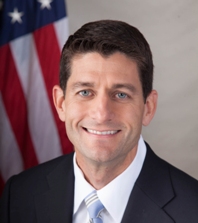 With Republicans expected to huddle up in one week for an internal vote to select their nominee for House Speaker, it appears that Paul Ryan will have the votes that California's Kevin McCarthy was unable to secure as a supermajority of Freedom Caucus members will back his run as per a statement issued late Wednesday.
Ryan, poised to be the youngest Speaker in nearly 150 years, would be the 11th Speaker to hail from the Midwest, and, of course, the first from the Badger State.
However, Ryan would not be the first Wisconsin U.S. Representative to receive votes for the leadership post.
Smart Politics examined the 88 elections for House Speaker conducted since Wisconsin achieved statehood in 1848 and found 12 members of its delegation have received votes for the office across 15 different cycles.
Almost all Speaker votes directed to Wisconsinites took place over a 34-year period from 1909 through 1943, with most going to the progressive wing of the party – and then outright Progressives in the mid-1930s and early 1940s.
The first cycle in which a Wisconsin U.S. Representative garnered votes for Speaker came shortly after statehood in 1849 during a marathon 63-ballot, month-long session in which nearly 100 members of the chamber received votes at some point in the process.
One of these was freshman Free Soiler Charles Durkee from the state's 1st Congressional District who received one vote. Durkee would win a second term before losing his seat in 1852 but would later get elected to the U.S. Senate.
Similarly, in 1856, two other Wisconsin delegation members received a few votes. The 1856 election took 133 ballots in which 135 members received at least one vote including two votes for two-term Democrat Daniel Wells and one vote for Republican freshman Cadwallader Washburn.
In February 1860, it took 44 ballots to elect a Speaker with nearly 100 U.S. Representatives receiving votes with three directed to freshman Democrat Charles Larrabee. Larrabee would lose his reelection bid that fall.
After nearly a half-century gap, the next congressmen from the Badger State to win votes for Speaker came in 1909 with nine-term Republican Henry Cooper and six-term GOPer John Esch.
Cooper won eight votes placing him third behind Illinois Republican Joe Cannon – winning the speakership for the fourth time – and Democrat Champ Clark of Missouri.
Esch received one vote in a tie for fifth place.
Cooper, a progressive Republican from Robert La Follette's wing of the party, would go on to win votes for Speaker in four other Congresses.
Support for Cooper doubled in the 1911 election to 16 votes (third place), winning votes from U.S. Representatives from eight states:
California: Republican William Kent
Kansas: Republicans Fred Jackson, Victor Murdock
Idaho: Republican Burton French
Minnesota: Republicans Sydney Anderson, Charles Davis, Charles Lindbergh
New York: Progressive Theron Akin
Oregon: Republican Abraham Lafferty
Washington: Republicans William La Follette, Stanton Warburton
Wisconsin: Republicans James Davidson, Thomas Konop, Irvine Lenroot, Elmer Morse, John Nelson
[Note: Cooper voted for Republican George Norris of Nebraska.]
Cooper would also receive four votes in 1913 (fourth), 17 votes in 1923 (third), and 13 votes in 1925 (third).
The 17 votes won by Cooper in 1923 is the current high water mark for a Wisconsinite in the race for Speaker with the Badger State Congressman gaining votes from delegations from four states:
Minnesota: independent Ole Kvale, Farmer-Laborite Knud Wefald, and Republicans Frank Clague, Charles Davis, Oscar Keller, Harold Knutson
New York: Republican Fiorello La Guardia
North Dakota: Republican James Sinclair
Wisconsin: Republicans Joseph Beck, Edward Browne, James Frear, Florian Lampert, John Nelson, Hubert Peavey, John Schafer, George Schneider, Edward Voigt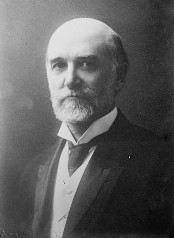 The 1923 cycle also marked the last time the vote for House Speaker has gone to multiple ballots as the progressive wing of the GOP denied Massachusetts' Frederick Gillett an outright majority for eight ballots until they were satisfied with a change in House rules that pried some power away from the old guard.
Cooper ended up serving 18 non-consecutive terms from 1893-1919 and 1921 to his death in 1931.
In April 1917, when the Congressman was in his 13th term, he was one of 50 U.S. Representatives to vote against the declaration of war against Germany. Nine of the 50 'nays' were from Wisconsin's 11-member GOP delegation with only David Classon of the 9th CD and Irvine Lenroot of the 11th CD voting in support of the war.
Cooper subsequently lost his party's nomination the following year and placed second running as an independent to Republican Clifford Randall in the Election of 1918 before winning back his seat in 1920. Of the nine Badger State U.S. Representatives who voted against the war in 1917, only four returned to the 66th Congress (Edward Voigt, John Esch, Edward Browne, and James Frear).
Two other Wisconsin U.S. Representatives received votes for Speaker during the 1910s.
In 1913, five-term Republican John Nelson received one vote for fifth place and in 1917 five-term Republican Irvine Lenroot received two votes in a tie for third place.
The last Republican to win votes for Speaker from Wisconsin was five-term Republican George Schneider in 1931.
Schneider won five votes for third place behind Texas Democrat John Garner and New York Republican Bertrand Snell.
After redistricting and reapportionment, Schneider narrowly lost his reelection bid in the 8th CD during the Democrat tsunami of 1932 but won the district in 1934 as a Progressive.
Schneider would subsequently win nine votes for Speaker in 1935 (third place) and 10 votes in 1937 (third place).
Congressman Schneider lost his bid for reelection in 1938 and the Progressive wing of Wisconsin's U.S. House delegation dropped from seven to just two seats.
In 1939, the two remaining Progressives, four-termer Merlin Hull and three-termer Bernard Gehrmann, each won one vote for Speaker.
Hull would also win two votes in 1941 and one in 1943 while Gehrmann would receive one in 1941.
The single votes received by Hull and four-term Progressive Harry Sauthoff in 1943 have been the last cast for a Wisconsin U.S. Representative for Speaker.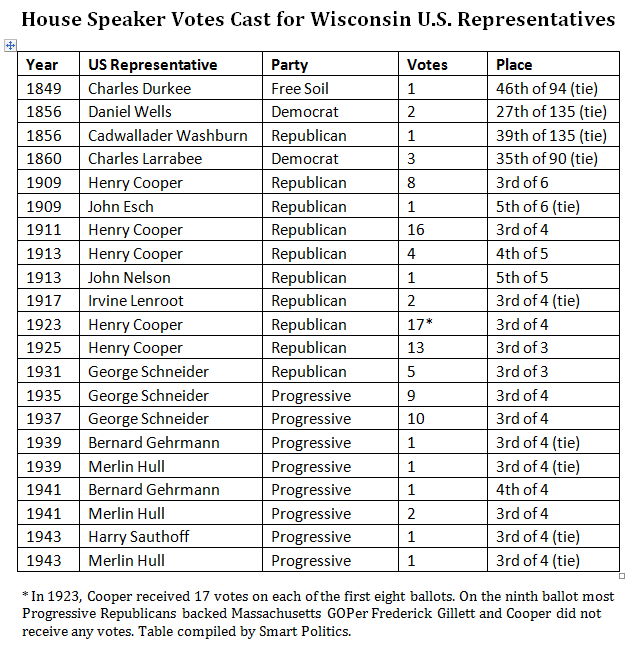 If Paul Ryan's name is formally placed into nomination for Speaker next week, he will shatter not only Cooper's record of 17 votes but also the 100 cumulative votes Wisconsinites have received for the post thus far in state history.
Follow Smart Politics on Twitter.