House Speaker Elections by the Numbers
More than 550 men and women have received votes for the speakership since the 1st Congress out of nearly 41,000 votes cast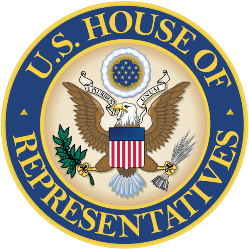 Paul Ryan became the 54th U.S. Representative to serve as Speaker of the House on Thursday and the first from the State of Wisconsin.
Ryan received the backing of 236 Republicans in the roll call vote with 184 Democrats backing California Democrat Nancy Pelosi. Nine members of Congress voted for Florida Republican Dan Webster with one each for Georgia Democrat John Lewis, Tennessee Democrat Jim Cooper, and former Secretary of State Colin Powell.
Ryan is now the 13th Wisconsinite to receive votes for Speaker in state history – easily eclipsing the previous high water mark of 17 votes won by Republican Henry Cooper in 1923 and the 100 votes won by his Badger State predecessors collectively.
Pelosi, Webster, Lewis, Cooper, and Powell had all received votes in prior Speaker elections, so only Ryan adds his name to a long list of U.S. Representatives to record votes for the office since the late 1700s.
And just how long is that list?
A Smart Politics analysis finds that across the 122 roll call vote elections for House Speaker since 1789 nearly 41,000 votes have been cast for 553 different politicians across 41 states.
[Data note: For the 14 elections that required multiple ballots (or shifts) before a new Speaker was determined, Smart Politics tallied only the largest number of votes received by a given House member on any of the ballots. Also, chamber records only provide unidentified "scattering" numbers for members who received a handful of votes in nine contests (tallying approximately four-dozen votes) in 1789, 1795, 1814, 1819, 1820, 1821, 1825, 1827, 1837) and do not provide the votes received during the 1791 Speaker race]
To date, there are nine states across the Western, Midwestern, and Southern regions of the country which have never had a U.S. Representative (or other politician) receive a single vote for Speaker: Alaska, Hawaii, Montana, New Mexico, North Dakota, South Dakota, Utah, West Virginia, and Wyoming.
Another nine states have seen only one of its delegation members receive votes for the office:
Colorado: Populist John Bell (1895, 1897, 1899)
Idaho: Republican Raul Labrador (2013)
Minnesota: Farmer-Laborite Paul Kvale (1933)
Nevada: Silverite Francis Newlands (1897, 1899)
Oklahoma: Democrat Carl Albert (1971, 1973, 1975)
Oregon: Democrat Pete DeFazio (2015)
Rhode Island: American Party's Benjamin Thurston (1856)
Vermont: Whig James Meacham (1851, 1856)
Washington: Democrat Tom Foley (1989, 1991, 1993)
Representatives Albert of Oklahoma and Foley of Washington were elected Speaker three times each.
In addition to the nine states listed above to never see one of its delegation members receive a Speaker vote, members from another 13 states have yet to receive votes over the last 100+ years:
Connecticut (1856): American Party's John Woodruff (2 votes) and Ezra Clark (1)
Delaware (1856): American Party's Elisha Cullen (1)
New Hampshire (1856): American Party's Mason Tappan (4)
Rhode Island (1856): American Party's Benjamin Thurston (11)
Vermont (1856): Whig James Meacham (8)
Arkansas (1860): Democrat Albert Rust (1)
Louisiana (1860): Democrats Miles Taylor (12) and John Sandidge (1)
New Jersey (1860): Republican William Pennington (117), Democrat Garnett Adrian (3), and Democrat Jetur Riggs (2)
Maine (1897): Republican Thomas Reed (199)
Colorado (1899): Populist John Bell (4)
Nevada (1899): Silverite Francis Newlands (2)
Mississippi (1907): Democrat John Sharp Williams (162)
Nebraska (1911): Republican George Norris (1)
On the other end of the spectrum, representatives from Massachusetts lead the way with a collective 5,862 votes received for Speaker over the decades.
Bay State representatives have also won 20 of the 122 elections for Speaker, or nearly one in six contests.
Massachusetts U.S. House members elected to the post are Federalist Theodore Sedgwick (1799), Democratic-Republican Joseph Varnum (1807, 1809), Whig Robert Winthrop (1847), American Party's Nathaniel Banks (1856), Republican Frederick Gillett (1919, 1921, 1923), Republican Joseph Martin (1947, 1953), Democrat John McCormack (1962, 1963, 1965, 1967, 1969), and Democrat Tip O'Neill (1977, 1979, 1981, 1983, 1985).
Illinois delegation members are next with a cumulative 4,378 votes for Speaker, followed by Texas (3,636), Ohio (3,049), Missouri (2,194), Kentucky (2,114), and Tennessee (2,098).
Seven other states top a thousand votes: California (1,689), Maine (1,687), Indiana (1,545), Virginia (1,457), Georgia (1,388), Pennsylvania (1,313), and New York (1,308).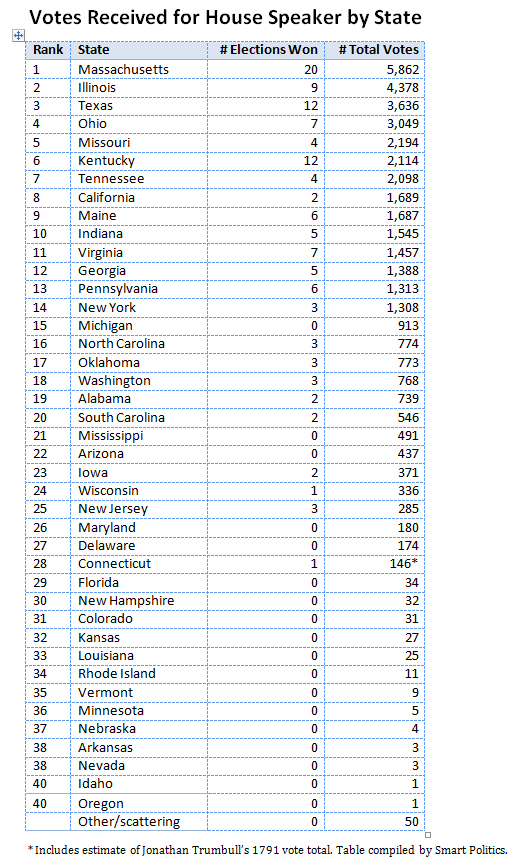 Following the 20 Speaker elections won by Massachusetts U.S. Representatives are Kentucky and Texas with 12 victories each then Illinois (nine), Ohio and Virginia (seven), Maine and Pennsylvania (six), and Indiana and Georgia (five).
The congressman who has received the most votes for Speaker in U.S. history is Texas Democrat Sam Rayburn.
Rayburn recorded 2,551 votes across 11 elections, including nine victories.
Next is Republican Joseph Martin of Massachusetts (1,915 votes) followed by Pelosi (1,601), Illinois Republican Robert Michel (1,360), Massachusetts Democrat Tip O'Neill (1,298), Massachusetts Democrat John McCormack (1,280), Missouri Democrat Champ Clark (1,269), Maine Republican Thomas Reed (1,095), Ohio Republican John Boehner (1,053), and Illinois Republican Denny Hastert (896).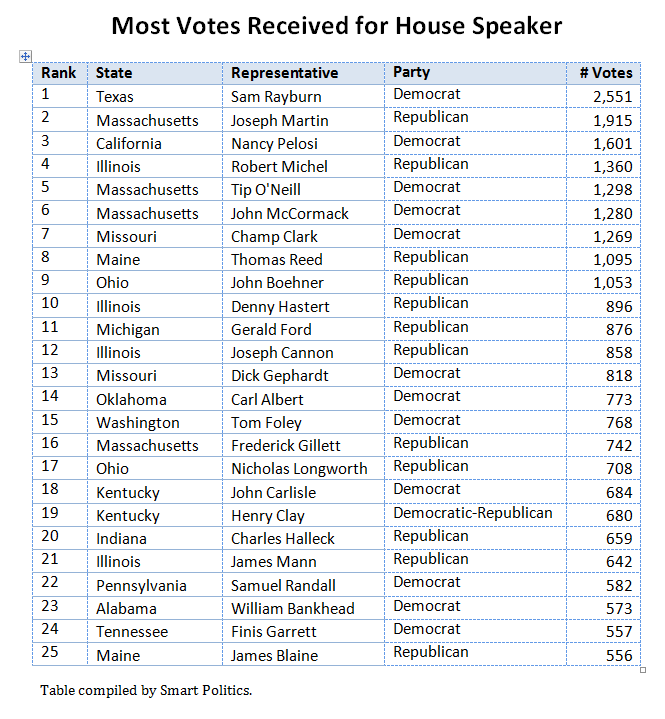 The list above is generally skewed toward Speakers who have served more recently in U.S. history due to both a larger number of members who served in the chamber as well as Speakers getting renominated to the post more frequently as compared to the 18th and 19th Centuries.
Of the 550+ individuals to receive votes for Speaker, the vast majority only received a handful of votes with more than 225 men and women notching just a single vote.
This is due in part to the dozens of congressmen who received votes during the tumultuous, multi-ballot marathon elections for Speaker conducted during elections leading up to the Civil War, particularly those of 1849 (with 94 different U.S. Representatives receiving votes), 1856 (135), and 1860 (90).
Overall, a total of 49 Pennsylvania delegation members have received at least one vote for Speaker – most in the nation. New York is next with 43 followed by Virginia (38), Kentucky (36), Ohio (35), Tennessee (30), Georgia and South Carolina (28), and North Carolina (25).
Follow Smart Politics on Twitter.