Democrats Hit Rock Bottom in Mississippi's Gubernatorial Race
Robert Gray shatters the mark for the lowest ever support recorded by a Magnolia State Democratic nominee for governor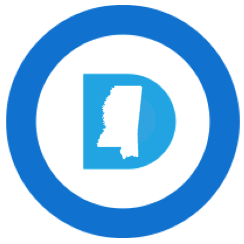 While the 2015 gubernatorial races in Kentucky and Louisiana have provided high drama this cycle, Mississippi's contest for its top political office was all but ignored, as evidenced by the infrequent national coverage and scant public polling of the contest between Robert Gray, a truck driver and political novice running in his first campaign, and incumbent Phil Bryant.
And perhaps for good reason.
A Smart Politics review finds that Mississippi Democrats have hit a new record low in a gubernatorial race with nominee Robert Gray's 32 percent showing easily marking the party's worst performance across the 49 cycles in which Democrats have officially fielded a candidate for the office since 1833.
With more than 90 percent of precincts reporting, Gray's vote tally against Governor Bryant was approximately seven points below the party's previous worst showing set four years ago by Hattiesburg Mayor Johnny Dupree at 39.0 percent.
Dupree, for his part, fell below attorney John Eaves' 42.1 percent in 2007 when Governor Haley Barbour cruised to a second term.
That make's Gray's loss the third consecutive election in which the Democratic nominee for governor in Mississippi has hit a low water mark for the party.
By contrast, the 66+ percent of the vote tallied by Bryant (with more than 90 percent of precincts reporting) is poised to match the best showing in the state for a Republican gubernatorial nominee – currently held by James Alcorn (66.7 percent) during Reconstruction in 1869.
The 2015 election continues a more than quarter-century stretch in which the Democratic gubernatorial nominee in Mississippi has failed to reach 50 percent of the vote – now at seven consecutive cycles. (The last nominee to win a majority was Ray Maybus in 1987).
Democrats did manage to win one of these seven races when Lieutenant Governor Ronnie Musgrove edged Congressman Mike Parker by 1.1 points with 49.6 percent of the vote in 1999.
The Democratic Party's four-cycle drought since Musgrove's victory is tied for its ninth longest in the nation behind South Dakota (10 cycles), Utah (nine), Idaho (six), North Dakota (six), Texas (six), Florida (five), Nebraska (five), and Nevada (five).
Alabama, Alaska, Georgia, and South Carolina have also seen Democrats fail to win the governorship in four consecutive cycles.
But the Democratic Party's descent into near irrelevance in Mississippi – particularly in gubernatorial elections – has been steady ever since Musgrove's 1999 victory with support for its nominees falling by 3.8 points in 2003 (in Musgrove's failed reelection bid), 3.7 points in 2007 (Eaves), 3.1 points in 2011 (Dupree), and now approximately seven points in 2015 with Gray.
Gray's victory in his party's August primary raised eyebrows in the state and the nominee, who did not even vote in the contest, was famously surprised by his victory.
In the following weeks the political newcomer revealed himself to be ill-prepared for a bona fide general election campaign.
Gray did not join Twitter until less than 24 hours before the election and never created a campaign website. When Smart Politics pointed out that fact via Twitter on Tuesday, Gray explained: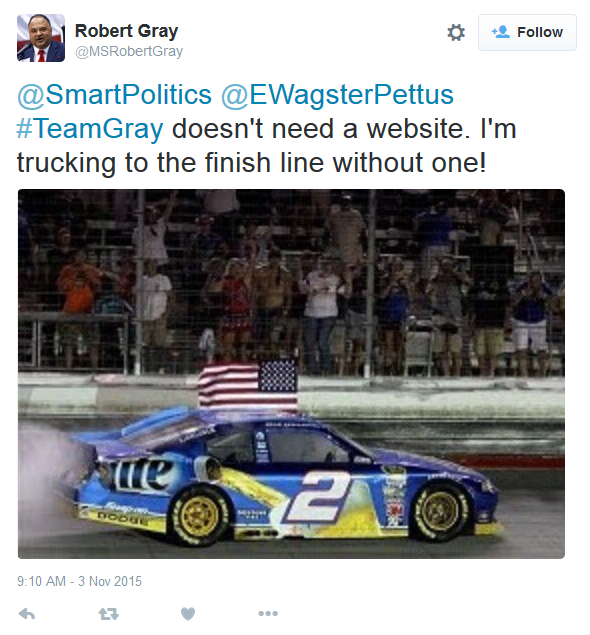 While Gray goes down in the history books as owning the lowest support for a Democratic gubernatorial nominee in Mississippi history, it should be noted that the party technically did not field nominees during four cycles during the mid-19th Century.
In 1851, a year after the Great Compromise was drafted in part by Mississippi U.S. Senator Henry Foote, Democratic U.S. Senator Jefferson Davis ran for governor as nominee of the new State Rights Party to replace secessionist and former Democratic Governor John Quitman who withdrew from the race that September.
Foote, meanwhile, ran under the Union banner – a party formed by Whigs and some Democrats. Davis, backed by most Democrats, lost to Foote by 1.7 points.
In 1865, Mississippi's post-war non-partisan gubernatorial contest saw General Benjamin Humphreys (a former Democrat turned Whig) elected military governor against Judge Ephraim Fisher and Union Democrat William Patton. Humphreys was reelected three years later as a Democrat but was removed from office for not implementing President Andrew Johnson's reconstruction plans in the state.
In 1869, the Democratic Party did not have a formal nominee, but backed Judge Louis Dent who ran as a fusion candidate with Democrats and conservative Republicans organized as the National Union Republican Party. Dent lost to Republican James Alcorn with just 33.3 percent of the vote. After serving less than a year as governor, Alcorn resigned after his election to the U.S. Senate.
In 1873, Democrats again chose not to formally nominate a candidate, but party leaders backed Alcorn against Senator (and former military Governor) Adelbert Ames. Alcorn lost with 41.9 percent of the vote.
One of the few bright spots for Mississippi Democrats on Tuesday was that the party was able to retain the one statewide office they hold with incumbent Jim Hood notching his fourth consecutive term as Attorney General.
Follow Smart Politics on Twitter.