Kentucky Democrats Turn in Worst Showing in Gubernatorial Race Since the Civil War
It has been more than 150 years and 40 election cycles since a Kentucky Democrat fared as poorly as Conway in 2015 in a race for governor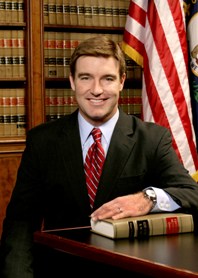 It was a bleak day at the top of the ticket for Democrats in Kentucky and Mississippi Tuesday.
In the Magnolia State, gubernatorial nominee Robert Gray turned in the worst performance by a Democratic nominee in state history with just 32 percent of the vote.
But the story of the evening was Kentucky Republican Matt Bevin bucking the polls and defeating Democrat Jack Conway by nearly nine points.
Conway's performance was a bitter blow to state and national Democrats after the Attorney General cruised to his party's nomination with the biggest blowout in a contested primary in party history while Bevin spent lots of money winning the closest ever GOP primary in the state.
So just how poorly did Conway fare Tuesday?
A Smart Politics analysis finds that Jack Conway turned in the worst performance by a Kentucky Democratic gubernatorial nominee since the Civil War – with his 43.8 percent of the vote lower than every Democratic nominee over the previous 40 election cycles.
The last time a Kentucky Democrat fared worse in an election for governor was more than 150 years ago in 1863.
In the midst of the Civil War, Democrats ran former governor (and former Whig) Charles Wickliffe against former Kentucky legislator, judge, and U.S. district attorney Thomas Bramlette – the nominee of the Unionists (a fusion of Republicans and War Democrats).
Wickliffe won only 20.4 percent of the vote for the worst showing in party history (although there were allegations that Wickliffe supporters were intimidated at the polls).
During the subsequent 40 elections from 1867 through 2011, Democratic gubernatorial nominees in the state averaged 54.7 percent of the vote, winning 32 of these races including four by pluralities.
Conway fell nearly 10 points short of that benchmark with just 43.8 percent.
Conway won his two terms as state attorney general with 60.5 percent and 55.0 percent of the vote in 2007 and 2011 respectively. In between, he lost as the party's U.S. Senate nominee against Rand Paul in 2010 with 44.2 percent.
The only other Kentucky Democrat to fare worse than Conway in his 2015 gubernatorial bid was former one-term Congressman Richard French in 1840.
French received the support of only 41.7 percent of Kentucky voters that cycle against former six-term Congressman and Kentucky House Speaker Robert Letcher.
After his gubernatorial defeat, French would go on to serve two more interrupted terms in the U.S. House in the mid- to late 1840s.
Democratic support for Conway's ticket in 2015 ranks as the third lowest in party history across the 49 election cycles since the party first fielded a nominee in 1832.
Follow Smart Politics on Twitter.