Mind the Gap: Boehner Seat Has Longest Non-Election Year Vacancy in 46 Years
The length of Boehner's 8th CD vacancy is more than twice the average of the 200+ vacancies in the chamber since 1965 and the longest originating in a non-election year since 1969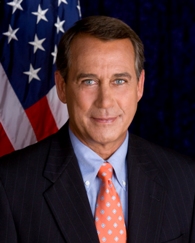 While the nation may have been caught off guard when U.S. House Speaker John Boehner announced he would resign in late September effective October 31st, residents of his 8th Congressional District in Ohio would probably also have been surprised if they had been told they would be without a U.S. Representative until June 2016.
A week ago, Governor John Kasich ordered the special election for Boehner's seat to be held on June 7th, leaving the seat vacant for 220 days.
If that sounds like a long stretch for a district to be without representation in the nation's lower legislative chamber, it is.
In fact, it is nearly without precedent over the last half-century.
A Smart Politics analysis finds that the 220-day vacancy to fill John Boehner's 8th CD in Ohio seat is more than twice as long as the average vacancy among the 219 to occur in the chamber since 1965 and the second longest of the 123 vacancies to fall outside of an election year.
Vacancies that arise in the chamber in even-numbered, or election years, tend to be longer because governors often do not schedule the election until November of that year, when voters will already be going to the polls in the general election.
Since 1965, there have been 123 vacancies in the House of Representatives that began in odd-numbered years, lasting an average of 99 days before the seat was filled, or approximately four months shorter than the time frame Kasich set for Ohio's 8th CD.
During this period there have been 96 vacancies in the chamber in even-numbered years which lasted an average of 118 days.
Taken together, these 219 vacancies over the last 50 years averaged 107 days – or less than half the duration of the 220-day vacancy for Boehner's 8th CD seat.
Even more striking, there have been just 14 vacancies lasting at least 200 days over the last half-century, and just three of these originated in odd-numbered years.
The longest vacancy since 1965 came after the death of three-term Illinois Democrat Daniel Ronan in August 1969.
Recently elected GOP Governor Richard Ogilvie subsequently announced he would not call for a special election to fill the state's 6th CD seat stating that it would be too expensive to do so.
As a result, Ronan's seat was not filled until the next general election (November 3, 1970) – an extraordinary vacancy of 447 days. Democratic Chicago City Councilman George Collins won the seat.
Aside from Ronan and Boehner, the only other vacancy that began in an odd-numbered year to last 200 or more days came in Pennsylvania's 27th CD in 1971.
Fourteen-term Republican James Fulton died on October 6th of that year with the special election to his seat held on April 25, 1972 – for a vacancy of 202 days. (GOPer William Conover won the seat).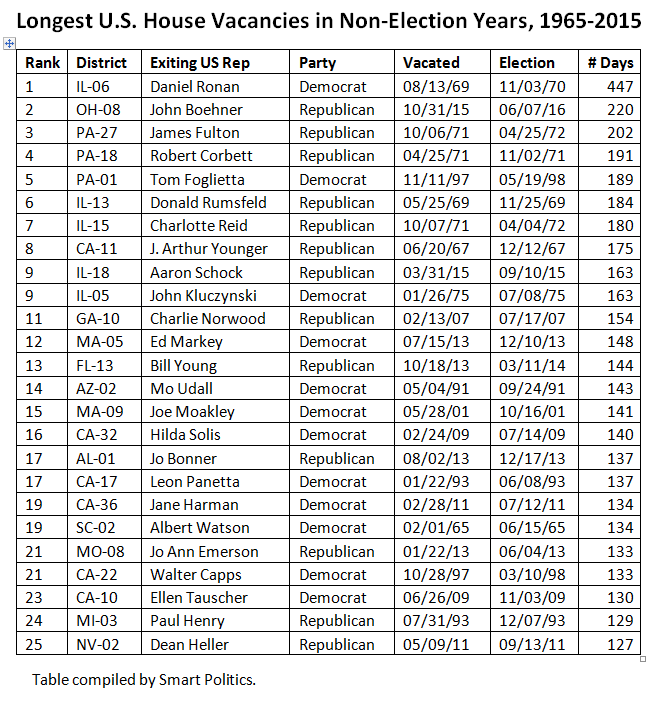 Of the 96 vacancies that began in even-numbered election years since 1965, 11 lasted at least 200 days and in each instance the governor did not call for an election until that November when voters were scheduled to go to the polls.
Seven of these 11 vacancies were for congressional districts in New Jersey: for the vacated seats of William Cahill in 1970 (288 days), Edwin Forsythe in 1984 (222), James Howard in 1988 (228), Jim Florio in 1990 (294), Bob Menendez in 2006 (295), Donald Payne in 2012 (245), and Rob Andrews in 2014 (259).
The other 200+ day gaps without representation were for seats vacated by William Barrett of Pennsylvania (1976, 204 days), Eric Massa of New York (2010, 239 days), Jay Inslee of Washington (2012, 231 days), and Mel Watt of North Carolina (2014, 302 days).
Overall, the current vacancy in Ohio's 8th CD ranks as the 12th longest of the 219 to have occurred since 1965.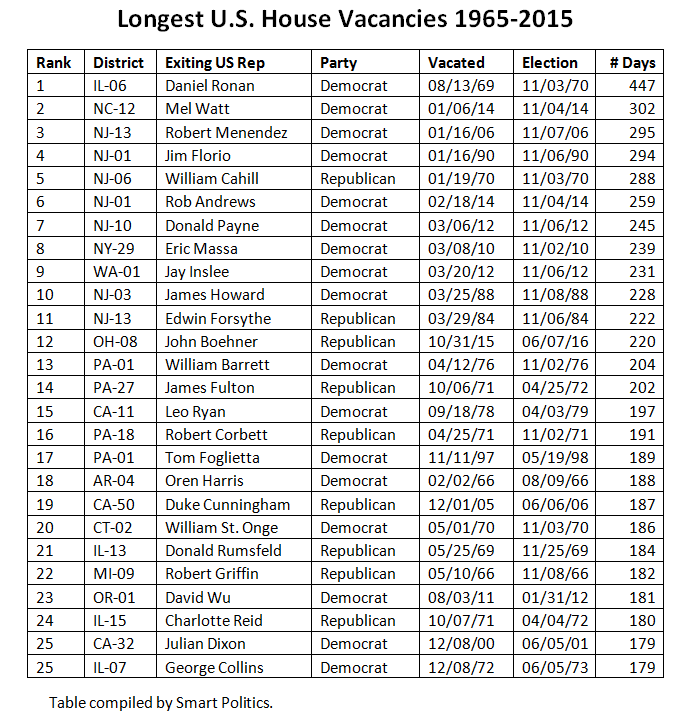 The long vacancy in Ohio's 8th CD is also an outlier within the state.
There have been 10 U.S. House vacancies in the Buckeye State over the last 50 years – and none of them have been even half as long as the seven-plus month gap in representation in John Boehner's seat.
The previous nine vacancies have averaged just 82 days with the shortest at 61 days (for Republican William Keating in 1974) and the longest at just 99 days (for Democrat Michael Kirwan in 1970).
Both Republican and Democratic governors were in office to set the dates of special elections during these vacancies.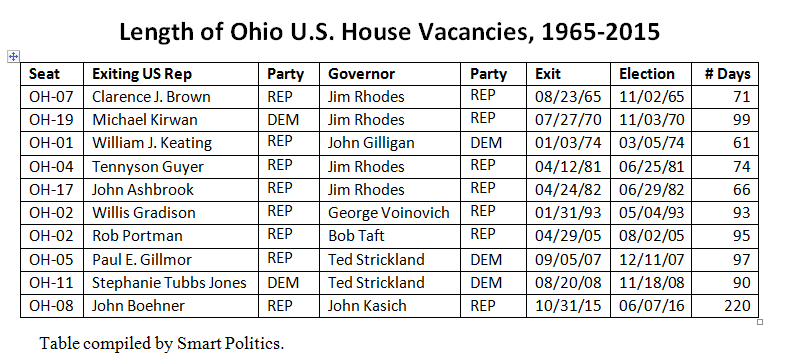 What's even more unusual about the long wait before the special election for Boehner's seat is that six of these aforementioned 10 vacancies in Ohio were the result of deaths (Representatives Brown, Kirwan, Guyer, Ashbrook, Gillmore, and Tubbs Jones) whereas Boehner gave the chamber (and Governor Kasich) more than a month's notice that he would retire at the end of October.
So now that it is established that the date Governor Kasich set for Ohio's 8th CD special election creates an unusually long vacancy, the next question is 'why?'
Follow Smart Politics on Twitter.