It's All Relative: California Edition
In 2016, Jimmy Panetta could join six current members of the Golden State U.S. House delegation who were preceded in Congress by a family member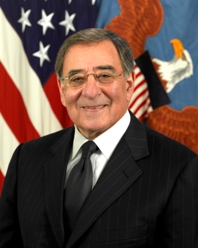 This is the fifth in a series of Smart Politics reports on 'congressional royalty' in the U.S. House of Representatives. Previous reports studied Florida, Michigan, Illinois, and Wyoming.
On Tuesday, Monterey County Deputy District Attorney Jimmy Panetta announced that he would run for Congress in 2016 for the 20th CD seat held by retiring 12-term Democrat Sam Farr.
Panetta is the son of former nine-term Democratic U.S. Representative Leon Panetta (pictured), who served in the chamber the state's 16th and 17th Districts from 1977 to 1993 before resigning to work in the Clinton administration.
If elected, Panetta would join an already fair-sized number of California delegation members – currently five Democrats and one Republican – who were preceded in the U.S. House by a family member:
Democrat Nancy Pelosi (1987-present): daughter of five-term Maryland Democrat Thomas D'Alesandro (1939-1947)
Democrat Lucille Roybal-Allard (1993-present): daughter of 15-term Democrat Edward Roybal (1969-1993)
Democrat Lois Capps (1998-present): wife of one-term Democrat Walter Capps (1997-1997)
Democrat Linda Sanchez (2003-present): sister of 10-term Democrat Loretta Sanchez (1997-present)
Democrat Doris Matsui (2005-present): wife of 14-term Democrat Robert Matsui (1979-2005)
Republican Duncan Hunter, Jr. (2009-present): son of 14-term Republican Duncan Hunter, Sr. (1981-2009)
That number that was eight just three years ago, or 15 percent of California's 53-member delegation with the addition of:
Republican Brian Bilbray (1995-2001; 2006-2013): cousin of four-term Nevada Democrat James Bilbray (1987-1995)
Republican Mary Bono (1998-2013): wife of two-term Republican Sonny Bono (1995-1998)
In general, it has become more common over the last few decades for Californians to elect U.S. House members with familial ties to the chamber.
Overall, 20 of the state's 367 men and women to be elected to the chamber since statehood, or just five percent.
Eleven of these first took office during the last 40 years: two were elected in the 1880s, three in the 1920s, one in the 1930s, two in the 1950s, one in the 1960s, two in the 1970s, two in the 1980s, four in the 1990s, and three in the 2000s.
In addition to former House Speaker Pelosi, there are a few other notable names among the 20 California U.S. Representatives with legacy connections to Congress.
Democrat James Roosevelt served six terms in the U.S. House (1955-1965) and entered the legislative body just as his younger brother, New York Liberal-turned-Democrat Franklin Delano Roosevelt, Jr., was exiting (1949-1955).
Meanwhile, Republican Barry Goldwater, Jr. served seven terms in U.S. House (1969-1983) all while his father, Barry Goldwater, Sr., was serving his third, fourth, and fifth terms in the U.S. Senate from Arizona.
The remaining 10 California U.S. House members on this list are:
Democrat Barclay Henley (1883-1887): son of three-term Indiana Democrat Thomas Henley (1843-1849)
Democrat Thomas Thompson (1887-1889): son of one-term Virginia Democrat Robert Thompson (1847-1849)
Republican Mae Nolan (1923-1925): wife of five-term Republican John Nolan (1913-1922)
Republican Florence Kahn (1925-1937): wife of 12-term Republican Julius Kahn (1899-1903; 1905-1924)
Republican Harry Englebright (1926-1943): son of three-term Republican William Englebright (1906-1911)
Republican Charles Curry, Jr. (1931-1933): son of nine-term Republican Charles Curry (1913-1930)
Democrat Clement Miller (1959-1962): nephew of one-term Delaware Republican Thomas Miller (1915-1917)
Democrat John Burton (1974-1983): brother of 11-term Democrat Phillip Burton (1964-1983)
Republican Shirley Pettis (1975-1979): wife of five-term Republican Jerry Pettis (1967-1975)
Democrat Sala Burton (1983-1987): wife of 11-term Democrat Phillip Burton (1964-1983)
Of these 20 Californians, just three overlapped in Congress with their familial predecessor.
The Goldwaters overlapped 14 years (1969-1983) with the Burton brothers doing so for eight and one-half (1974-1983) and the Sanchez sisters for nearly 13 years together since 2003.
On the U.S. Senate side, five of the 43 Californians elected or appointed to the chamber had a family member serve in Congress before them:
Democrat John Frémont (1850-1851): son-in-law of Missouri Jacksonian/Democrat U.S. Senator (1821-1851) and U.S. Representative (1853-1855) Thomas Benton
Democrat David Broderick (1857-1859): cousin of Indiana Democratic U.S. Representative Andrew Kennedy (1841-1847)
Republican Sheridan Downey (1939-1950): son of Republican U.S. Representative Stephen Downey (1879-1881)
Republican Hiram Johnson (1917-1945): son of Republican U.S. Representative Grove Johnson (1895-1897)
Republican William Knowland (1945-1959): son of Republican U.S. Representative Joseph Knowland (1904-1915)
Follow Smart Politics on Twitter.