Edwards Gives Democrats Rare Gubernatorial Pick-Up During Obama Administration
Democrats have won just eight of 51 pick-up opportunities in gubernatorial races since 2009; the GOP has capitalized in 19 of 46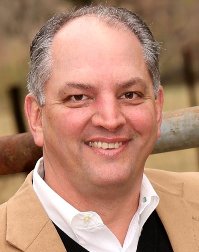 State Representative John Bel Edwards ended the 2015 electoral season on a high note for the Democrats, defeating U.S. Senator David Vitter by 12.2 points in Louisiana's gubernatorial run-off election on Saturday.
The victory comes on the heels of historically bad losses for the party earlier in the month in Kentucky and Mississippi, in what has shaped up to be the worst decade thus far for Democrats since the 1800s.
The Edwards win also marks a rare gubernatorial pick-up for Democrats, who have stumbled to a 35-62 overall record since President Barack Obama took office in 2009 (36.1 percent).
Only Gerald Ford (23.1 percent) and Herbert Hoover (24.7 percent) fared worse among the 20 presidents to serve since the turn of the 20th Century.
And of these 35 Democratic gubernatorial victories during Obama's administration, only a small fraction knocked Republicans out of power.
A Smart Politics analysis finds that John Bel Edwards' victory in Louisiana was just the eighth Democratic pick-up of a Republican held gubernatorial seat out of 51 opportunities at the ballot box since President Obama was sworn into office in 2009.
Since 2009, there have been 51 elections across 28 states in which Democrats have faced a Republican-controlled gubernatorial seat on Election Day.
The party was successful in flipping the seat to blue in just eight contests, or 15.7 percent of the time.
Republicans, meanwhile, have notched 19 gubernatorial pick-ups out of 46 opportunities since 2009, for a 41.3 percent rate of picking off Democratic- (or independent-) held seats.
Democrats notched five pick-ups in 2010 (California, Connecticut, Hawaii, Minnesota, Vermont) and one each in 2013 (Virginia), 2014 (Pennsylvania), and 2015 (Louisiana).
[Note: While Democrats entered the Obama years out of power in Rhode Island, independent Governor Lincoln Chafee switched his affiliation to Democratic mid-term in 2013 and the party held his open seat the next year.]
Only one of these eight pick-ups saw Democrats knock a sitting Republican governor out of office; the other seven were open seat contests:
California, 2010: Former Governor Jerry Brown won his third interrupted term by 12.9 points over Meg Whitman in the open seat race to fill term-limited Republican Arnold Swarzenegger's seat.
Connecticut, 2010: Stamford Mayor Dan Malloy edged Tom Foley by 0.6 points after the retirement of Republican Jodi Rell.
Hawaii, 2010: Congressman Neil Abercrombie defeated Duke Aiona by 17.1 points to replace term-limited Republican Linda Lingle.
Minnesota, 2010: Former U.S. Senator Mark Dayton defeated state legislator Tom Emmer by 0.4 points to fill retiring Republican Tim Pawlenty's seat.
Vermont, 2010: State Senator Peter Shumlin narrowly beat Brian Dubie by 1.8 points after the retirement of Republican Jim Douglas.
Virginia, 2013: Former DNC Chair Terry McAuliffe beat state Attorney General Ken Cuccinelli by 2.5 points with the exit of term-limited Republican Bob McDonnell.
Pennsylvania, 2014: Business executive Tom Wolf ousted one-term Republican incumbent Tom Corbett by 9.9 points.
Louisiana, 2015: State Representative John Bel Edwards defeated U.S. Senator David Vitter by 12.2 points to succeed term-limited Republican Bobby Jindal.
In two of these states (Virginia and Pennsylvania) Democrats first lost control of the governorship under Obama (in 2009 and 2010 respectively) and then later picked off the seat from the GOP.
Republicans, meanwhile, picked up two seats in 2009 (New Jersey, Virginia), 11 in 2010 (Iowa, Kansas, Maine, Michigan, New Mexico, Ohio, Oklahoma, Pennsylvania, Tennessee, Wisconsin, Wyoming), one in 2012 (North Carolina), four in 2014 (Arkansas, Illinois, Maryland, Massachusetts), and one in 2015 (Kentucky).
[The GOP also gained a seat through succession in 2009 when Secretary of State Jan Brewer became governor after Democrat Janet Napolitano became Secretary of Homeland Security.]
Follow Smart Politics on Twitter.