Will John Conyers Face a Competitive Primary Challenge in 2016?
2016 will be the third consecutive cycle in which Detroit Democrats have sought to unseat the long-serving U.S. Representative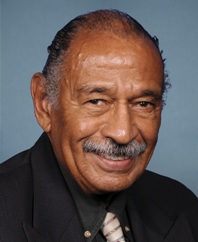 Michigan Democrat John Conyers recently announced he would run for reelection in the state's 13th Congressional District in 2016 – eyeing a 27th term and a chance to move even further up the ladder of the longest serving members of the U.S. House in the nation's history.
Conyers has served nearly 51 years in the chamber – passing Georgia Democrat Carl Vinson earlier this year for third place – and would climb to #2 ahead of Mississippi Democrat Jamie Whitten in March 2018 during the 115th Congress.
That would give Michigan a 1-2 punch at the top of the heap with recently retired Democrat John Dingell logging in more than 59 years from December 1955 to January 2015.
Ever since his initial victory in 1964, it has been smooth sailing at the ballot box for the Detroit Congressman – save for a 2014 signature requirement hiccup that nearly left his name off the primary ballot.
While Conyers has been given a free pass to the general election from Detroit Democrats throughout most of his congressional career, for the third consecutive cycle he will face a primary challenger with City Clerk Janice Winfrey launching a campaign for the seat.
In fact, Conyers faced only nine primary challengers during his first 23 reelection campaigns from 1966 through 2010, but has seen five Democratic opponents on the primary ballot in just the last two cycles.
When Conyers first ran for Congress in 1964, he faced a competitive primary field with eight candidates including long-serving State Senator Charles Blondy and Richard Austin, who would later become the first African American secretary of state – winning that post in Michigan six times.
Conyers defeated Austin by just 0.2 points in the race with 27.0 percent of the vote.
In 18 of the next 25 cycles Conyers did not receive a primary challenger.
During the seven cycles in which he did see fellow Democrats vie for his seat, Conyers never fell below the 50 percent mark and won each by at least 22 points.
1970: Conyers beat Willie Baxter by 70.3 points with 85.2 percent
1976: Conyers defeated Russell Brown by 78. Points with 86.0 percent in a three-candidate field
1986: Conyers beat Patricia Noble by 79.0 points with 89.5 percent
1992: Conyers beat John Kelly by 38.3 points with 64.0 percent in a four-candidate field
1994: In his closest reelection race, Conyers beat attorney Butch Hollowell by 22.1 points with 50.5 percent in a three-candidate field
2012: In a five-candidate field that included three state legislators who all registered in double digits (State Senators Glenn Anderson and Bert Johnson and State Representative Shanelle Jackson), Conyers defeated Anderson by 37.2 points with 55.4 percent
2014: Conyers defeated Horace Sheffield by 47.8 points with 73.9 percent
Conyers' 1992 primary challenge came on the heels of the House banking scandal earlier that year in which the Detroit Congressman was found to have 273 overdrafts – the 18th highest total of the nearly two-dozen members who were publicly shamed by the House Ethics Committee.
Conyers, who will be 87 on Election Day next year, had just $40K cash on hand through the third quarter of this year with Winfrey tallying nearly $8K.
Follow Smart Politics on Twitter.