Could Scott Walker Win a 3rd Term in Wisconsin?
The last 12 two-term governors who sought reelection over the last 20 years were all victorious with more than 70 percent winning a third term since the late 1700s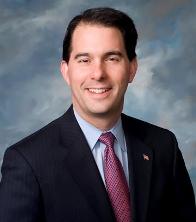 Scott Walker's exit from his historically brief presidential campaign has done little to boost Wisconsinites' evaluation of his job performance. A November 50-state Morning Consult survey found that Walker had a net approval rating of -17 points – tied for the fifth worst in the nation.
Walker has not yet made an official declaration as to whether or not he will seek a third term in 2018. Wisconsin is one of 14 states in the nation that has no gubernatorial term limits.
If he does run, Walker would join a long list of Wisconsin governors who have sought reelection to a third term.
And hundreds who have done so across the country over the decades.
A Smart Politics analysis finds that two-term incumbent governors have sought reelection 252 times in U.S. history, winning 181 of these contests (71.8 percent) including each of the last 12.
[Note: The analysis below tracks the electoral fate of both two-term governors plus governors who were elected to two terms but had also previously ascended to the office for a partial term].
In the 2016 election cycle, there is one governor who will seek election to a third term – Republican Gary Herbert of Utah.
Unlike Walker, Herbert has excellent job approval ratings in his state (+35 net approval according to the Morning Consult survey) and is not at any real risk of getting ousted from office by a Democrat in the general election. [Walker won each of his two terms plus his recall election by single digits].
In fact, Democrats have yet to field a candidate in Utah's gubernatorial race, but Herbert has to contend with a primary challenge from former Overstock.com CEO Jonathan Johnson.
All told, Herbert will be the 253rd two-term incumbent who will try to win election to a third term since the late 1700s.
To date, 181 of these have been victorious (71.8 percent) while 71 were defeated – 53 in the general election (21.0 percent) and 18 in the primary (7.1 percent).
In Wisconsin, Walker would be the 11th two-term governor to seek a third term since statehood. All but two of the previous 10 were successful in their reelection bids but only one attempted such a run since gubernatorial terms were extended to four years in the state beginning in 1970:
1869: Republican Lucius Fairchild (won)
1886: Republican Jeremiah Rusk (won)
1894: Democrat George Peck (lost)
1904: Republican Robert La Follette (won)
1918: Republican Emanuel Philipp (won)
1924: Republican John Blaine (won)
1942: Republican Julius Heil (lost)
1954: Republican Walter Kohler (won)
1968: Republican Warren Knowles (won)
1994: Republican Tommy Thompson (won)
Over the last generation, governors across the country in the dozen-plus states which still do not have term limits have been undefeated in their quest for a third straight electoral victory – 12 for 12.
In the 2014 cycle, the names of two governors were added to this list: Idaho Republican Butch Otter and Vermont Democrat Peter Shumlin.
Well-known governors such as Democrat Howard Dean of Vermont (1996), Republican George Pataki of New York (2002), and GOPer Rick Perry of Texas (2010) each accomplished this feat as well as Michigan Republican John Engler (1998), New Hampshire Democrat Jeanne Shaheen (2000), Utah Republican Michael Leavitt (2000), Connecticut Republican John Rowland (2002), Vermont Republican Jim Douglas (2006), New Hampshire Democrat John Lynch (2008), and North Dakota Republican John Hoeven (2008).
The last governor to fail in his or her bid for a third straight win was Rhode Island Democrat Bruce Sundlin who lost his party's 1994 primary handily to State Senator Myrth York.
Over the last half century, governors attempting a third consecutive win at the ballot box were victorious in 41 of 55 attempts, or 74.5 percent of the time.
In addition to the aforementioned Sundlin, four others lost their party's primary:
1972: New Hampshire Republican Walter Peterson
1972: Texas Democrat Preston Smith
1978: Texas Democrat Dolph Briscoe
1980: Montana Democrat Thomas Judge
While nine lost in the general election:
1966: Alaska Democrat William Egan
1966: California Democrat Pat Brown
1966: Maine Republican John Reed
1966: Nevada Democrat Grant Sawyer
1970: Arkansas Republican Winthrop Rockefeller
1980: North Dakota Democrat Arthur Link
1982: New Hampshire Democrat Hugh Gallen
1990: Michigan Democrat James Blanchard
1990: Minnesota DFLer Rudy Perpich
Despite Walker's low approval ratings, perhaps the biggest challenge for Democrats in 2018 will be to field a strong candidate in Wisconsin's gubernatorial race. With Russ Feingold's favorable odds to win back his U.S. Senate seat next fall, the party's bench for the top political office in the state seems fairly thin.
Follow Smart Politics on Twitter.