Terry Branstad and the Top 50 Longest Serving Governors in History
Branstad has served as governor for one out of eight days since Iowa achieved statehood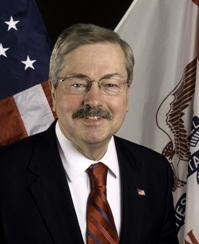 On Monday, Iowa will celebrate Terry Branstad becoming the undisputed longest serving governor in U.S. history – eclipsing New York Governor George Clinton at 20 years, 11 months, and 3 days.
Branstad, who is in the midst of his sixth four-year term from the Hawkeye State, will have served 7,642 days as Iowa's top officeholder on December 14th – one day more than Clinton.
However, by one measure – statehood gubernatorial service under the U.S. Constitution – Branstad already owns the record, and has for several years.
Clinton served 10 years, 11 months, and 26 days before New York achieved statehood in July 1788 under the newly ratified U.S. Constitution, and 9 years 11 months, and 5 days during two stints in the office thereafter from 1788 to 1795 and 1801 to 1804.
When Branstad took office at the start of his fifth nonconsecutive term in January 2011, he thus ranked third on the all-time post-Constitutional gubernatorial service list with 5,845 days under his belt – just three days behind Alabama Democrat George Wallace (5,848) and six days behind South Dakota Republican Bill Janklow (5,851).
After a week in office that term, Branstad stood alone as the gubernatorial king.
Since then, the Iowa governor has continued to rack up an impressive tally – and one that is unlikely to be broken for several decades, if ever.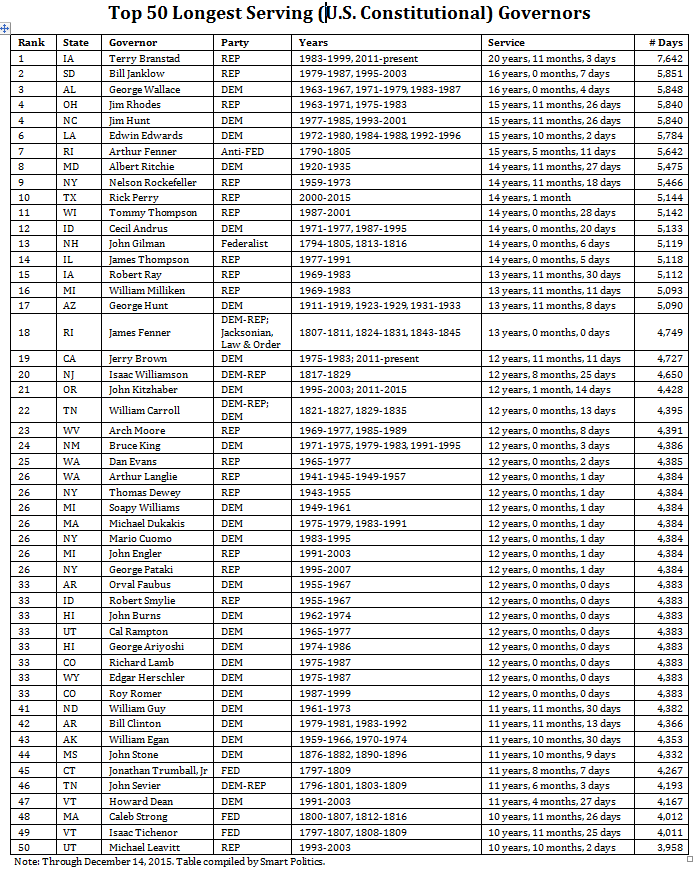 The closest sitting governor to Branstad's mark is California Democrat Jerry Brown, who currently ranks #19 at 12 years, 11 months, 11 days as of next Monday (4,727 days).
By the end of his term in January 2019, Brown will leapfrog every post-Constitutional governor except for Branstad and Janklow with 5,849 days in office, but is barred from running for reelection by the California Constitution.
Next, and far behind, is Idaho Republican Butch Otter, who doesn't yet crack the Top 60.
Otter won his third term in 2014 and has logged 3,269 days in office as of next Monday (8 years 11 months, 13 days) since becoming governor in January 2007.
Serving as governor for even 10 years is a rare feat with only 58 of the more than 2,000 post-Constitutional statehood governors in U.S. history reaching that mark.
However, recording a decade of gubernatorial service is becoming more common, despite nearly three-quarters of states now having term limits for the office of some sort.
Forty-five of these 58 governors served at least part of their tenure during the 1950s or beyond with a dozen serving into the 21st Century:
North Carolina Democrat Jim Hunt (1977-1985, 1993-2001)
Wisconsin Republican Tommy Thompson (1987-2001)
South Dakota Republican Bill Janklow (1979-1987, 1995-2003)
Michigan Republican John Engler (1991-2003)
Vermont Democrat Howard Dean (1991-2003)
Utah Republican Michael Leavitt (1993-2003)
New York Republican George Pataki (1995-2007)
Arkansas Republican Mike Huckabee (1996-2007)
Texas Republican Rick Perry (2000-2015)
Oregon Democrat John Kitzhaber (1995-2003; 2011-2015)
California Democrat Jerry Brown (1975-1983; 2011-present)
Iowa Republican Terry Branstad (1983-1999; 2011-present)
Perry and Kitzhaber ended their tenures this year with the Texan ending up at #10 all-time with 5,144 days (14 years, 1 month) and Kitzhaber resigning in February at #21 with 4,428 days (12 years, 1 month, 14 days).
As for Branstad, perhaps his most impressive electoral victory of his six gubernatorial wins was his first – way back in 1982.
In that cycle, then Lieutenant Governor Branstad defeated Roxanne Conlin by 6.2 points to fill retiring Robert Ray's open seat.
Branstad held the seat for the GOP during a cycle that saw a massive Democratic wave. Nine of the 16 Republican-held seats on the ballot in 1982 flipped to the Democrats (in Alaska, Arkansas, Michigan, Minnesota, Nebraska, Nevada, Ohio, Texas, and Wisconsin).
Branstad also was the only Republican nominee to hold an open GOP seat, with the nominees in five other states failing in their bids (Alaska, Michigan, Minnesota, Ohio, and Wisconsin).
Since 1982, Branstad has benefited in several election cycles in which there was a national Republican political tsunami: in 1994, 2010, and 2014.
But while the Iowa governor never became a well-known politician nationally, he has of course become a household name in his home state.
And here's why.
To put Branstad's tenure into perspective, he has served as governor for 12.4 percent of Iowa's history – 7,642 days in office out of 61,712 days since statehood in December 1846 – or one out of every eight days.
And when Branstad completes his sixth term in January 2019, he will have been governor for 14.0 percent of Iowa's history – 8,766 of 62,837 days.
Follow Smart Politics on Twitter.