2018 US Senate Elections at a Glance
The Democrat caucus will need to defend 25 of the 33 seats on the ballot in three years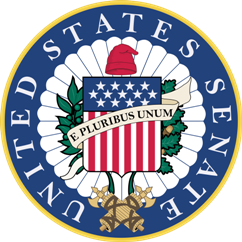 If Democrats hope to take back control of the U.S. Senate this decade, the 2016 cycle is most likely their only chance to do so.
As discussed earlier in the week at Smart Politics, the party has several opportunities for pick-ups – which might be realized even if their presidential candidate does not prevail at the top of the ticket.
However, in 2018, Democrats will be back on defense – with only eight Republican-held seats on the ballot that cycle, compared to 25 for the Democrats including the chamber's two independents who caucus with the party. [As things currently stand heading into the 2016 elections, that is 54 percent of the 46 seats held by the Democratic caucus].
Of the eight Republican-held seats, there are few pick-up opportunities for the Democrats with six of these elections to be conducted in deep red states: Mississippi (Roger Wicker), Nebraska (Deb Fischer), Tennessee (Bob Corker), Texas (Ted Cruz), Utah (Orrin Hatch), and Wyoming (John Barrasso).
That leaves just Arizona (Jeff Flake) and Nevada (Dean Heller) for Democrats to have a reasonable chance at being competitive in three years.
Meanwhile, Democrats will be particularly concerned about protecting several of their seats like those held in Florida (Bill Nelson), Indiana (Joe Donnelly), Missouri (Claire McCaskill), Montana (Jon Tester), Ohio (Sherrod Brown), Pennsylvania (Bob Casey), Virginia (Tim Kaine), West Virginia (Joe Manchin), and Wisconsin (Tammy Baldwin).
The party will also have to contend with the ethically embattled Bob Menendez in New Jersey, should he decide to run for reelection.
To be sure, there will be at least a handful of retirements among those 33 U.S. Senators up for reelection in three years. [Orrin Hatch of Utah was the first to indicate the 116th Congress would be his last].
Over the last 22 election cycles since 1974 there has been an average of 6.4 retirements from the chamber and no less than three calling it a day in any given cycle.
But although each of these 33 U.S. Senators is still raking in money – all but three have netted more than $100,000 in campaign contributions through the first three quarters of this year – there is of course a wide range between colleagues as to how much funds are coming in and how much cash on hand each has for their next campaign.
Senator Corker of Tennessee has the most cash on hand through September of this year at $5.71 million – nearly $2 million more than his next closest Class I seat colleague (Vermont Independent Bernie Sanders at $3.94 million).
Three additional U.S. Senators up for reelection in 2018 have north of $2 million in the bank: Wyoming Republican John Barrasso ($2.71 million), Massachusetts Democrat Elizabeth Warren ($2.68), and California Democrat Dianne Feinstein ($2.45).
Ten others have more than $1 million cash on hand: Ohio Democrat Sherrod Brown ($1.96 million), Mississippi Republican Roger Wicker ($1.93), New York Democrat Kirsten Gillibrand ($1.93), Utah Republican Orrin Hatch ($1.72), Virginia Democrat Tim Kaine ($1.67), Minnesota Democrat Amy Klobuchar ($1.65), West Virginia Democrat Joe Manchin ($1.49), Michigan Democrat Debbie Stabenow ($1.49), New Jersey Democrat Bob Menendez ($1.18), and Florida Democrat Bill Nelson ($1.09).
Nine U.S. Senators with terms ending in January 2019 have yet to bank even a half-million dollars: Maine independent Angus King ($90K), Wisconsin Democrat Tammy Baldwin ($245K), Arizona Republican Jeff Flake ($280K), Delaware Democrat Tom Carper ($322K), Nebraska Republican Deb Fischer ($325K), North Dakota Democrat Heidi Heitkamp ($337K), Hawaii Democrat Mazie Hirono ($396K), Texas Republican Ted Cruz ($415K), and Connecticut Democrat Chris Murphy ($483K).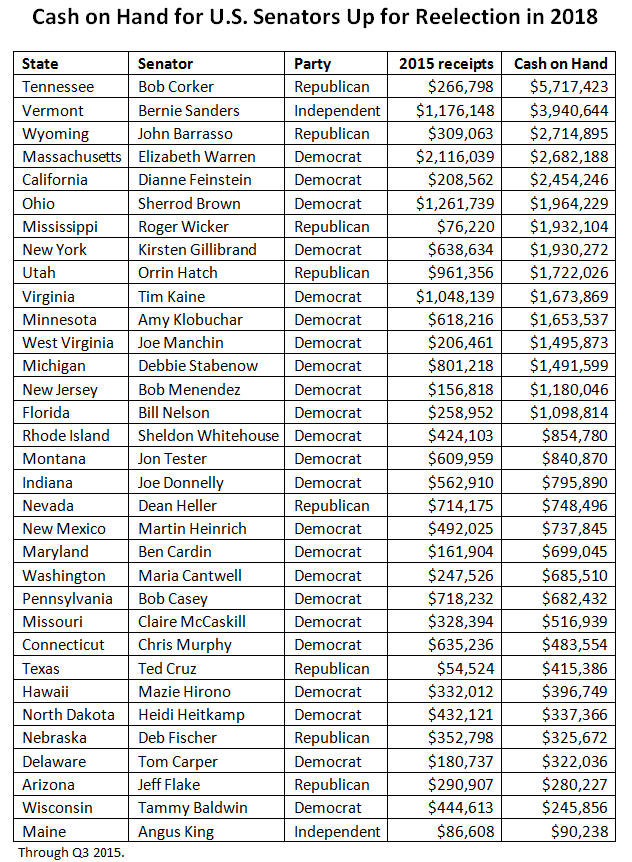 Of course, the amount of money a given U.S. Senator needs for a reelection bid varies greatly depending on a number of variables such as a) the presence of a bona fide primary challenger, b) the level of competitiveness of the seat in the general election and c) the media market costs in the state.
While the 2018 cycle is still a few years away, five U.S. Senators have been particularly effective in raising money in 2015: Elizabeth Warren ($2.11 million), Sherrod Brown ($1.26), Bernie Sanders ($1.17), Tim Kaine ($1.04), and Orrin Hatch ($961K) have already or will eclipse the $1 million mark by the end of the year.
Follow Smart Politics on Twitter.