Unhappy Holidays: Presidential Campaign Exits in December a Rarity
Lindsey Graham is one of only a small handful of presidential hopefuls to see their dreams of a White House victory dashed around the holidays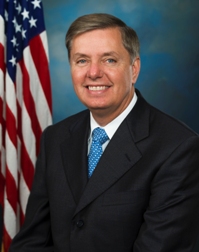 The 2016 presidential campaign lost one of its most colorful candidates on Monday when South Carolina Republican Lindsey Graham announced his exit from the race for the GOP nomination.
While Senator Graham was a constant source for buzzworthy interview clips and sound bytes from the undercard debate stage, his campaign never caught on fire and rarely ticked above one percent in public polling.
Graham launched his candidacy on June 1st of this year and his campaign lasted six months and 21 days (204 days).
The timing of his exit, however, was rather unusual.
Smart Politics examined the exit dates of the more than 130 major presidential candidates who failed to receive their party's nomination since 1972 and found that Lindsey Graham is just the fourth to end his major party bid in December before the election year.
The only other three White House hopefuls to end their bids during the holiday season each ran in recent election cycles.
In the 2008 cycle, Colorado Republican U.S. Representative Tom Tancredo suspended his campaign on December 20, 2007.
Tancredo's bid lasted a few months longer than Graham's – eight months and 19 days (263 days). The staunch anti-illegal immigration GOPer entered the race on April 2nd but, like Graham, never saw his candidacy take hold in this pre-Tea Party cycle.
Another presidential candidate to end his campaign in December was once a frontrunner in the polls – Herman Cain in the 2012 cycle.
Cain's campaign lasted just a day longer than Graham's (205 days) but enjoyed a big surge that began in late September 2011 when he shot up to double digits, and remained there until his exit in December after accusations of sexual misconduct dominated the headlines.
In between, Cain led the GOP field in several polls between early October and early November.
The former corporate CEO left the race on December 11, 2007 in the midst of Newt Gingrich's first spike in the polls as the "anti-Romney" candidate.
Later that month, one other candidate ended his bid for the GOP nomination but still continued his presidential campaign.
Former New Mexico Governor Gary Johnson struggled to qualify for most Republican debates during his 252-day run for his party's nomination that ended on December 28, 2011.
Johnson, however, would later become the Libertarian Party nominee and win 1.2 million votes on Election Day.
Overall, 27 presidential candidates since 1972 ended their bids for a major party nomination in the year before the general election with 109 doing so in the year of the election.
Some candidates have exited the race prior to the autumn before the election year:
February: Iowa Democrat Tom Vilsack (2007)
May: Colorado Democrat Gary Hart (1987; first of two exits that cycle)
July: Ohio Republican John Kasich (1999), Virginia Republican Jim Gilmore (2007)
August: Tennessee Republican Lamar Alexander (1999), Wisconsin Republican Tommy Thompson (2007), Minnesota Republican Tim Pawlenty (2011)
While 16 others suspended their campaign for a major party nod before the calendar turned to December:
September: Delaware Democrat Joe Biden (1987), California Republican Pete Wilson (1995), Indiana Republican Dan Quayle (1999), Michigan Republican Thad McCotter (2011), Texas Republican Rick Perry (2015), Wisconsin Republican Scott Walker (2015)
October: North Carolina Republican Elizabeth Dole (1999), Virginia Republican Pat Buchanan (1999), New Hampshire Republican Bob Smith (1999), Florida Democrat Bob Graham (2003), Kansas Republican Sam Brownback (2007), Virginia Democrat Jim Webb (2015), Rhode Island Democrat Lincoln Chafee (2015)
November: Oklahoma Democrat Fred Harris (1971), Pennsylvania Republican Arlen Specter (1995), Louisiana Republican Bobby Jindal (2015)
By far the most common month for presidential candidates to end their campaign is the March before the election, with 30 doing so since 1972.
Of course, by March the writing is on the wall for many candidates as a good number of states have voted and the general trajectory of the nomination horse race has been set.
January is next with 18 exits followed by July with 17 (over the years several candidates have refused to officially withdraw from the race until mid-summer nominating conventions).
February has seen 13 exits, with 10 in April, eight in May, seven in June, and six as late as August.
Follow Smart Politics on Twitter.