Life After Dayton: Can Minnesota Democrats Make History in 2018?
Gopher State Democrats have never won back-to-back gubernatorial elections with different nominees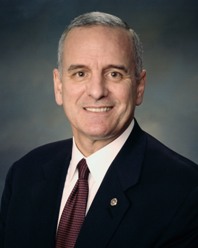 When Mark Dayton narrowly defeated Tom Emmer during the Republican tsunami of 2010, it ended one of the longest Democratic gubernatorial droughts in the nation at 20 years.
Governor Dayton is eligible to run for a third term in 2018 (Minnesota, like most of its regional neighbors, does not have term limits for the office), but has stated that he will not do so despite decent job approval ratings.
Few were surprised at this decision, as Dayton broke his own record last cycle by becoming the oldest candidate ever to win a Minnesota gubernatorial election at the age of 67. Dayton has been the oldest governor in state history since May 2011.
And so, when Dayton retires on January 7, 2019, he will exit tied for the longest consecutive Democratic tenure in the governor's mansion in state history.
Dayton will end his second term with eight years and five days in office (2,927 days) – a feat also equaled by Rudy Perpich during his second stint in the governor's mansion (1983-1991).
The only other notable Democratic-held gubernatorial streaks in the state were recorded by Wendy Anderson and Perpich (eight years and one day; 2,923 days) from 1971-1979, Orville Freeman (5 years, 11 months, 29 days; 2,190 days) from 1955-1961, and John Johnson (4 years, 8 months, 26 days; 1,730 days) from 1905-1909 before dying in office.
With a party record at just a shade over eight years, the Dayton/Perpich mark is as much a sign of the Democratic Party's inability to turn gubernatorial victories into winning streaks across different nominees as how dominant Republicans have been in state politics in Minnesota over the last 150+ years.
For while Minnesota Democrats have won consecutive gubernatorial elections seven times since statehood, none of these have involved different nominees: Johnson (1904 & 1906; 1906 & 1908), Freeman (1954 & 1956; 1956 & 1958), Anderson (1970 & 1974), Perpich (1982 & 1986), and Dayton (2010 & 2014).
The party has been unable to marshall support for its gubernatorial agenda with an outgoing administration; Gopher State voters to this point have only been enamored enough to reelect a sitting Democratic governor – never to vote a new one into office as a fellow party member exits.
By contrast, Republicans have accomplished this feat 13 times since statehood.
That said, there is reason for optimism that the DFL hold on state politics is running deeper than ever (despite losing the State House in 2014).
By winning statewide races for governor, secretary of state, attorney general, and auditor last year, Minnesota Democrats were able to sweep all constitutional offices in back-to-back cycles for the first time in state history and now hold all statewide partisan offices for just the third time since statehood.
Minnesota is one of only nine states to have elected Democrats to all statewide partisan constitutional offices in its last respective election cycle along with California, Hawaii, New Hampshire, New York, Oregon, Pennsylvania, Rhode Island, and Virginia.
The 2018 open seat race in Minnesota is sure to draw a big crowd of gubernatorial hopefuls for both the GOP and DFL.
Follow Smart Politics on Twitter.