Ted Strickland's Unusual Pathway to the US Senate
Only three former governors coming off failed reelection bids have gone on to win a U.S. Senate seat during the last 70+ years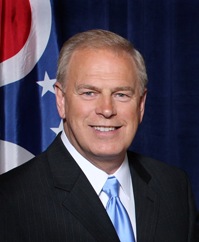 Democratic hopes of taking back the U.S. Senate in 2016 will likely rely in part on picking off one-term incumbent Rob Portman's seat in Ohio.
Though he will first face Cincinnati City Councilman P.G. Sittenfeld in his party's primary, former congressman and Governor Ted Strickland remains the overwhelming favorite to emerge as the Democratic nominee.
However, for a few reasons, Strickland's candidacy is rather unusual.
As Smart Politics previously documented, if Strickland defeats Portman in 2016 he will become the oldest politician to take a seat in the U.S. Senate for the first time after winning a direct election to a full term. [Strickland would be sworn into office in January 2017 at the age of 75 years and 5 months].
Additionally, the Democrat is coming off a historically poor reelection loss in 2010: Strickland's 13.5-point plunge from his 2006 victory to his 2010 loss to John Kasich marked the second biggest decline in voter support out of 40 Buckeye State gubernatorial incumbents running for reelection since the birth of the modern two-party system in 1828.
And now, after being defeated in a race for the state's highest elected office, Strickland is vying for a U.S. Senate seat – a feat few in his position have accomplished over the last eight decades.
A Smart Politics analysis finds that only three ex-governors coming off failed reelection campaigns have gone on to win a U.S. Senate seat since the end of World War II with Ted Strickland attempting to be the first to do so in 40 years.
The last politician to lose a gubernatorial reelection bid and subsequently get elected to the U.S. Senate was Rhode Island Republican John Chafee in 1976.
After serving in the state legislature, Chafee won three gubernatorial elections in 1962, 1964, and 1966 before narrowly losing by two points to Democrat Frank Licht in 1968.
After an unsuccessful attempt to unseat U.S. Senator Claiborne Pell in 1972, Chafee won an open seat race four years later against Richard Lorber en route to four terms in the chamber.
Since the early 1940s, only two other governors who lost reelection later won a U.S. Senate seat: Wyoming Republican Milward Simpson in 1962 and Oklahoma Republican Dewey Bartlett in 1972.
Simpson won the Cowboy State's governorship in 1954 by just over 1,000 votes against William Jack but lost his bid for a second term four years later to J.J. Hickey.
Simpson won a special election to the U.S. Senate in November 1962 after the death of Senator-elect Keith Thomson. [Twenty-two years after a failed initial 1940 U.S. Senate bid].
After Thomson's death, Governor Hickey resigned his seat to get appointed to the U.S. Senate, but Simpson defeated Hickey in the subsequent rematch and served four plus years in the legislative chamber until January 1967.
In 1966, Dewey Bartlett became the second Republican governor of Oklahoma but lost his reelection bid in 1970 by 0.3 points to attorney David Hall.
Two years later, he defeated long-serving Democratic Congressman Edmond Edmondson to replace presidential hopeful Fred Harris in the state's Class II U.S. Senate seat. Bartlett served one term in D.C.
Since the start of direct U.S. Senate elections over 100 years ago through World War II, a total of 10 former governors who lost reelection later won a seat in the nation's upper legislative chamber including one from Ohio.
Buckeye State Republican Congressman Frank Willis defeated incumbent Governor James Cox in 1914 but lost rematches against the future Democratic presidential nominee in 1916 and 1918.
In 1920, Willis won Warren Harding's open U.S. Senate seat with Harding at the top of the ticket. Willis was reelected to a second term in 1926 and would serve in the chamber until his death in 1928.
The remaining defeated governors to successfully make the leap to the U.S. Senate are:
Idaho Republican James Brady: Elected governor in 1908, defeated in 1910, elected to U.S. Senate in 1914 (after appointed to the seat in 1913)
Massachusetts Democrat David Walsh: Elected governor in 1913 and 1914, defeated in 1915, elected to the U.S. Senate in 1918, 1928, 1934, and 1940
Maine Republican Bert Fernald: Elected governor in 1908, defeated in 1910, elected to the U.S. Senate in 1918 and 1924
Nevada Republican Tasker Oddie: Elected governor in 1910, defeated in 1914 (and 1918), elected to the U.S. Senate in 1920 and 1926
North Dakota Republican Lynn Frazier: Elected governor in 1916, 1918, and 1920, lost a recall election in 1921, elected to the U.S. Senate in 1922, 1928, and 1934
Illinois Republican Charles Deneen: Elected governor in 1904 and 1908, defeated in 1912, elected to the U.S. Senate in 1924
Wyoming Republican Robert Carey: Elected governor in 1918, defeated in the 1922 GOP primary, elected to the U.S. Senate in 1930 and 1936
New Hampshire Democrat Fred Brown: Elected governor in 1922, defeated in 1924, elected to the U.S. Senate in 1932
Nevada Democrat James Scrugham: Elected governor in 1922, defeated in 1926, elected to the U.S. Senate in 1942
Two other ex-governors launched failed gubernatorial comebacks before winning U.S. Senate seats during this period.
Michigan Democrat Woodbridge Ferris was elected governor in 1912 and 1914 but was defeated in his 1920 comeback. He was subsequently elected to the U.S. Senate in 1922.
South Carolina Democrat Coleman Blease also won two terms as governor (1910, 1912) and later lost Democratic primary runoffs in 1916 and 1922 before winning a U.S. Senate seat in 1924.
There have also been a handful of additional governors who lost reelection, but then made successful gubernatorial comebacks before running for and winning a U.S. Senate seat such as Connecticut Republican Raymond Baldwin, Ohio Democrat Frank Lausche, and Missouri Republican Kit Bond.
Follow Smart Politics on Twitter.