Why a 2016 Tea Party Primary Challenge Against Paul Ryan Will Fail
Only one Wisconsin U.S. Representative has lost a primary since 1950 and just four others have won by less than double-digits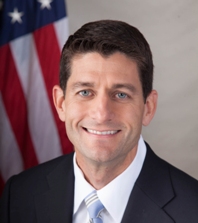 For the past few weeks there has been chatter around Wisconsin that Tea Party groups are preparing to run a primary challenger against Republican U.S. Representative Paul Ryan due in part to the nearly $2 trillion spending bill that passed last month under his leadership.
Although this is now a post-Eric Cantor political environment in which no powerful GOP leader can be labeled 'invincible' in a renomination bid, there is little reason to believe Speaker Ryan will suffer a similar fate – even setting aside his general popularity back home.
And just how effective have Wisconsin U.S. House members been in securing their renominations over the decades?
A Smart Politics review of primary election data finds that just one Wisconsin U.S. Representative has lost a renomination bid since 1950 out of more than 50 contested primaries conducted during this 33-cycle span, with nearly 90 percent of incumbents winning by more than 20 points.
Since 1950, U.S. House members from the Badger State have been renominated 289 times out of 290 attempts, for a 99.7 percent success rate, including each of the last 161 tries since 1976.
The only Wisconsin U.S. Representative to lose a primary during this 64-year period was Republican Glenn Davis of the 9th Congressional District in 1974.
Davis was in his 10th nonconsecutive term in the U.S. House that cycle when he faced State Senator Bob Kasten in the GOP primary.
Kasten defeated Davis by 14.4 points marking the first renomination loss by a Wisconsin incumbent from the nation's lower legislative chamber in 26 years.
Prior to Davis, the last Wisconsin U.S. House member to lose in a primary was four-term Republican William Stevenson in 1948.
Stevenson was defeated by former four-term Progressive U.S. Representative Gardner Withrow that cycle by 2.8 points in a three candidate GOP primary.
Of course, most Wisconsin incumbents have skated through the renomination phase without any opposition.
During this 64-year period from 1950 through 2014, less than one in five Wisconsin U.S. Representatives faced a primary challenger.
Of the 290 primaries with an incumbent on the ballot, just 51 saw any opposition, or 17.6 percent.
In 43 of these 51 primaries there has been only one challenger.
In six others there have been two primary opponents: Republican Gardner Withrow in 1950 and 1954 (3rd CD), Republican Reid Murray in 1950 (7th CD), Republican Alvin O'Konski in 1950 (10th CD), Republican Glenn Davis in 1972 (9th CD), and Democrat Jerry Kleczka in 1990 (4th CD).
In one primary there were three challengers (Democrat Clement Zablocki in 1972, 4th CD) and in one other there were five (Democrat Jim Moody in 1988, 5th CD).
Very few contested primaries have been remotely competitive over the decades with only four decided by single digits since 1950 and none of these over the last half-century:
1950 (3rd CD): Republican Gardner Withrow won by 2.0 points over Foster Porter
1950 (10th CD): Republican Alvin O'Konski won by 9.6 points over Andy Borg
1952 (3rd CD): Republican Gardner Withrow won by 2.6 points in a rematch against former U.S. Representative William Stevenson
1964 (6th CD): Republican William Van Pelt won by 8.2 points over Jack Steinhilber
Just two other races were decided by less than 20 points – each 60+ years ago:
1950 (9th CD): Republican Merlin Hull won by 16.6 points over George Sipple
1954 (3rd CD): Republican Gardner Withrow won by 10.9 points over Josh Bosshard
Five other incumbents were renominated by 20-29 points, three won by 30-39 points, six won by 40-49 points, seven won 50-59 points, six won by 60-69 points, 14 won by 70-79 points, and three won by 80-89 points.
The average victory margin for incumbents in a contested primary has been 51.6 points across these seven decades.
As for Paul Ryan, he has faced a primary opponent just once during his eight reelection bids since 2000.
That came last cycle in 2014 in the form of his namesake, Jeremy Ryan, and Rep. Ryan won 94.1 percent of the vote.
That marks the strongest primary showing by any Wisconsin U.S. House member across the 51 contested primaries since 1950.
In only two other instances has a primary winner eclipsed the 90 percent mark during this span with one of Ryan's predecessors, Democrat Les Aspin, the last to do so in 1972 against Gerald Janca (winning 90.6 percent).
The only other incumbent to reach 90 percent in a contested primary since 1950 was long-serving Milwaukee Democrat Clement Zablocki in 1966 – recording 90.1 percent of the vote against frequent primary opponent Roman Blenski.
[Blenski was involved in more than a quarter of the 51 primary challenges during this 33-cycle span – appearing on the 4th CD Democratic ballot 13 times: in 1958, 1960, 1962, 1964, 1966, 1968, 1972, 1976, 1980, 1988, 1990, 1996, and 1998. Blenski never won more than 16.5 percent of the vote].
Ryan's 88.6-point win in his 2014 renomination bid is also the largest victory margin in a contested primary since 1950.
Although it is extremely unlikely that Ryan will fail to become his party's nominee in 2016, there are signs from 2014 that he – and several of the state's other seven incumbents – will face at least token primary opposition.
The 2014 cycle saw three of the seven incumbents running for reelection face a primary challenger – the highest number since 1990 when five opponents ran against four incumbents.
Representatives Ryan, Democrat Gwen Moore, and Republican Sean Duffy each had primary opponents in 2014, and that doesn't include GOPer Tom Petri who announced his resignation after State Senator and Assistant Majority Leader Glenn Grothman decided to jump in the 6th CD GOP race.
Thus far only one primary challenger has filed with the FEC – Eau Claire Democrat Myron Buchholz will take on 10-term incumbent Ron Kind in the 3rd CD.
From 1950 through 2014 the Wisconsin U.S. Representative who faced the largest number of contested primaries was the aforementioned Clement Zablocki in the 4th CD with 13. His successor, Jerry Kleczka, had four and his successor, Gwen Moore, has had two.
Republicans Alvin O'Konski (1oth CD), Gardner Withrow (3rd CD),  and Glenn Davis (2nd & 9th CDs) and Democrat Henry Reuss (5th CD) each had three contested primaries during this span.
Follow Smart Politics on Twitter.